We use affiliate links. If you buy something through the links on this page, we may earn a commission at no cost to you. Learn more.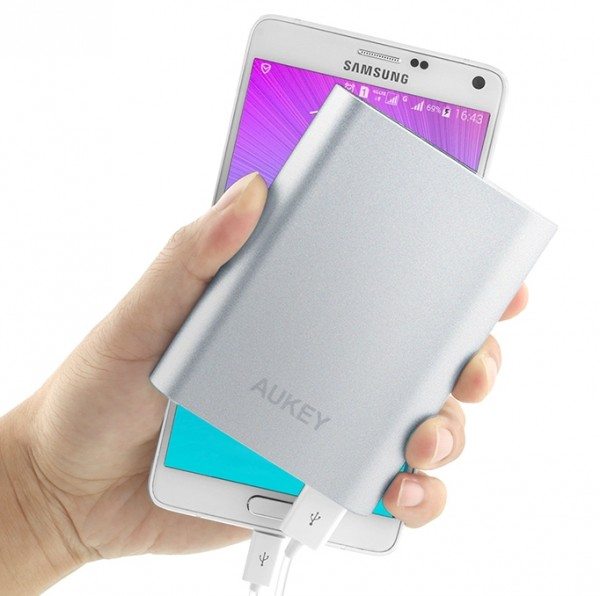 I love the Qualcomm Quick Charge 2.0 technology on my Nexus 6 phone. It significantly decreases the amount of time I spend charging my phone which is something that I have grown accustomed to. I recently purchased the Aukey CC-T1 2-Port 30W USB Car Charger with Quick Charge 2.0 to be able to use this fast charging technology while in my car and now I'm looking to upgrade my portable battery to one that supports this technology as well. Aukey has such a battery – the Aukey PB-T1 Qualcomm Quick Charge 2.0 10,000mAh External Battery Charger which has been officially licensed and certified by Qualcomm. The battery charges Quick Charge 2.0 compatible phones and tablets up to 75% faster than standard chargers but will also charge any of your older, non-Quick Charge 2.0 devices at their normal speed (5V and up to 2.1A). The battery measures 5.4″ x 4.1″ x 1.6″ and is contained in an attractive "scratch and corrosion resistant anodized aluminum shell". It does, however, charge only one device at a time. 
Here are some of the Qualcomm Quick Charge 2.0 compatible devices:
Samsung Galaxy S6, S6 Edge, Note 4/Edge
Google Nexus 6
Sony Xperia Z4, Z4 Tablet, Z3, Z3 Compact, Z3 Tablet Compact, Z2 Tablet
Motorola Droid Turbo, Moto X 2014
HTC One M9, HTC One (M8), One Remix (Verizon Mini 2), Desire EYE
LG G Flex2, G4
Xiaomi Mi3, Mi4, Mi Note, and more
The Aukey PB-T1 Qualcomm Quick Charge 2.0 10000mAh External Battery Charger is available from Amazon for $29.99. Please visit the Aukey website for more information.