We use affiliate links. If you buy something through the links on this page, we may earn a commission at no cost to you. Learn more.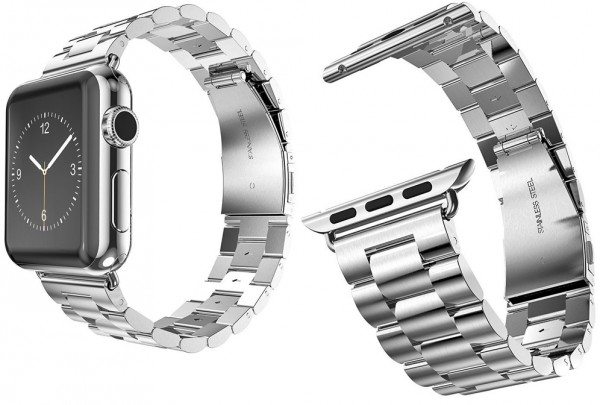 I always want to get the newest gadgets, but I want my husband and daughter to have them, too.  That means sometimes I don't get the exact model I want, because I'm buying three devices instead of keeping the entire budget for myself.  So, I have the Apple Watch Sport with the Sport band instead of the Watch with one of the metal bands.  I have three extra Sport bands now, so I can match the band to my shirt, but I still found myself wishing for a metal band.  I haven't found a third-party Milanese-style band that I was willing to pay for, but I did recently see the IVAPO Solid Stainless Steel Apple Watch Strap at Amazon that looked intriguing.  Of course, it doesn't look like the official Apple stainless Link Bracelet, but then it doesn't cost $450.00.
The IVAPO band is a panther link bracelet instead of the solid-bars bracelet produced by Apple.  It's available to fit both the 38mm and the 42mm versions of the Apple Watch.  It's only $34.99 for either size, so I decided I was going to try one for myself.  It comes with a jeweler's tool that helps you remove links from the bracelet to adjust the fit to your wrist.  I watched a video on the internet that shows how to use the link-removal tool, and I was able to easily adjust the band to fit.  Because it's made of stainless steel, it is sturdy and heavy, but it doesn't feel like a boat anchor around my wrist.  It's well made, with no rough edges.  It has a fold-over clasp that is flat and no thicker than the rest of the bracelet; it's not quite as comfortable as the Sport band while I'm typing, but it's not uncomfortable.  The ends of the band fit easily and perfectly into the Watch's strap holder.  While it's not the same color as the aluminum housing of my Watch Sport, I think the IVAPO Solid Stainless Steel Apple Watch Strap looks nice with the Watch.  At $35, it's a no-brainer if you want a metal link band and don't want to pay as much or more for the band as for your Watch.  If you're interested, Amazon also has this band in yellow gold, rose gold, and Space Gray; prices vary by color.