We use affiliate links. If you buy something through the links on this page, we may earn a commission at no cost to you. Learn more.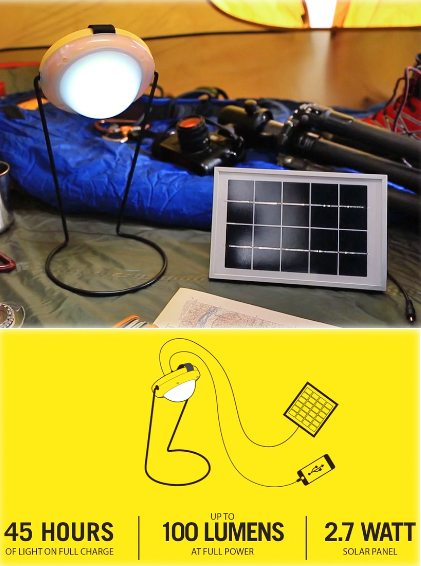 When you're hiking or camping, you don't want to have to carry any extra gear, so it's nice when something can serve double duty.  The Sun King Pro can serve as a standing lamp, a hanging lamp, a hand-held light, and as an emergency battery for your phone.  The Pro can be charged using a USB charger at home before leaving, then you can keep it charged using the included solar panel.  It has two gauges, one to display the amount of charge remaining in the internal battery and one to display the solar charging strength so you can see if you need to adjust the position of the solar panel for greater charging efficiency.
The Pro light produces 100 lumens total flux; it has a 2800 mAh, 3.3 volt Lithium Ferro-Phosphate (LFP) battery and a 2.7W, 4.9 volt polycrystalline solar panel with aluminum frame and 5 meter wire.  The lamp has a polycarbonate and ABS water-resistant enclosure (IP64 rated).  And, of course, you can use the Pro to charge up your phone or other USB-chargeable device when needed.  The Sun King Pro is $49.95 from Greenlight Planet.