We use affiliate links. If you buy something through the links on this page, we may earn a commission at no cost to you. Learn more.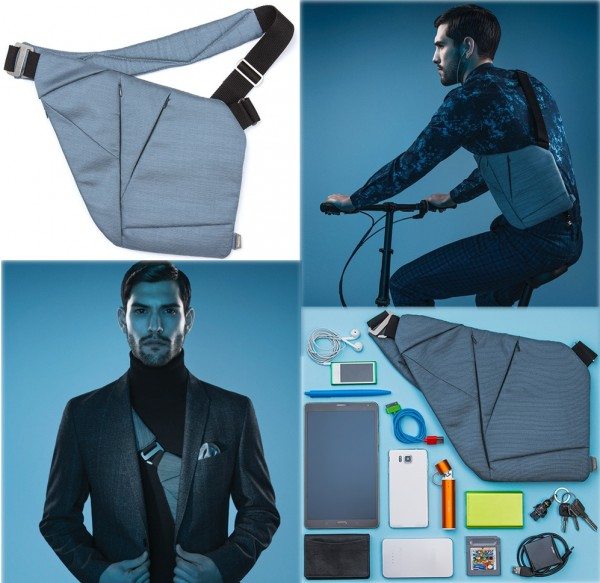 The folks who created the Baggizmo (and its Kickstarter project) want you to think about how you look when dressed nicely for a meeting with your client, and then replace that polished image with how you look for that meeting after you loaded up your pants and jacket pockets with all your daily-carry gear.  Ladislav Juric, an IT manager and Founder Institute graduate and one of the creators of the Baggizmo, is a "gadget freak who never leaves home without all of his gadgets". He wanted a bag that could hold everything he needed for his day, but he didn't like any of the bulky bags and backpacks on the market.  He wanted an organized bag that could hold what he needed and still fit sleek and flat against his body.
The Baggizmo was designed to hold everything a man needs while still fitting comfortably over a shirt or under a jacket without adding a lot of bulk.  The bag has a polygonal shape and a series of organized pockets and compartments to hold everything, even tablets.  Your gadgets will be easily accessible while you wear the bag, and it even has a special pocket on the strap to keep your earbud cables untangled and convenient.  The bag is made of "hard wearing fabric with good protective properties and a high level of stability."  It is an abrasion resistant, breathable, and water-repellent quality and innovative textile that provides special protection against mechanical or heat damage.
The Baggizmo project ends Thursday, July 9, 2015 at 12:09 PM EDT.  They still have a way to go to meet their $35,000 funding goal.  A minimum pledge of $100.00 is required for your choice of a left- or right-handed Baggizmo in either light steel blue or onyx black.