We use affiliate links. If you buy something through the links on this page, we may earn a commission at no cost to you. Learn more.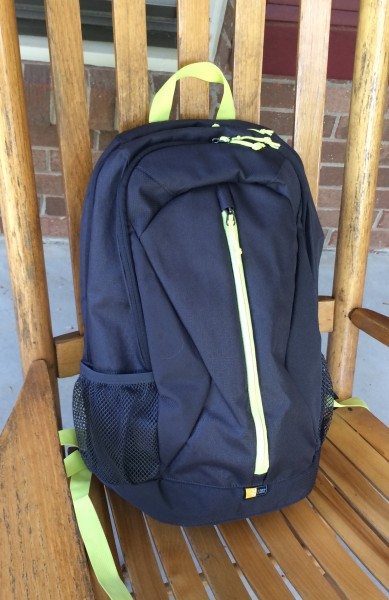 Recently, I moved back to having a MacBookPro again. I had moved to an iMac, since most of my mobile stuff was being done on the iPad. Then work got me a second iMac for a lab/testing machine, and my desk got too crowded. But, of course, that means I now "have" to have a bag that can carry my 15″ portable and my iPad Air 2, along with the other odds and ends that a true gadgeteer considers essential to life. The fine folks at Case Logic, meanwhile, offered Julie and the team their newest backpack, specifically designed for – wait for it – 15″ laptops and 10″ tablets! So I was chosen to test and review their Iberia backpack. I was sent two of the three available colors – the darker grey "Anthracite" model with wasabi green trim, and the "Pepper" color (green) with grey accents. There is also a "Black" with goldenrod accents, which looks like the colors in the Case Logic logo. All three models retail for $30.Note: Photos may be tapped or clicked for a larger image.
The exterior of the bag is constructed from the usual nylon fabric. All interiors are ripstop nylon. The front center zipper, all zipper pulls, interior piping, and back panel is all of the accent color, as are the interior of the straps and the web haul loop.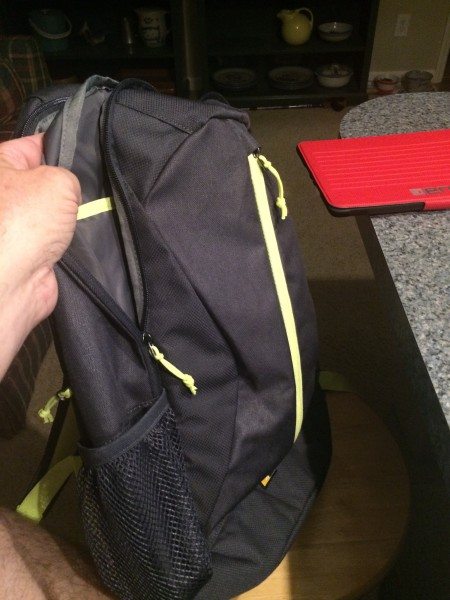 While the zippers are fabric covered and probably dust-resistant, they did not appear to be water-resistant. There is a single small brand logo at the base of the center zipper. (Thanks, Case Logic, for being tasteful in this regard!)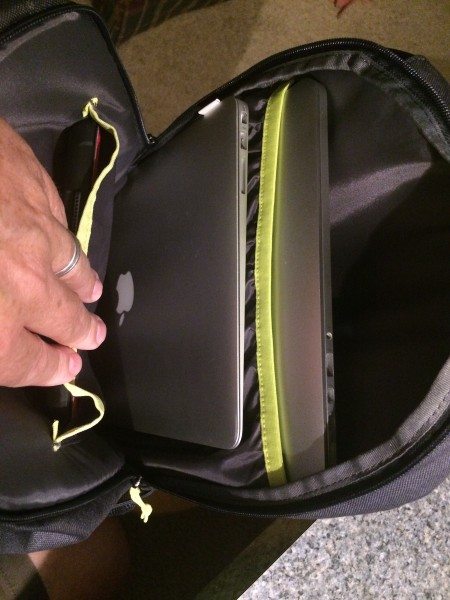 The layout of the pack is strictly designed around the intended cargo: There is a laptop sleeve against the back, padded from your shoulder blades with closed cell foam, and sewn an inch or so above the bottom, so that there is a bit of cushion when setting the pack down. Opposite this, there is another sleeve sized for a full-sized iPad or similar form-factor tablet. There is scant padding between this sleeve and the remaining pocket on the back of the pack (maybe a quarter of the amount on the back panel), and there's little clearance for any items of bulk to fit between them. I did fit in my Lovely Bride's MacBook Air 13″, (see photo above) and could probally fit in her iPad mini, but I would want these items in some sort of padded sleeve. There is virtually no padding on the bottom of the pack.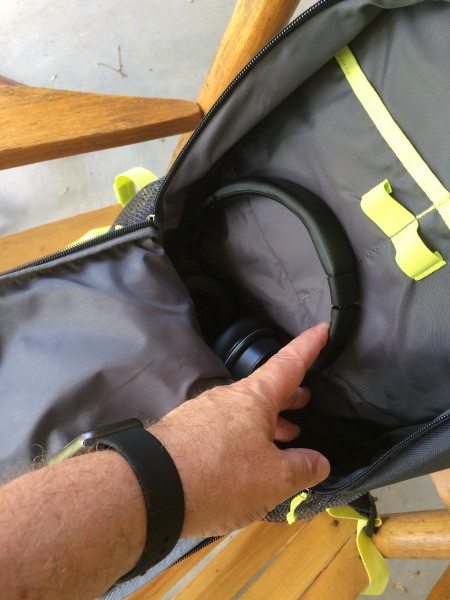 I fit a full-sized set of over-the-ear headphones in the center pocket…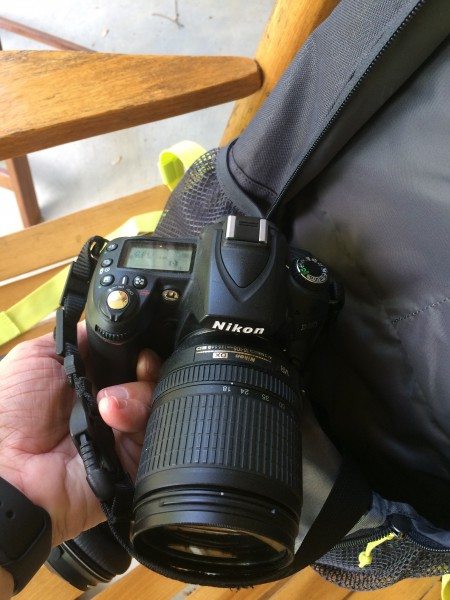 …along with a dSLR with a fairly decent lens attached, with the aforementioned MacBookPro and iPad Air 2 in the rear pocket. The lede photo at the top of the article has all of this inside.
In front of the back pocket is a well-proportioned larger area with two ample flat storage pockets and a few pen loops. The pockets are not tightly stretched as I've seen on some similarly priced goods. You could actually fit a mouse or a power supply and cable into these. They are bar-tacked and reinforced. (All seams are fully covered with bias tape and sewn. I couldn't find a raw edge of fabric in either bag.) The elastic pen loops are of a good size, in case you're wanting to clip in an LED flashlight or something larger than your standard Ticonderoga #2. And you'll need a clip, since they are just the .75″ elastic strip.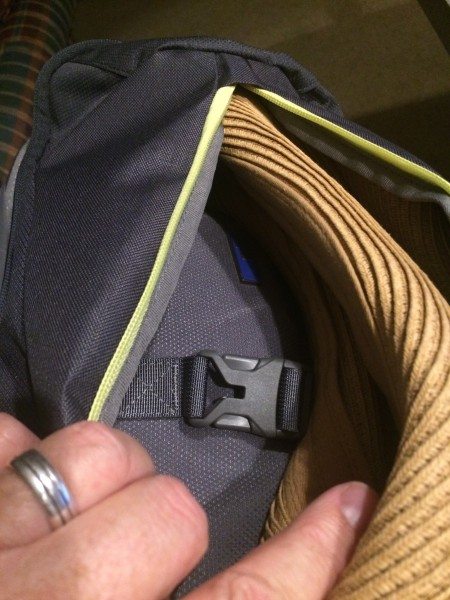 Moving out to the very front is a center zipper pocket that would easily fit cleats, headphones, or pingpong gear. I was able to fit (above) my STM Cable Wrap inside, filled with all my iPhone photography items and adapter cables. There was still room available for my Sun Day Afternoons Havana hat. (It's collapsible, and a real boon in sunnier locations.)
At each outside lower corner is a net water bottle pocket. The straps are adequately padded, and have loops to wrap up extra lengths of webbing if you make the straps tight. There is also a 1″ web haul loop between the straps. One of the secret superpowers of the Ibira is that there is a hidden pocket right at the small of your back. It's not huge, so anything other than a few bills and maybe your passport is going to show through. While I like the idea of this, I fear having your bag stolen with your ID would possibly be worse than having to deal with it attached to your person. I've traveled through some sketchy areas in my life, and in some of those places, I'd have dropped anything and run for it, should things go south. (Hey, what can I say? I'm a lover, not a fighter!) But I do like the "quickstash" idea of this pocket, so that someone riding a bus who is just dipping in and not stealing the whole bag only gets a part of your goodies.
Updates 03/31/16
My daughter asked for this almost as soon as it arrived. It is still part of her EDC.
Source: The sample for this review was provided by Case Logic. Please visit Case Logic for more info.
Product Information
Price:
$30
Manufacturer:
Case Logic
Retailer:
Various online and off
Requirements:
Pros:

Sized for flat items in back, and more bulky items in outer pockets.
Good use of space - pockets are few, but sized well.
Great manufacturing quality and materials - very little branding
Hidden pocket for small, flat valuables
Nicely priced for what it is

Cons:

Very little padding on bottom and pockets other than tablet/laptop sleeves
Very basic - no hip strap, sternum strap, headphone wire pass-through, fleece-lined glasses/phone pocket or hydration pocket