We use affiliate links. If you buy something through the links on this page, we may earn a commission at no cost to you. Learn more.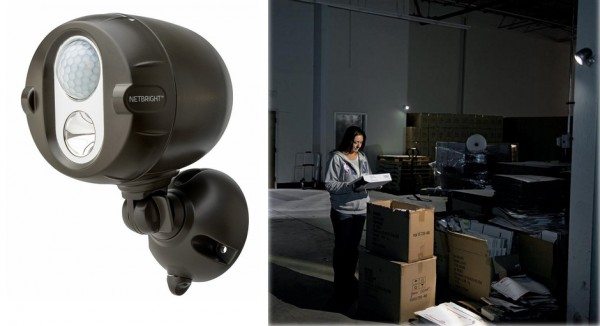 Motion sensors are great in concept – illuminating your property when they sense nearby motion – but they can lack in execution.  Normal motion sensors light up only a relatively small area around the light when they detect motion.  This isn't a problem when the motion is from an animal, but could allow a more sinister visitor to still easily hide from the light as they access your property.   With the Netbright Wireless Motion Sensor Networked Spotlight, you can more effectively protect your home or commercial property by completely lighting the area when motion is detected.  You can link together up to 50 Netbright spotlights together in one channel; when one motion-sensing spotlight detects motion, all Netbright spotlights in the same channel illuminate, leaving little darkness available for unauthorized visitors to hide.
Each Netbright wireless spotlight provides 200 lumens of bright white light per spotlight and covers up to 400ft2 each.  Each light is powered by a set of 3 D batteries, allowing them to be used in parts of your property that don't have electrical wiring.  You can expect about 30 hours from a set of batteries, and the lights have battery-saving functions:  photocell to prevent daytime movement from triggering the light and automatic shutoff in 30 seconds if additional movement isn't detected.
These Netbright Wireless Motion Sensor Networked Spotlights are perfect for protecting your home, workplace, remote cabin or camp space, or your garden.  The lights are available in brown or white for $39.99 each or $69.99 for a two-pack from Pegasus Lighting.