We use affiliate links. If you buy something through the links on this page, we may earn a commission at no cost to you. Learn more.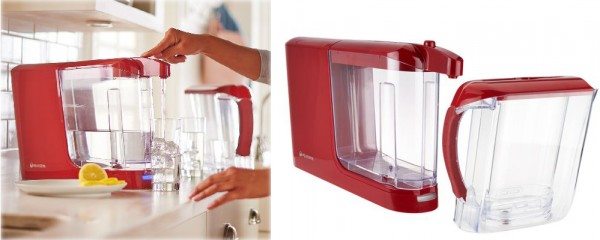 Instead of having to wait for gravity to cause your water to slowly drip through a filter, you can get 8-cups of filtered water in 60 seconds with the Aquasana Powered Water Filtration System.  This filtering system pumps water through four filtering stages to remove 66 contaminants while retaining natural minerals:
Activated Carbon: Reduces organic chemicals like herbicides, pesticides, VOCs and MTBE.
Catalytic Carbon: Targets chlorine and chloramines.
Ion-Exchange: Filters heavy metals like lead and mercury.
Absolute Sub-Micron Mechanical Filtration: Captures asbestos and chlorine resistant cysts like cryptosporidium and giardia.
QVC is offering the Aquasana system with both a 16-cup dispenser and an 8-cup pitcher; normally this system comes with either a dispenser or a pitcher.  Both BPA-free vessels are double-chambered; you put tap water in one, and the other holds the filtered water after it passes through the system.  The pitcher is slim enough to fit in the fridge door shelf, too.  You'll get a filter that lasts for 320 gallons or 6 months before it needs changing.
The Aquasana Powered Water Filtration System is the Today's Special Value; QVC is offering it in black, white, dark blue, or red for $109.96 today only.