We use affiliate links. If you buy something through the links on this page, we may earn a commission at no cost to you. Learn more.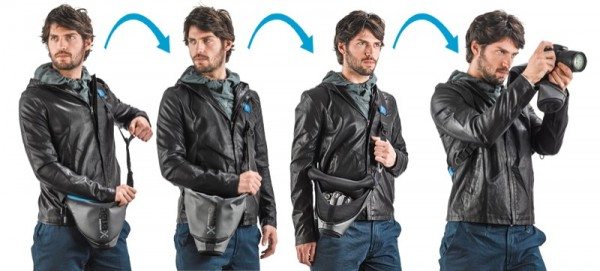 We love bags at the-gadgeteer!  We've seen so many, the only drawback is it takes quite a bit to surprise us.  That's why the Miggo AGUA camera bag Kickstarter campaign got my attention.  Is it a bag, or is it a case?  Or something totally unique?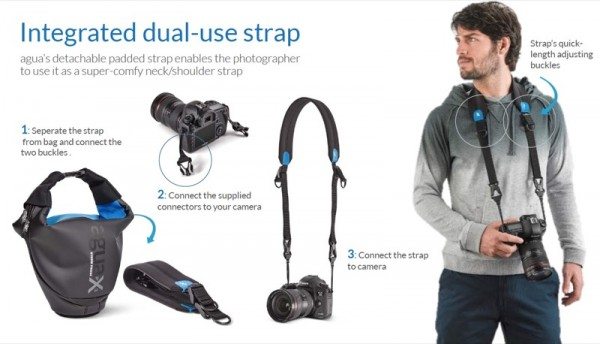 Bags are all about trade-offs.  Convenient, protective and weather-resistant?  It's hard to get all three.  The AGUA attempts to tackle all three.
Let's take a look at the bag itself.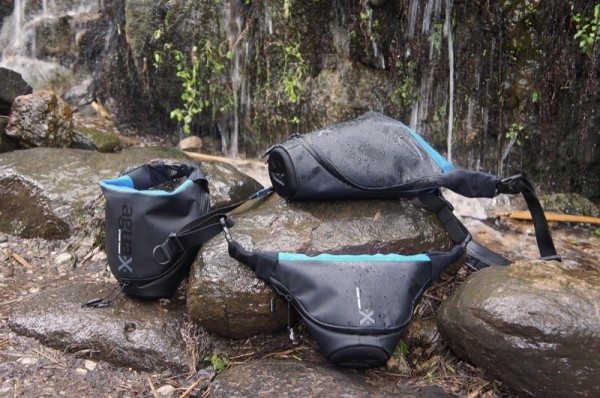 Storm-proof quick-draw holster for all day & all weather use.
IPX3 rain-proof standard: Protected against spraying water – Water spraying up to 60 degrees from vertical at 10 liters/min at a pressure of 80-100kN/m2 for 5 min.
Fits camera's body + lens.
Available in 3 sizes:

Agua 25 – for large Mirrorless / Superzoom cameras (such as Sony A7, Fuji X-T1, Olympus OM-D and similar)
Agua 35 -for Medium DSLRs (such as Nikon D5200, Canon 550D and similar)
Agua 45 – for advanced DSLRs (such as Canon 5D, Nikon D800 and similar)

Eliminates the need for additional camera strap – agua's dual-use strap carries both bag and camera.
Quick-Adjusting detachable padded strap can be attached to the camera (with supplied adaptors)
Front "Thermo-forming" lens protector. Ultra rigid from outside – soft and padded from inside.
Double-layered construction enables protection against water and impacts
"Quick-Draw" mode for instant shooting while the camera is secured.
Failsafe connecting buckles
Left and right handed operation
Color: Black-blue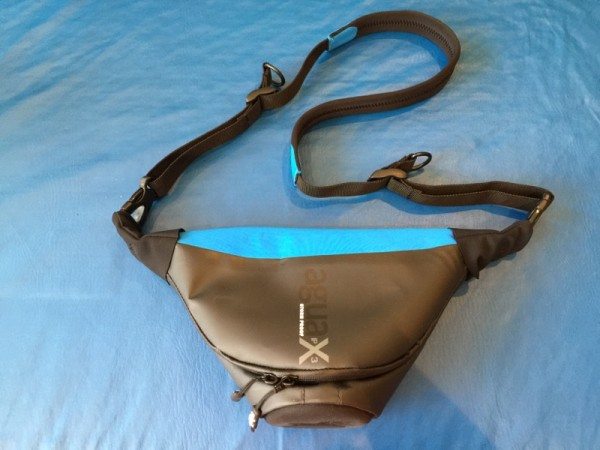 I was sent what appears to be the AGUA 25 for mirrorless cameras.  At first it really looked like a fanny pack.  Then I started fiddling around.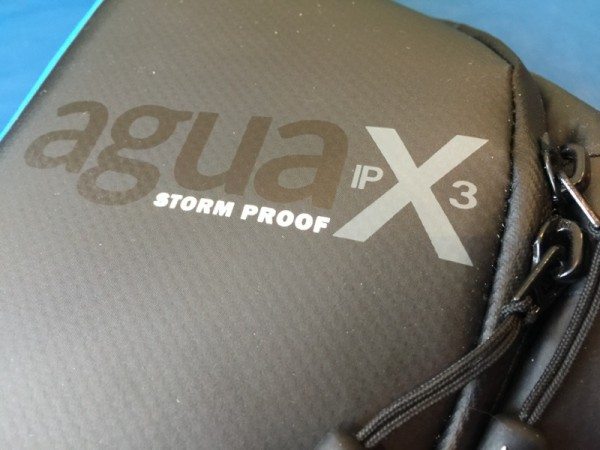 The exterior of the AGUA is mostly a waterproof tarpaulin material in black.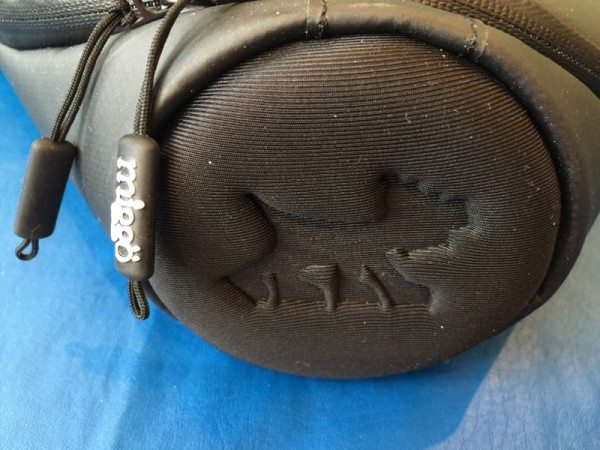 The bottom of the bag has a thermo-formed circular area with the doggy logo.  It's actually rigid on the outside, but soft on the interior side to protect the lens.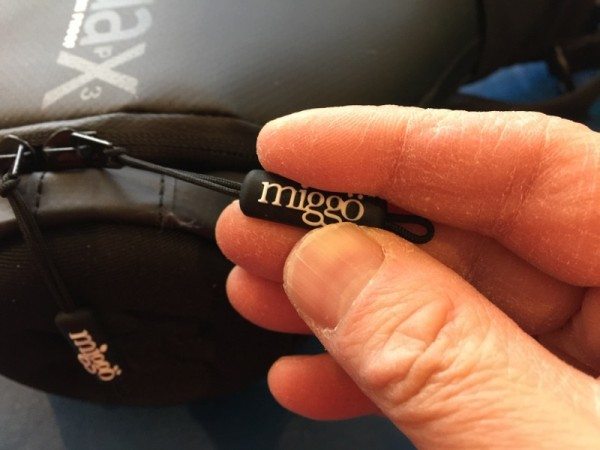 The zipper pull cord is thin but strong.  The pulls themselves are rubbery and very grippy.  I just love these pulls!  I don't know who designed these pulls, but they're fantastic.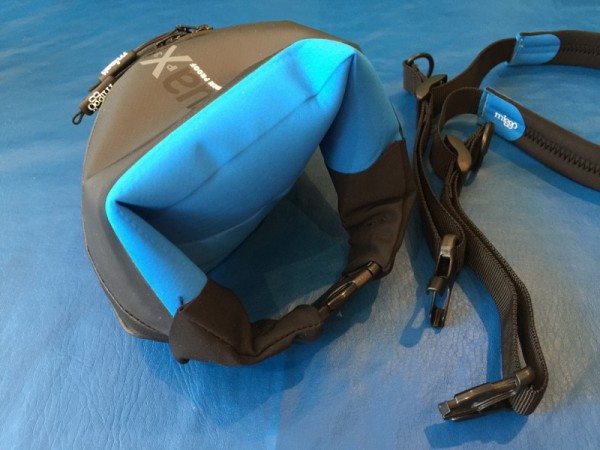 You can detach the strap and snap the remaining ends together to make a short-handled bag as well.  Clever.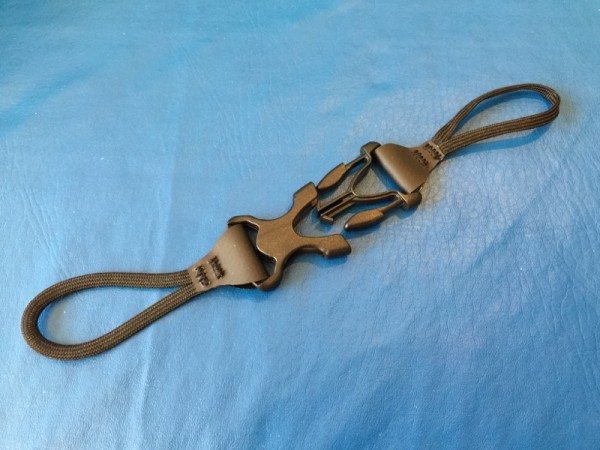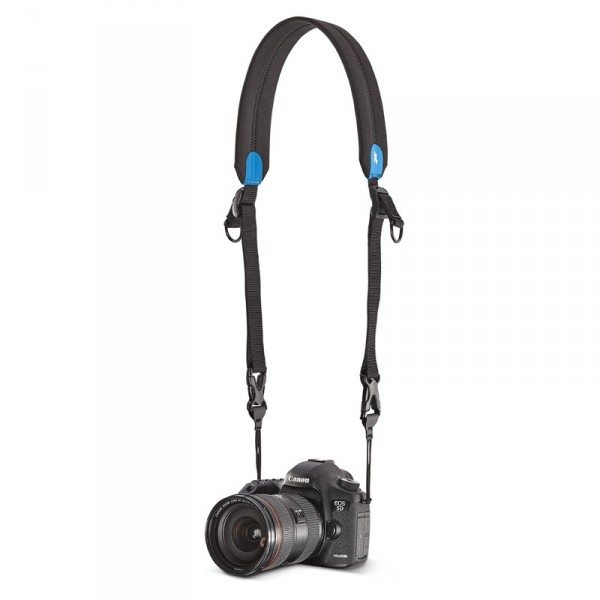 You also get these two odd-looking clips.  What for?  For one thing, you can convert the included strap into a stand-alone camera neck strap.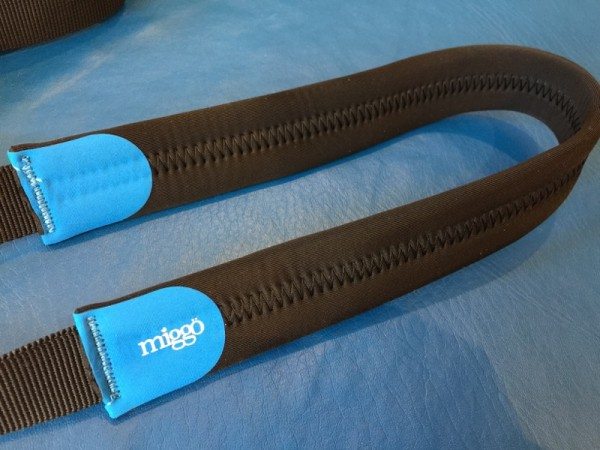 The strap itself is padded neoprene and very, very soft.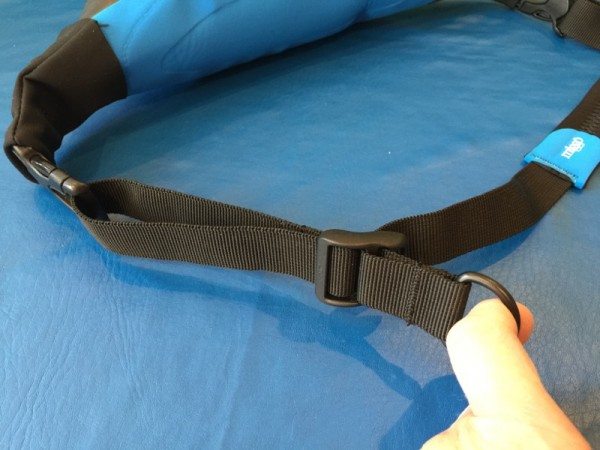 Another bit of genius:  A little pull ring allows you to rapidly adjust the strap in both directions.  Just give it a tug.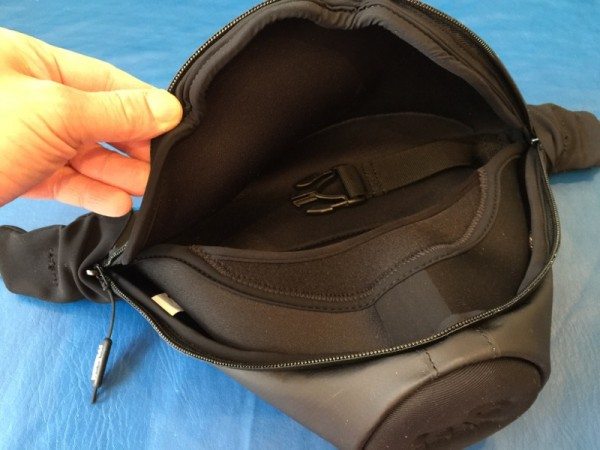 Inside the bag you'll find a fixed strap with a buckle attachment.  You can use this with one of the extra snap ends to form a redundant, backup strap to your camera.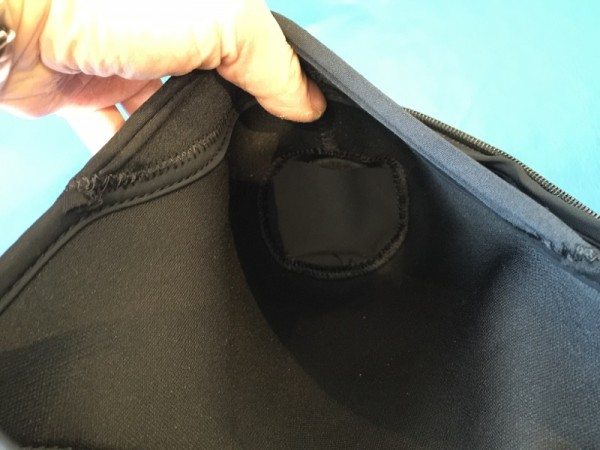 See that at the bottom of the lens compartment?  That's a kangaroo-like pouch for your lenscap.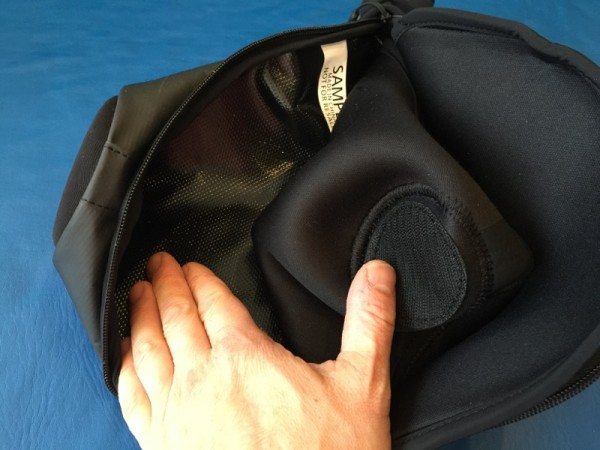 I peeled back the soft neoprene interior to reveal the backside of the waterproof shell.  Note circle of hook and loop under my thumb.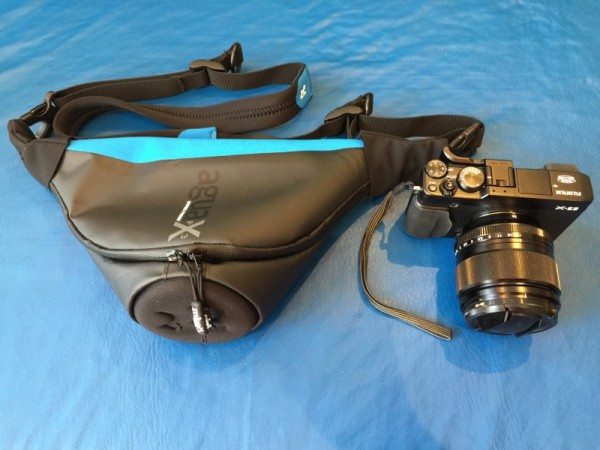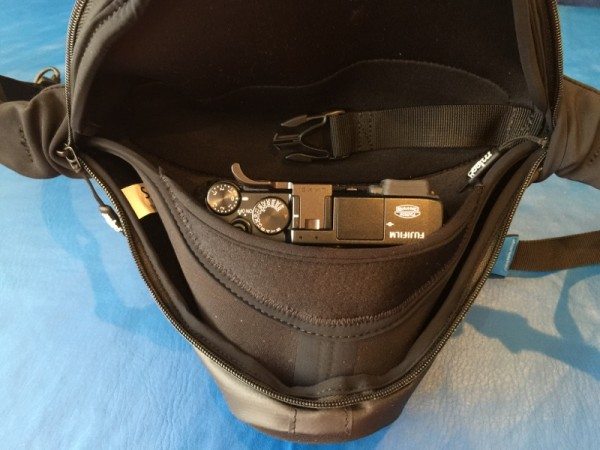 Feeding time!  This is my Fuji X-E2 (click here to read Mark Rosengarten's review) in the AGUA.  Fits nicely, doesn't it?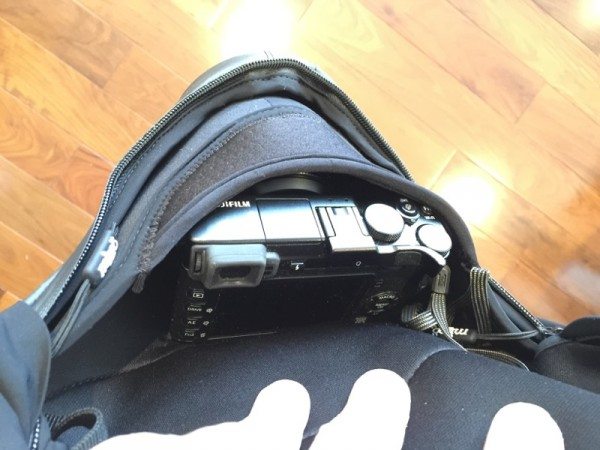 This is my view, unzipping the AGUA.  The camera doesn't tumble out even when fully opened.  (If I were smart, I would have attached the optional buckle to the camera itself for safety.)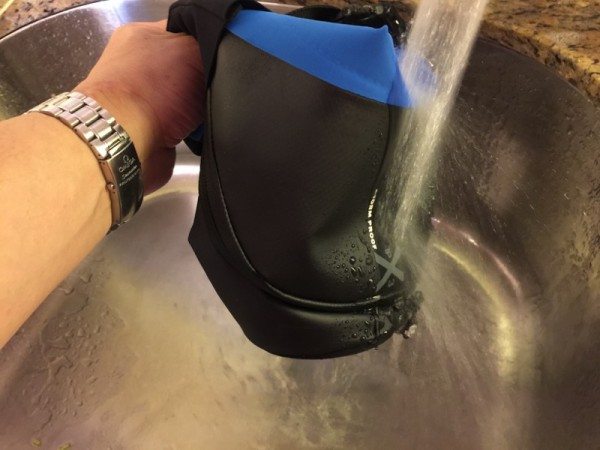 What does "IPx3" mean?  "IP" is sometimes known as International Protection Rating, or Ingress Protection.  The "x" in this case means the AGUA is not rated for dust ingress protection, but the "3" means it's protected against splashing water.  "Water falling as a spray at any angle up to 60° from the vertical shall have no harmful effect."
Well I didn't grab a protractor.  I just shoved it under an open spray at the sink.
Inside:  Totally dry!  No issues.
Bear in mind, IPx3 is not water PROOF.  If you want to submerge the AGUA in water, no bueno.  You'll have to find something that is rated IPx7 or 8 for immersion.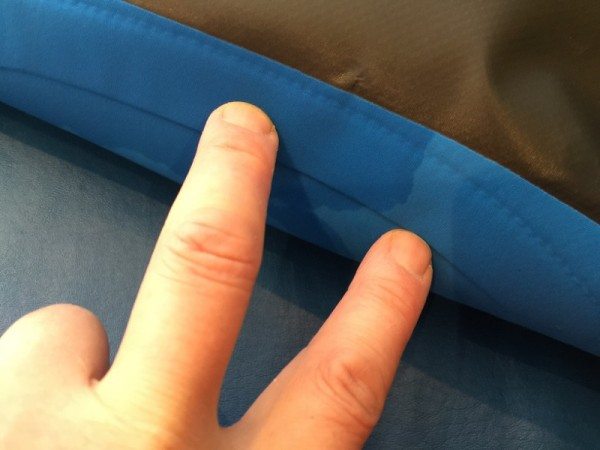 If found the black tarpaulin material is indeed waterproof.  The blue accent material absorbs water, but dries out quickly.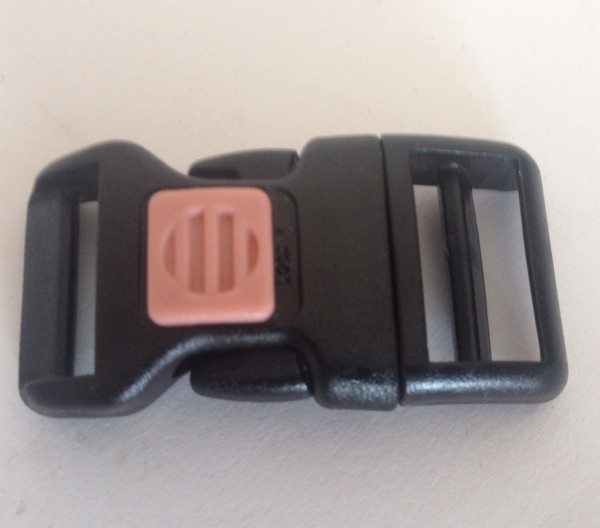 The AGUA reviewed is a pre-production sample.  I've been told the final product will include locking buckles like the one shown here.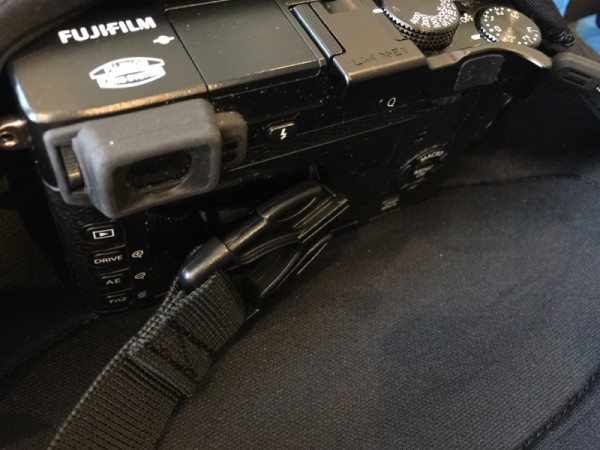 If there's one minor nit, it's the interior backup strap buckle.  If you don't use it, it has a tendency to slap against the rear LCD of my camera.  I could just snip it out entirely, or just tuck it away.  It's a small nuisance.
It's rare I see a camera bag that is equal parts functional, convenient, and protective.  It takes quite a bit to impress me, and the Miggo AGUA has done just that.
The Miggo AGUA is a Kickstarter project that has already reached its funding goal. Shipping is estimated for November 2015.
Source: The sample for this review was provided by Miggo. Please visit http://www.mymiggo.com for more info.
Product Information
| | |
| --- | --- |
| Price: | $55.99, $59.99, and $69.99 (depending on size) |
| Manufacturer: | miggo |
| Retailer: | Kickstarter |
| Requirements: | Mirrorless or DSLR camera (three sizes available) |
| Pros: | IPx3 weather resistant. Clever quick-draw design. Versatile neck strap with easy, adjustable length. Lightweight yet gives adequate protection from average bumps. |
| Cons: | Holds just your camera and nothing else. Interior back-up strap buckle can get in the way a tad. |