We use affiliate links. If you buy something through the links on this page, we may earn a commission at no cost to you. Learn more.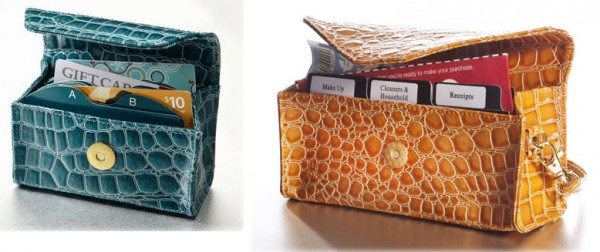 If you tend to collect gift cards or money-saving coupons and never seem to remember to redeem either of them, you need a better organizational system in your bag.  Card Cubby creates little organizers that convert your chaos into cash.  The Card Cubby is a little 5″ X 3″ X 2″ wallet with dividers inside to organize your gift cards, credit cards, and business cards.  The Card Cubby is made of leather, and it is available in a variety of colors, embossed textures, and patterns.  Prices start at $23.50; a version with an RFID lining to prevent your information from being scanned without your permission is $32.50.
The Coupon Cubby has dividers to organize your money-saving coupons, but it also has a zipper pocket for cash and enough room for a cellphone.  It measures 7.5″ X 4″ X 2″, and it comes with a removable strap.  The Coupon Cubby is available in a variety of colors and textures for $32.99.
To learn more about these organizers or to order, go to the Card Cubby website.