We use affiliate links. If you buy something through the links on this page, we may earn a commission at no cost to you. Learn more.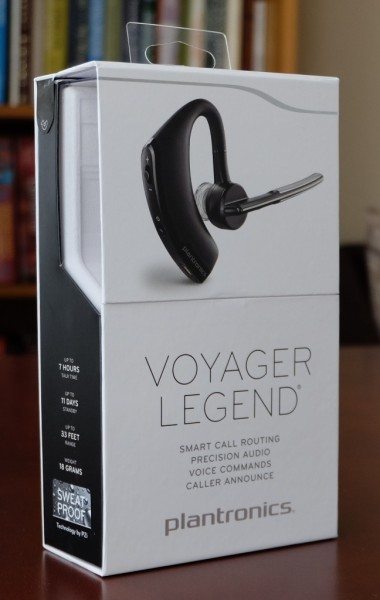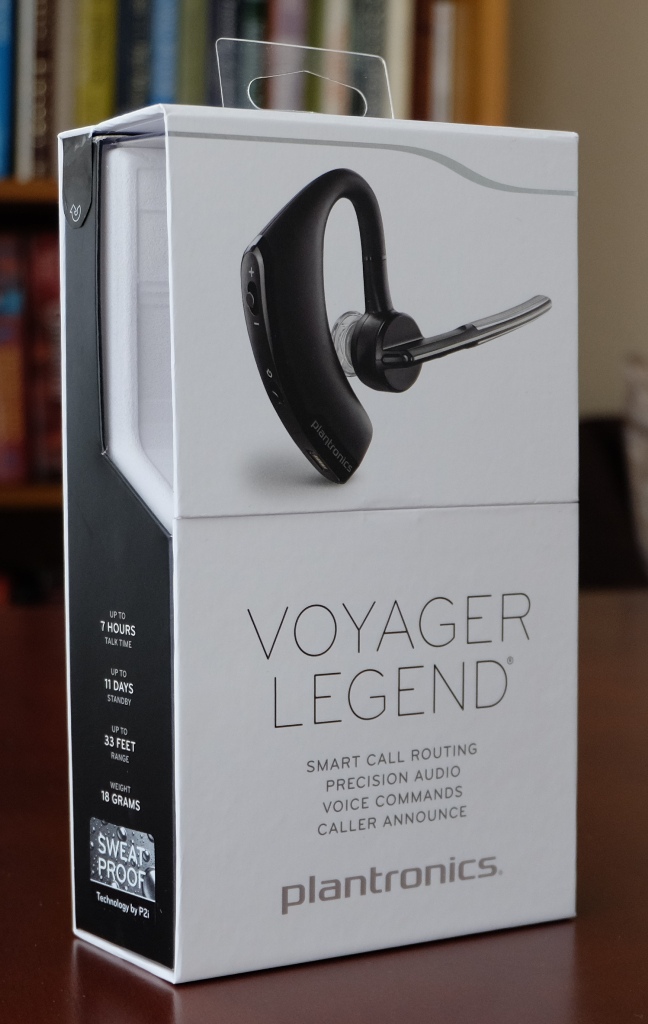 Bluetooth hands-free headsets or smart car calling features are becoming more and more necessary now that 14 states have banned hand-held cell phone use while driving, according to the Governors Highway Safety Association.  Even if your state doesn't have a ban on hand-held cell phone use while driving, there are bans on people using them in school zones and in many states for those who are under 18 years old. The Plantronics Voyager Legend is a safer alternative to fiddling with your cell phone while driving and appears to be a highly rated headset. I was curious to see if it was all that it is touted to be.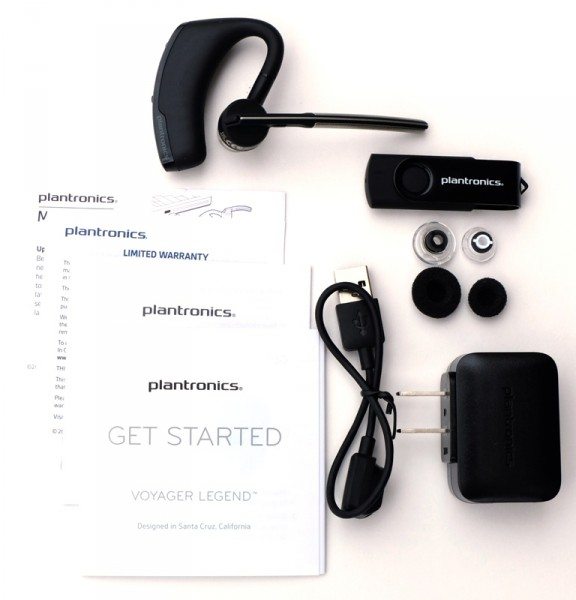 Package Contents
Plantronics Voyager Legend headset
Proprietary magnetic charging cable (9 inches)
AC adapter
Three sizes of silicone eartips
Two foam eartip covers
Get Started guide
Safety guide
1 year limited warranty sheet
Updater sheet (how to update firmware)
Accessories advertising sheet
A thumb drive with PR shots and additional headset information (included with this review sample)
Design & Build Quality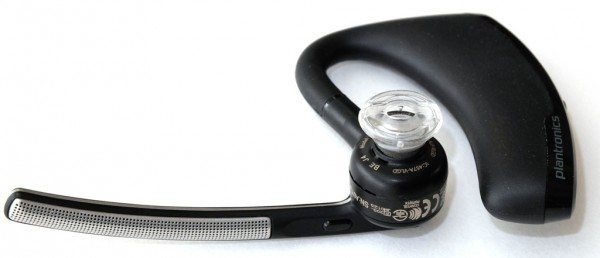 Design-wise, the Plantronics Voyager Legend headset is not as small as other headsets out there or as fashionable. It is made of a comfortable, flexible rubber material with a rigid black plastic control panel and stainless steel windscreens covering the microphone boom that contains three microphones with active Digital Signal Processing (for noise cancellation). It is protected from damage due to moisture (e.g. sweat, rain) by P2i technology which means that a "nano-coating is applied during the manufacturing process, resulting in invisible liquid repellent properties that also makes the headset more reliable." The eartip is a clear silicone material and comes in three sizes. To change it, you must gently push in and rotate counterclockwise to remove it. You then align the desired size tip with the slots and rotate clockwise while pushing in to lock it in place.
This headset can also be worn on either ear by rotating the microphone boom up to a vertical position, twisting the earpiece to the other side, and finally lowering the boom into the correct position.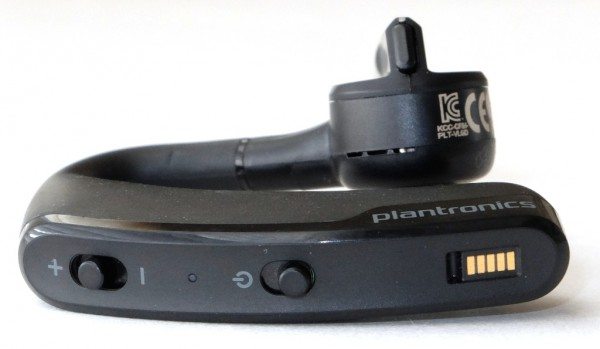 Located on the portion of the headset that fits behind your ear are the Volume Up and Down button, LED charging status light, Power button, and proprietary magnetic charging connection. Also from the above photo, you can see the Call button located at the base of the microphone boom and earpiece (at the top in this photo).

The underside of the headset shows the Voice/Mute/Play/Pause button.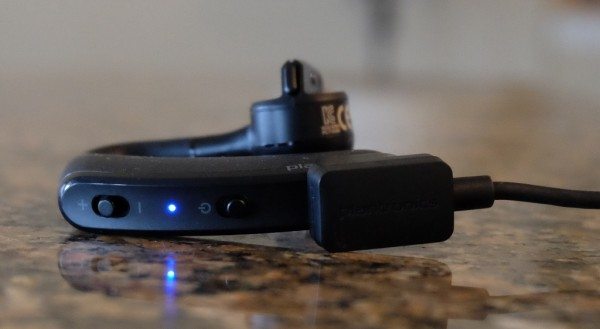 The charging cable is quite short and only measures nine inches long. And since this is a proprietary cable with the ability to magnetically clasp onto the headset to charge, you will have to spend more money than you would on a micro USB cable when replacing it if you should lose it.
Setup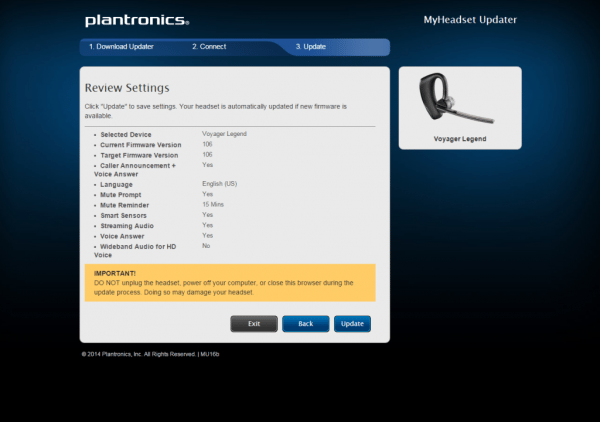 When you first receive the Plantronics Voyager Legend headset, it has enough of a charge to update the firmware and pair it. The first task was to update the firmware if necessary by connecting the headset to my computer, going to www.plantronics.com/myheadset-updater, choosing my headset, downloading the updater, allowing the headset's settings to be read, change any of the headset's settings, then click update. You are able to change the following headset settings: the voice caller announcement (on/off), the language, mute prompt (yes/no), mute reminder (15 minutes/5 minutes/off), smart sensors which allow you to pick up the headset to answer a call (on/off), streaming audio (yes/no),  voice answer (yes/no), wideband audio or HD voice (yes/no).
I had no trouble pairing the headset with our phones (HTC One X and Nexus 6). The first time that you turn on the Voyager Legend it is ready to pair and the LED status light flashes blue and red alternately, so all you have to do is make sure your phone's Bluetooth is on and be sure to make it visible to other devices. After finding and selecting the headset as "PLT_Legend", I was not required to enter any passcode (but just in case, if asked you can enter four zeros or "0000"). After pairing you will hear the Plantronics Voyager Legend say "Pairing successful". When pairing an additional phone, you can either press the Voice button and say "Pair mode" or just hold the Call button until it says "Pairing" and the LED starts flashing blue and red; after which you repeat the same process as with the first phone. You are able to pair two phones to the Voyager Legend and thus are able to answer calls from either phone.
Use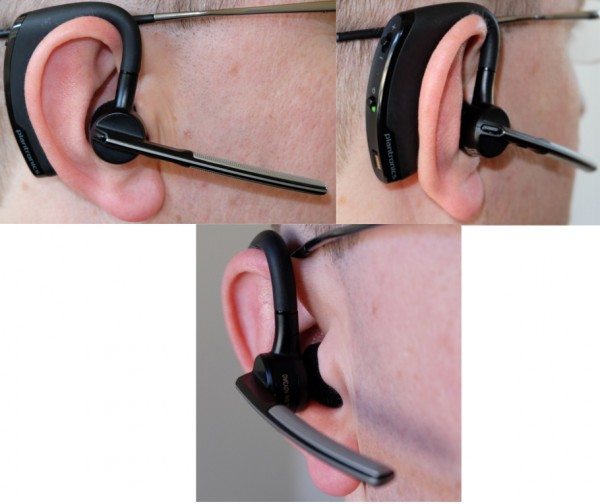 Wearing the headset is comfortable after finding the correct eartip to use and then covering it with the foam cover. The flexibility of the arm that goes behind your ear makes putting on and adjusting the headset easy.
The Bluetooth range was tested and found to be about 33 feet with both cell phones, which is what is to be expected. If you get too far away from the phone, it alerts you by telling you that "Phone is disconnected", but will reconnect when you come within range.
The Voyager Legend allows you to answer a call by using one of three methods: putting on the headset, saying "Answer" after the caller is announced, or pressing the call button. There were a couple of times when putting on the headset did not work but it is possible to reset the sensors to correct this. While wearing the headset, you press the Call button and if you get a talk-time voice alert, the sensors are working; but if you get a tone, they need to be reset. To reset them, you must charge your headset and place it on a flat non metallic surface for more than 10 seconds. After doing this, there were no other incidences of not being able to answer a call by putting on the Voyager Legend. There were a couple of times when using the voice command "Answer" failed because of enunciation problems or trying to say "Answer" before or during the announcement of the caller. This was due to the learning curve with this device and obviously not a problem with the device itself. Once you learn how the Legend works, it is a treat to use the voice commands.
The call quality was impressive. The audio Digital Signal Processing (DSP) worked well cancelling out most background sounds. On a windy day, I was unable to hear any whistling sounds in the background when my husband called me using the Voyager Legend. He sounded very clear. My voice was equally clear to him. He preferred talking to me using the headset rather than his phone so that he could better hear me while driving in the car with the windows down.
To end a call you must press the Call button since there are no voice commands nor is there an option to remove the headset to hang up. In fact, removing the headset will transfer the call to your cell phone. It was fun using this procedure to try to tell the differences between the phone and the Voyager Legend. There are a couple of differences: the headset sounds louder to the person you are talking to and there is some background noise while using it especially in noisy environments.
To mute a call, you press the Voice button on the underside of the microphone boom. There is a notification that you can set up to remind you that Mute is on. The mute was tested successfully as well, although not long enough hear the current 15 minute setting for Mute reminders.
You can also press the Voice button to find out the amount of talk-time left and what phones are connected. If you press the Voice button and say "What can I say?", you will be given the list of voice commands that you can use. These include: "Pair mode", "Am I connected?", "Check battery", "Call back", and "Cancel".
When a call comes in, you have to option to reject the call. To do this, after the caller is announced you are prompted with "Answer or ignore". You can either say "Ignore", or you may also press the Call button for two seconds to reject a call, after which the headset will respond with "Call ignored". Both of these options were tested successfully which allowed the call to go to voicemail. If you wish to return the call, double tapping the Call button or pressing the Voice button and saying "Call back" will call the last number that you either dialed or received.
To voice dial someone you press the Call button for two seconds, wait for a prompt, then say "Call <name or number>". Again this was tested with success! In fact, this worked while driving in the car with the windows rolled down. This feature ROCKS!
The battery life seemed to be on par with the specifications for this headset which is about seven hours of talk time or 11 days on standby. This was difficult to tell since phone calls are of varying lengths of time and do not occur with a consistent frequency. The more you talk the less of the standby time you have. When the headset was depleted, the 1.5 hour charging time matched that of the Plantronics Voyager Legend manual.
This headset is capable of pausing and playing streaming music by either holding the Voice button for two seconds or setting the headset down or picking it up. However, this headset is a mono Bluetooth headset so listening to music is a rather flat and unexciting experience. Since hands-free calling is my primary use for the Voyager Legend, any music quality issues were unimportant to me.
My husband took this with him on a business trip crammed into a computer bag, and even though it shows some minor wear, it appears to be a very durable device and held up well to his abuse. We haven't had any opportunities to test the rain/moisture proof nature of the Plantronics, so for now I'll just trust that it will work under those conditions (fingers crossed).
Final Thoughts
The Plantronics Voyager Legend is a huge hit in our home. I would highly recommend this headset because the call quality is so impressive (voice audio quality was wonderful even when driving with the windows rolled down). This headset is somewhat more expensive than others, but the call quality makes it worth the expense. The voice commands and being able to put the headset on to answer a call were just the icing on a fabulous cake. The only drawback to using this headset is that the charging cable is quite short (nine inches long) and if you should lose it, you will not be able to use any of your extra micro USB charging cables. Instead you will have to purchase their nine inch proprietary cable for about $8 or their 24 inch cable for $10 from Amazon.
Source: The sample used in this review was provided by Plantronics, Inc. Please visit www.plantronics.com for more information or Amazon to purchase it for $73.06.
Product Information
Price:
$73.06
Manufacturer:
Plantronics, Inc.
Retailer:
Amazon
Requirements:
Pros:

Wonderful call quality
Cuts down on background noise including wind
Protected from sweat and moisture by P2i technology
Has voice dialing/answering or ignoring incoming calls
Smart sensors allow answering a call by putting on the headset
Comfortable to wear

Cons:

Short, proprietary charging cable