We use affiliate links. If you buy something through the links on this page, we may earn a commission at no cost to you. Learn more.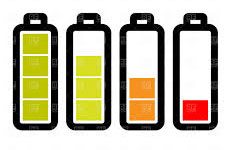 As manufacturers continue to add more features and faster processors into our gadgets, the one feature that continues to lag behind in improvement is battery life. That may change soon now that Dyson and Michigan-based battery leader, Sakti3 have partnered together. Sakti3 grew out of the engineering department of the University of Michigan and was founded by CEO Ann Marie Sastry. Sakti3 has found a way to take the liquid based lithium-ion batteries that we all use today and create solid-state batteries. If that doesn't mean anything to you, consider how we now use flash memory instead of floppy disks. Remember those plastic disks we used to store our files? They could hold 1.44 megabytes of data. Today a tiny 32GB micro SD card the size of your thumbnail can hold the same amount of data that a stack of 22,222 floppy disks can hold. Now imagine what solid-state technology will do for batteries. Sakti3's new platform has the potential to provide much larger leaps in energy density that will have uses for electric vehicles, the storage of renewable power, the miniaturization of technology and more. Dyson's $15m investment insures that the technology will first come to market with Dyson products. Click through to read the full press release.
Keeping current: Dyson bets on battery pioneer Sakti3
Dyson is investing $15m into Michigan-based solid-state battery leader, Sakti3. Following Dyson's announcement last year of a $2.3bn investment into future technologies, the partnership with Sakti3 will help to propel Dyson's ambitious plans – 100 new machines in four new portfolios of technology over the next four years. Dyson's move is part of an investment round of $20m that includes a joint development agreement to commercialize Sakti3's solid state technology, integrating it into future Dyson machines.
James Dyson, Founder & Chief Engineer, said:
"Sakti3 has achieved leaps in performance which current battery technology simply can't. It's these fundamental technologies – batteries, motors – that allow machines to work properly. The Sakti3 team has amazing ambitions, and their platform offers the potential for exponential performance gains that will supercharge the Dyson machines we know today."
Improving the battery
Current Lithium ion (Li-ion) technology was first released commercially by Sony in 1991 and iterations of it feature in nearly every consumer electronic good: from smartphones to Dyson's range of cordless vacuums. But it is thwarted by limitations in size, weight, charge time, capacity and degradation. Sakti3 is positioned to change that. In 2006, CEO Ann Marie Sastry and her colleagues started running mathematical optimization schemes to explore how to make car batteries more efficient. Their research led them away from the liquid electrolyte found in conventional lithium-ion batteries, and towards solid state batteries. Since that time, the company has built and commissioned a pilot line to produce its technology, raising over $50m in equity investments from Khosla Ventures, Beringea, Itochu and General Motors, in addition to The company, born out of the University of Michigan, has published more than 80 papers on battery technology, and methodically converted their numerical predictions, through process science and work on scalable equipment, into prototype solid-state battery cells having the highest known energy density of any battery – over 1100 Wh/l. This rating doubles the density of today's most advanced liquid lithium ion batteries, while also maintaining the potential to be cheaper to manufacture, smaller, safer, more reliable and longer lasting.
Ann Marie Sastry, Founder & Chief Executive Officer, Sakti3, said:
"It was quite an honor for us to be approached by Dyson, precisely because they wanted what we did – much, much better batteries. The truth is, there is a great deal of knowledge and passion on both sides, and Dyson's engineering team has the capability and the track record to scale up new ideas and make them a commercial reality. Together we will enable some very transformative products."
Sakti3's technology is just the beginning; the new platform has the potential to provide much larger leaps in energy density, and will have uses for electric vehicles, the storage of renewable power, the miniaturization of technology, as well as entirely new applications. The technology will first come to market with Dyson.
For more info visit Dyson.com and Sakti3.com.