We use affiliate links. If you buy something through the links on this page, we may earn a commission at no cost to you. Learn more.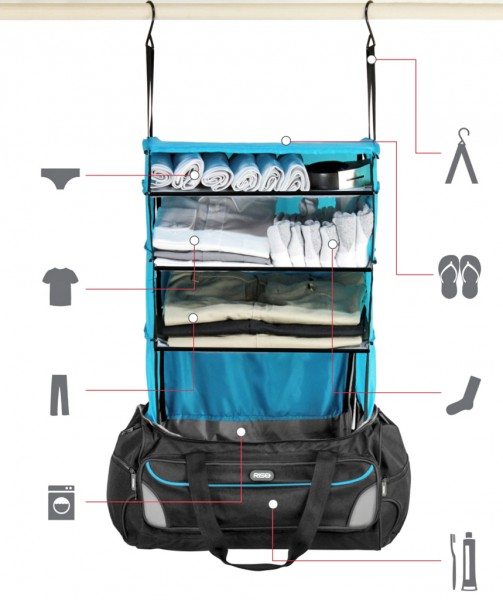 When you have a place for everything, it's easier to see when everything is in its place.  And you'll be less likely to reach to destination and find that you've forgotten something very important – like your pants for the week.   Rise Gear bags incorporate a patent-pending collapsible shelving system that makes packing a breeze.  Hang the bag from the bar in your closet, and you can easily pack all the clothing and toiletries you'll need for a short to medium-long trip.  Because the shelves keep everything neatly folded, you can just hang the bag in the hotel room's closet and live out of the bag.  The clean clothes say on the shelves, and the large open compartment under them acts as a hamper for your dirty clothes.  Everything stays in one place, so you're less likely to leave something behind.
In addition to the shelves, the bags have a zippered compartment for extra shoes (on top of the top shelf), and there are two deep end pockets and one long front pocket for toiletries, chargers, and other necessities.
Rise Gear offers three versions of the shelving bags.  The Weekender duffel is shown in the above image.  It's available with a black exterior with exterior accents and interiors in blue, gray, or pink for $139.  They also offer a messenger-style Jumper bag ($99 in blue, gray, or pink) and a Roller bag that incorporates a full-sized compartment for suits and dresses with the collapsible shelving system ($199 in blue, gray, or pink).