We use affiliate links. If you buy something through the links on this page, we may earn a commission at no cost to you. Learn more.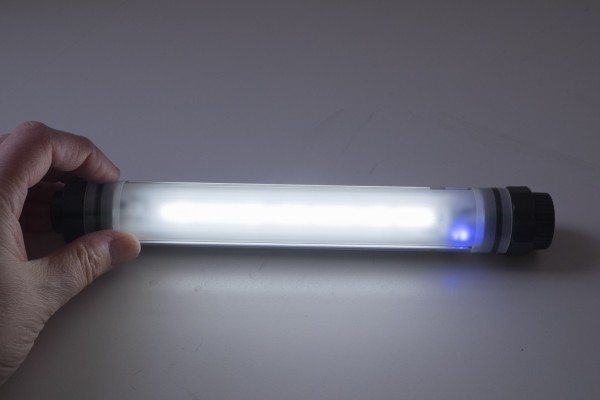 When I was a kid, I played Dungeons and Dragons.  My favorite character was a cleric named Becket.  Original, I know.  One of the spells I found most useful was Continual Light.  This created a very strong light source wherever the spell was cast.  I figured out a way to overcome the inherent limitations of carrying torches into dungeons and fighting at the same time:  I would cast Continual Light on wooden dowels which all party members wore in their belts.  It saw us through many adventures and Becket was retired when I stopped playing D&D back about 25 years ago.
The folks at SunJack must have heard about my light stick trick because here is a real-life LightStick!  And it will fit in your belt, provide enough light to illuminate a room for a long, long time…and it will even recharge your cell phone!  I have reviewed quite a few gadgets over the years and this one stands out as one of my favorites, even though it is so mundane.  It simply does what it purports to do and does it fantastically well!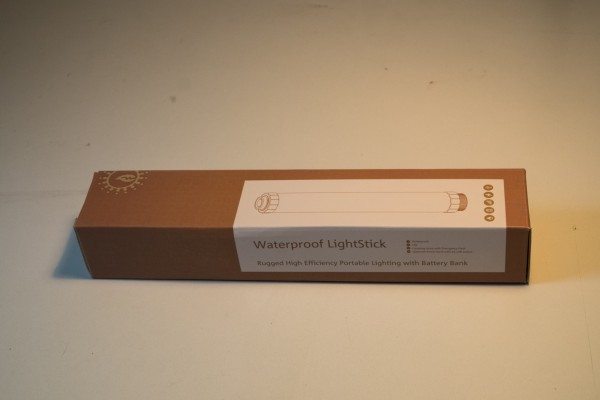 Packaged in a simple cardboard box, it contains the LightJack, two wrist straps, a USB Micro cable and instructions.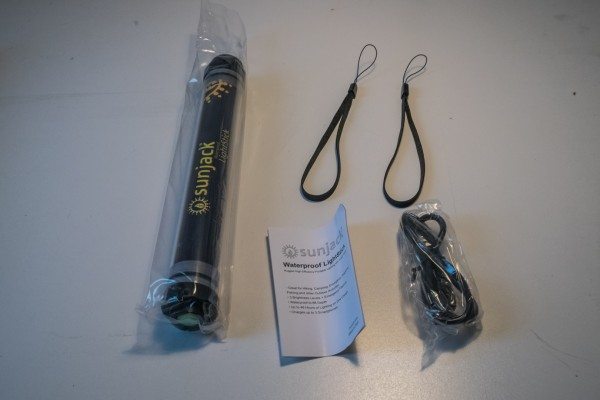 There are places on either side of the LightJack to attach the wrist straps, allowing it to be hung from pretty much anywhere.  The edges are many-sided, which allows it to sit flat on most any surface.  The front face is a tough plastic and the access port to the USB ports is sealed with a cap that has a rubber gasket.  It's rated to 6 feet of water resistance and I did not test this.  It is a durable, tough piece of kit.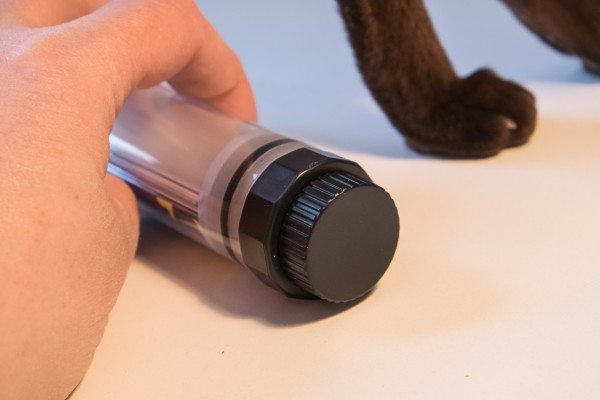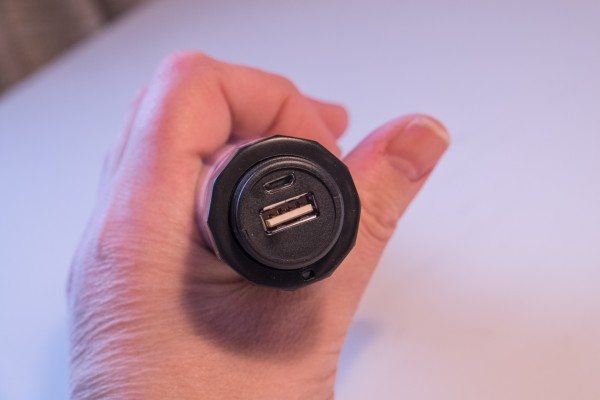 Removing the sealed cap reveals a full-sized USB port for you to plug your cell phone into to recharge, so it acts as a backup battery in case of an emergency.  Above it is the USB micro port that is used to charge the built-in 5200mAh lithium-polymer battery.  It charges quickly.
The LightStick is turned on using a rubber button on the other side of the cylinder: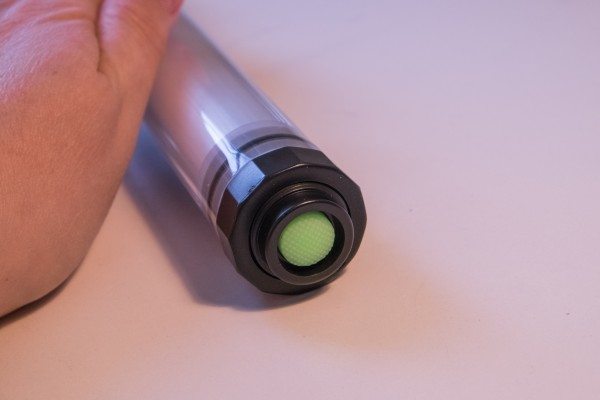 The LightStick has three levels of brightness, plus a flashing light mode.  The brightest setting is rated at 350 lumens but the lowest setting provided plenty of light to get work done by.  The method of lighting is a row of white LEDs.  Four blue LEDs provide feedback as to how much charge remains on the LightStick.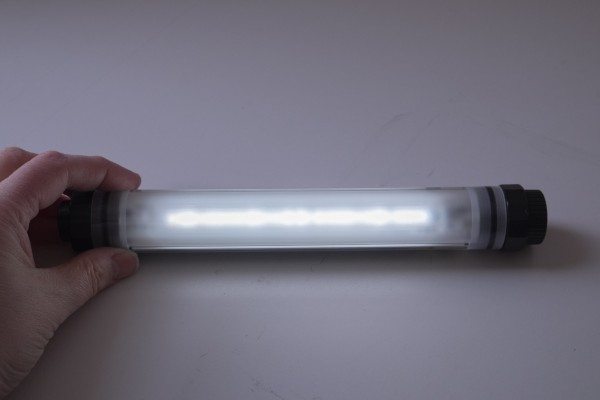 This is the dimmest setting.  I actually had to dim the image a little because my exposure was too bright to make out the LED array.  To test it, I turned it on at 3:15 PM on February 24th and carried it with me (though not in my belt) for as long as it lasted.  I checked the battery periodically.  After 15 hours, there were 3 dots left.  After another 10 hours there were two dots.  Still two dots when I checked it 14 hours later.  It finally went into Power-Saving mode on February 26th at 8:45 AM, a solid 41 hours after I turned it on for the first time.  It is advertised to last at least 40 hours at minimum brightness and all I can say is that I wish laptop and tablet makers were as honest about their battery life ratings!  The Lightstick turns off when it hits one dot and the dot blinks as the light goes into power-saving mode.  The light stays on for 5 minutes in power-saving mode before switching it off again.  I turned it on over and over again a few times before I had to get back to life as I live it.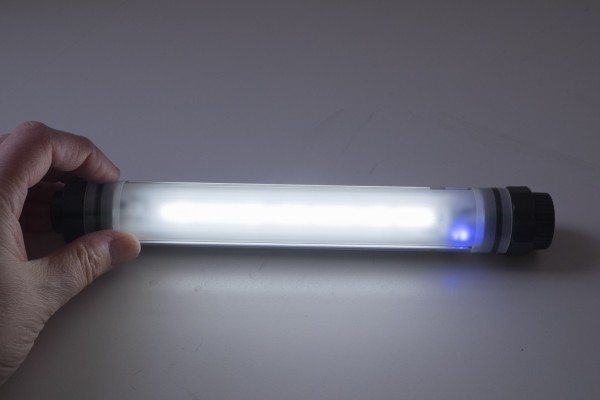 The second-brightest setting lasted from 6:56 AM on February 28th and it went into power saving mode at 5:06 PM the same day.  10 hours on the medium setting.  In power saving mode, it switches off after two minutes.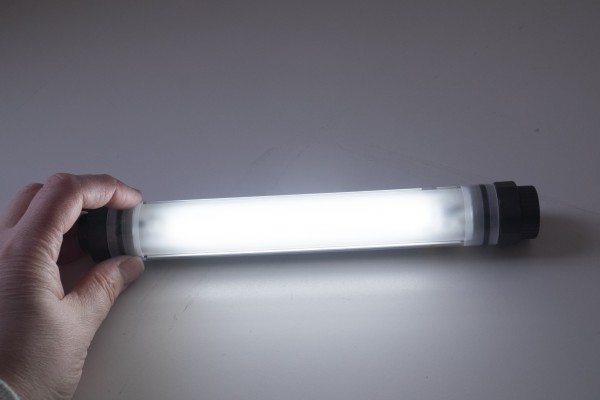 The brightest setting lasted from 6:42 AM on March 1st and died at 12:07 PM the same day.  A little more than five hours at the brightest setting.  Power save switched off after 10 seconds on this setting.
In flashing mode, it flashes bright on and on and on.  I turned it on at 5:00 AM on March 2nd and turned it off at 9:40 PM so I could get some sleep.  There were still two dots left on the battery at this time.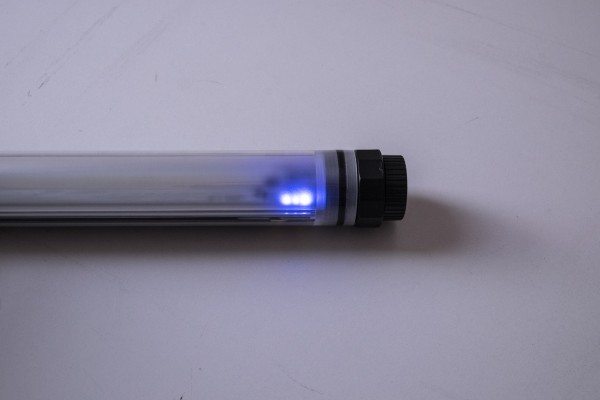 The final test I put this through was to charge my iPhone 6 Plus until it wouldn't charge anymore and then see how long the light lasted at the dimmest setting.  It took about 2 hours to charge it from 22% to 95% and it would not charge any more than that.  There was one dot left but it wasn't blinking.  I figured it was done for.  I figured wrong.  On the lowest setting, the light lasted another 13 hours before finally going out.
This is being marketed as a camping/emergency preparedness gadget.  I can tell you my mind is set more at ease knowing I have this thing.  We lost power more often than I'd like and now I know I have my own personal Continual Light spell that will get me through it.  I don't camp but I remember my camping days well and we would have been thrilled to have something like this to light our nights.  This belongs in every emergency kit and in every camping kit.  Forty hours of light is pretty amazing but you'll probably take a hit in colder weather.  It's very reasonably priced at $39.95 from Amazon.com.  Go grab one!  Or maybe two!
Source: This sample graciously provided by SunJack.  Thank you very much for a great gadget which does exactly what it is advertised to do!

Product Information
Price:
$39.95
Manufacturer:
SunJack
Retailer:
Amazon.com
Requirements:

An AC USB charger
A need for illumination

Pros:

Lasts for more than 40 hours on the dimmest setting
Dimmest setting will illuminate a room or tent
Can use it to recharge your cell phone
Waterproof to six feet
Tough plastic construction makes it indestructible in normal use

Cons:

Does not come with AC USB adapter but most USB gadgets don't anymore.