We use affiliate links. If you buy something through the links on this page, we may earn a commission at no cost to you. Learn more.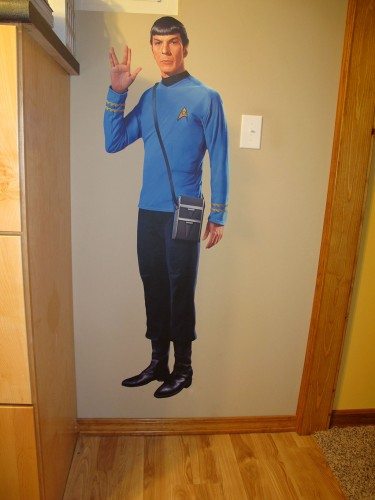 There are few people, real or fictional, who end up becoming a part of our global culture. Leonard Nimoy was such a person. He portrayed first officer Mr. Spock, a half Vulcan, half human, in the original Star Trek series which aired from 1966 – 1969. Although the sci-fi series was cancelled after only three seasons and 79 episodes, it spawned many other TV series and movies.
I remember as a kid watching Star Trek reruns on the weekends on a small TV set that I had on my dresser in my bedroom. I also remember my mom sitting at the end of my bed watching them with me from time to time because we shared an interest in sci-fi and horror shows. Of all the Star Trek characters, Spock was my favorite. As a very lonely gay kid, I identified with him because he was different than everyone around him. It probably sounds lame to a lot of people, but the fact that Mr. Spock could be so different AND that he mattered, gave me hope.
I have a life-size sticker of Spock on the wall of my office (Gadgeteer HQ) which flashes me the "live long and prosper" gesture every day. Leonard Nimoy lived to the age of 83, so he definitely fulfilled that wish for himself. He will be missed by millions of fans, including the geek who is writing this tribute. If there is something after this mortal life, I hope Leonard is out there having some fascinating adventures.