We use affiliate links. If you buy something through the links on this page, we may earn a commission at no cost to you. Learn more.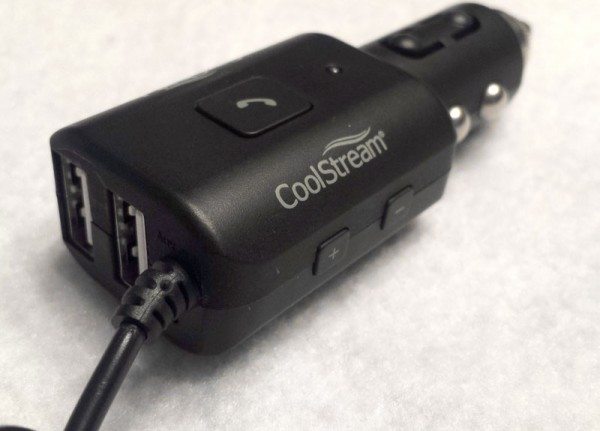 I have a Swiss Army knife, which is pretty darn useful.  It is useful not only because it is small and easy to carry, it is also extremely useful because of all the things it can do.  So when I saw the Coolstream Car Chat+ I thought about my Swiss Army knife, because the Car Chat+ is like having several devices in one.  Let's take a look!
Right up front, let me tell you who the target market is for this product:  people who have a car that doesn't have Bluetooth, but have an AUX port into the car stereo. Also, if you don't already use a Bluetooth headset with your phone, this would be a good solution for you in the car.
I actually do have a car that has Bluetooth, and I have a Bluetooth headset that I use daily with my phone.  But I left my Bluetooth headset at home for a few days and I turned off Bluetooth in the car so that I could live with the Car Chat+ for a few days to see if it lives up to the marketing hype.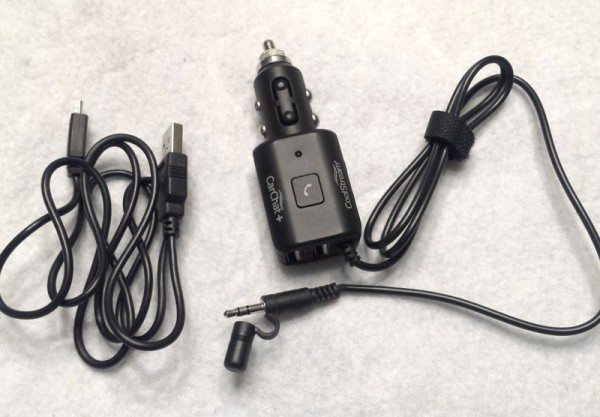 In the box you'll find an instruction booklet, a standard USB cable, and the Car Chat+ with its built-in 3.5mm cable that includes a nice little plastic cover for the 3.5mm plug when not in use.
Here are the specs from the manufacturer:
Bluetooth 4.0 receiver + EDR with APTx Sound Enhancement.
Bluetooth Profiles: HSP, HFP, A2DP and AVRCP.
Bluetooth music streaming with Multipoint Technology for connecting to 2 mobile devices simultaneously.
Built in microphone for Hands-free calling.
Plugs into car power outlet  (Lighter Socket).
Connects to speakers through Car Aux Jack (looks like a standard 3.5 mm headphone Jack).
USB Output Power is 5V. Two 2.5 Amp USB Ports for quickly charging your mobile devices.
Compatible with iPhone 6 and all earlier iPhone models as well as Android Phones and Tablets.
Bluetooth range up to 30 feet.
Auxiliary cable supports analogue audio out.
Power supply is DC 12V/ DC 24V car power outlet (Lighter Socket).
No battery is contained in this device.
And here is a picture that the manufacturer created that shows the buttons and features on the device, and it looks pretty good so I decided to not recreate it: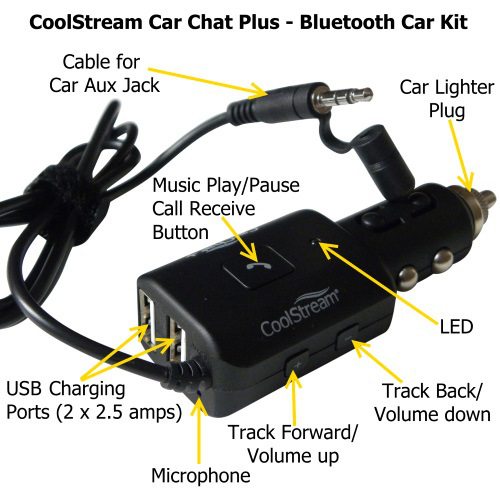 So what can this 'Swiss Army' device do?
Charge 2 phones and/or tablets at the same time.
Connect via Bluetooth to 2 devices at the same time.
Answer your phone when someone calls, so that the call plays through your stereo speakers.
Pick up your voice via the built-in microphone.
Play your phone's music through the car speakers.
Pause your music using the button on the side.
Adjust the music playback volume up/down buttons on the side.
Advance the music to the next track or go back to the previous track using the same volume up/down buttons.
When I plugged the Car Chat+ into the car lighter socket it immediately went into pairing mode, and it paired with all my devices on the first try.  The indicator light on the device will be lit red until it successfully pairs, then it changes to blue so you know it is connected.  You have ample options for adjusting the sound, on your phone, on your car stereo, and also on the Car Chat+ itself.  And when a call is coming in on your phone, you can answer the call either on your phone or with the phone button on the side of the Car Chat+.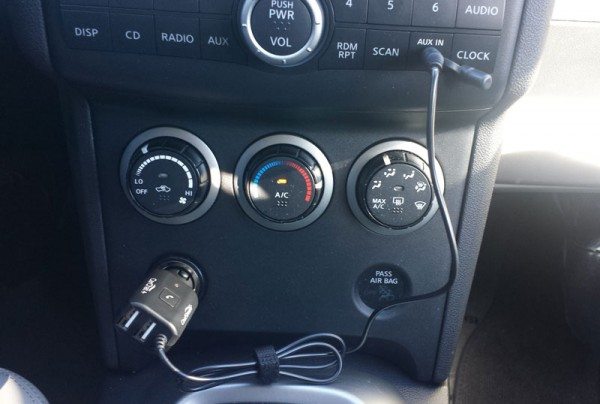 I found that the music sounded great through my car speaker, and the call quality of the person's voice who was calling me also sounded great.  I did find however that the person on the other end of the phone did not hear the best quality sound of my voice when I used the Car Chat+.  I heard comments like 'you sound far away' or 'there is a little background noise'.   And if I had the windows rolled down then it was very hard for the other person to hear me without shouting.  So I would say that the feature allowing you to answer calls with the Car Chat+ using the built-in microphone on the device is something you probably won't use for long conversations, but perhaps just for a quick call.
The built-in 3.5mm cable on the Car Chat+ is 2.5 ft long, so I can imagine that if your AUX jack is inside your arm rest between the seats, it might not be long enough for you.  So measure the distance between the lighter socket and your AUX port before purchasing this product.  I should also mention that the length of the Car Chat+ device itself could make it hard for you to plug in USB devices for charging depending on where your lighter socket is located and if the USB ports are blocked.
Overall I have been well pleased with the Car Chat+, and the price of $35.99 on Amazon is a great price for all that you get with this device.  It does feel quite 'plastic-y' and I do wonder about the long-term durability of this device, but heck, it comes with a 1 year warranty so you don't have much to lose.  So if your car stereo doesn't already have Bluetooth and you have an AUX port, and you need to charge USB devices (who doesn't, right?) this may be the perfect product for you.
Update 04/05/16
Alas, after a couple of months I retired the Coolstream. The additional wires that it added to the console was more than I could deal with, and since my car has built-in Bluetooth, and I use a Bluetooth headset daily with my phone, the Coolstream sat idle most of the time, and the wires just became a hassle. But I still say that if you don't use a Bluetooth headset and your car doesn't have Bluetooth, this device would be very handy.
Source: The sample for this review was provided by Coolstream. Please visit their site for more info.
Product Information
Price:
35.99
Manufacturer:
Coolstream
Requirements:

Lighter socket in your car
AUX jack in your car stereo
Bluetooth on your phone/tablet

Pros:

Great price
Fast Dual-USB charging
Great music sound quality

Cons:

Questionable durability
Length of the 3.5mm cable
Sub-par voice call quality