We use affiliate links. If you buy something through the links on this page, we may earn a commission at no cost to you. Learn more.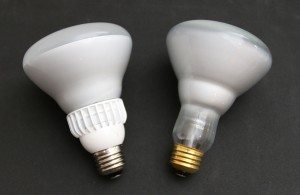 Every few months my power company Duke Energy sends me a letter that shows how my home's energy usage compares to other houses in my area. It's like getting a report card from the electric company and let's just say that my grade point average hasn't been too good for awhile now.  So in an effort to save money and energy, I've been working on ways to improve both. One project is to replace the energy sucking flood lamps in my basement living room with LED bulbs from CREE which are brighter and save money at the same time.
Note: Images can be clicked to view a larger size.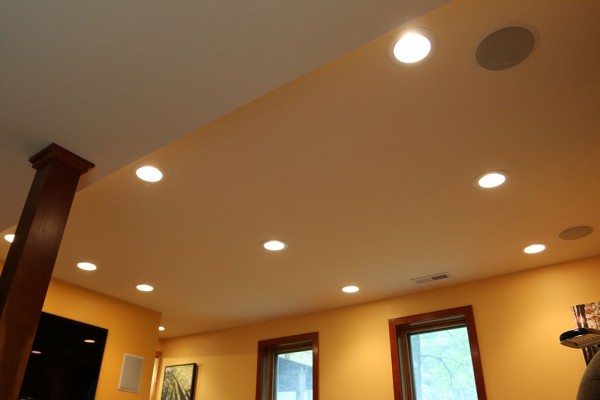 A few years ago we completely gutted and remodeled our basement which we would refer to as the cave because it was so dark and dungeon-like. Before the remodel we only had one ceiling light fixture with two bulbs for the entire 15 x 21ft space. When we updated, we went a little crazy on our lighting setup and ended up with a total of 18 recessed can lights. We no longer call this room a cave!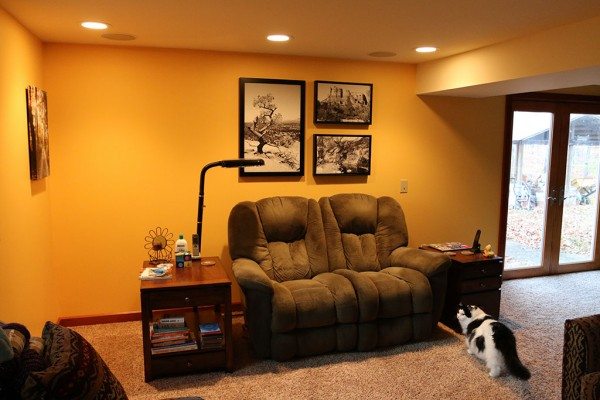 Thirteen of those can lights were fitted with 65W incandescent floodlight bulbs. Half of the room has nine bulbs which are controlled by one switch. These lights are on every night for at least 2 – 3hrs while we are watching TV, reading, surfing etc. The bulbs put out a lot of heat, which means the air conditioner may run more in the hotter summer months to cool the room.
My first project was to replace two of those bulbs over our couch with two CREE floodlights which only use 9.5 W, saving up to 86% energy per bulb. The image above is a before shot of the set of three bulbs above the couch.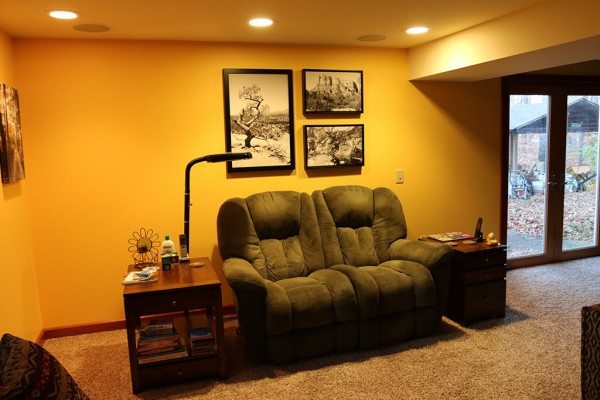 Here's a shot of the two right most bulbs that have been replaced with CREE 65 Watt Replacement BR30 soft white flood bulbs. You should be able to notice a difference in brightness when compared with the bulb on the left and the bulbs in the before picture above. The bulbs come on instantly and don't require any warm up time. They are also dimmable. With average use, each bulb costs about $1.14 a year to use and will save up to $153 in energy costs over the lifetime of the bulb, which should be about 25,000 hours. I'm not a math whiz, but if my calculations are correct, that means each bulb should last for over 20yrs if we're only using them 3hrs a night 365 days a year.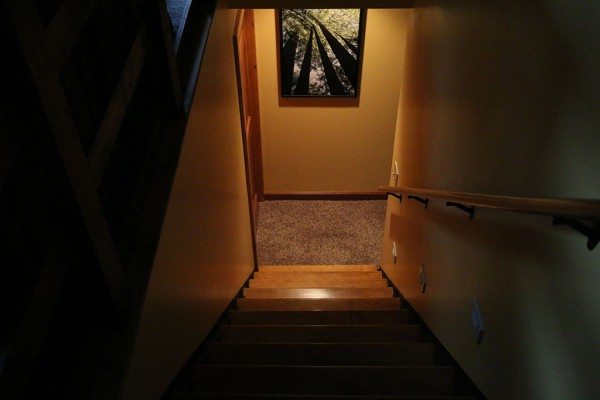 I also replaced the 65W incandescent floodlight bulb in the basement stairway with a CREE soft white 100W replacement bulb which only use 18W. Check out the before shot above. Only four of the bottom stairs are illuminated.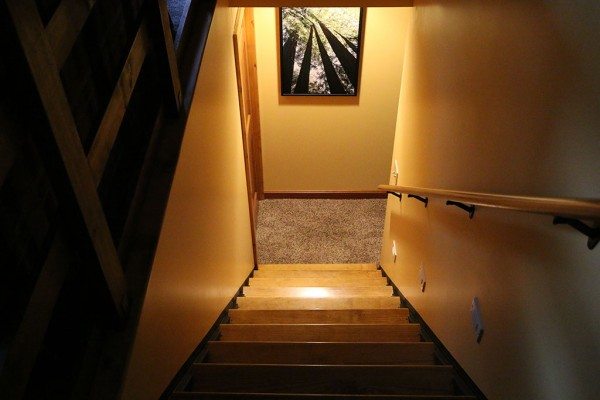 After the bulb swap, much more of the stairwell is visible, making it easier and safer to navigate.
I'm sold on CREE LED bulbs because they are a very easy replacement. I am slowly replacing all the remaining bulbs in my basement with CREE bulbs. My goal is to have them all replaced by the end of February so that I can improve my energy usage on the next energy report card that I receive from my power company. Of course improving my energy "grade" will also mean that I'm saving money, which is always a good thing.
CREE bulbs can be found at Home Depot. Prices vary depending on bulb type, but the BR30 replacement bulbs are about $19.97 each or $69.88 for a pack of 4.
Source: The samples for this review were provided by CREE. Please visit their site for more info.