We use affiliate links. If you buy something through the links on this page, we may earn a commission at no cost to you. Learn more.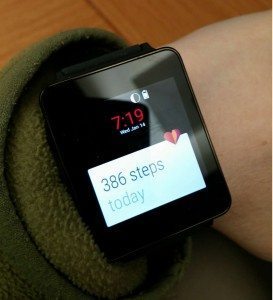 Before the holidays Verizon was nice enough to send me the LG G Android Wear-based watch to test drive. It seems like I'm always excited about wrist worn gadgets until I actually strap them to my wrist. Once I do, I quickly tire of them. I was hoping the LG G Watch would buck that trend. After all, I love Android and I love gadgets. But like always, my darn wrist let me down. There's also the fact that I still don't see the point of a smartwatch in the first place. Am I alone in this thinking?
Note: Images can be clicked to view a larger size.
Hardware specifications
Processor: 1.2GHZ Snapdragon 400 CPU, 4GB storage, 512MB Memory
OS: Android Wear
Display: 1.65″ LCD (280×280) 240 ppi, Gorilla Glass 3
Bluetooth 4.0
Sensors: 9-Axis, Gyroscope, Accelerometer, Compass, Altimeter
Battery : 400mAh
Dimensions: 37.9 x 46.5 x 9.95mm
Weight: 63g
IP67 certified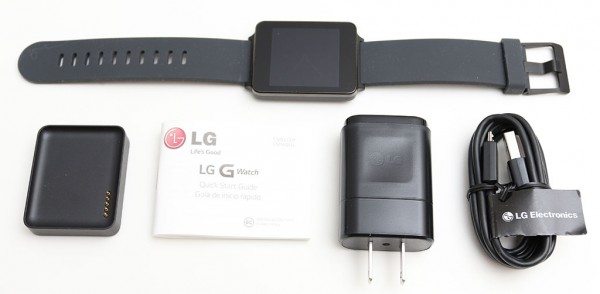 Package contents
LG G Watch
Charging dock
AC adapter
USB cable
Quick start guide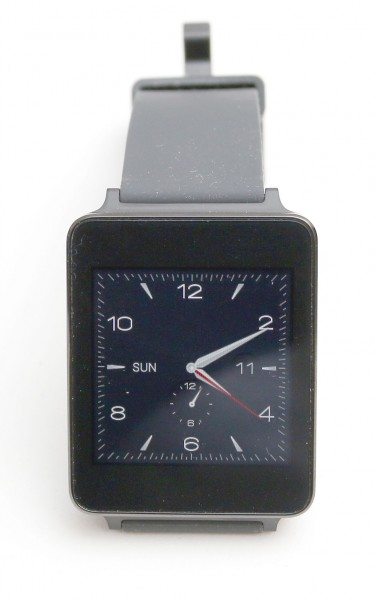 The watch itself is nice enough. I think it looks more stylish than the Samsung Galaxy Gear watch I reviewed last year, but it's still a chunky rectangle. I do think that round smartwatches look the best. Unlike the Galaxy Gear, the LG G Watch can be used with any Android phone running Android 4.3 and later. The watch runs a custom version of Android and has been designed to perform as an extension to your Android smartphone. Since it relies so heavily on that connection for functionality, you can't do much with it as a stand alone watch other than check the time, use a stopwatch and see how many steps you've walked for the day. The whole purpose of Android Wear watches is that they act as a second screen which mirrors your phone's notifications. Alarms, calendar events, new emails, tweets, text messages, facebook posts or anything else that you have setup to alert you in the notification bar of your phone will also show up on the watch. The idea is that you don't have to take your smartphone out of your pocket or bag to see new notifications, read your text messages, etc. You just look at the watch.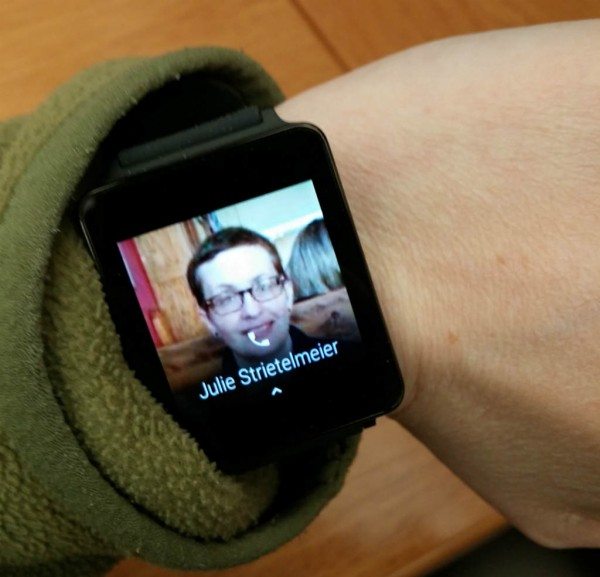 The same goes for incoming calls. You'll be able to see who is calling on the watch's screen and can answer or dismiss the call with a text message. However, you can't actually talk to someone through the watch when you use it to answer a call, you have to pull out your phone for that.
I should also mention that the display is not easy to read in direct sunlight.
The always on display shows the time (it is a watch after all), but you have to either touch the watch face or tilt the watch to "wake" it up so that you can interact with it. The main screen shows the current time and if you swipe down it will show the date, battery level, and mute / unmute toggle. If you press and hold on the screen you'll be able to access different clock faces stored on the watch. When a notification pops up on the screen, you can swipe to the right to dismiss it or swipe to the left for options to act on the notification such as opening the corresponding app on your phone. Double tapping the screen will launch Google Voice search or you can just say "Ok Google" any time the watch is awake to ask it questions or give it tasks.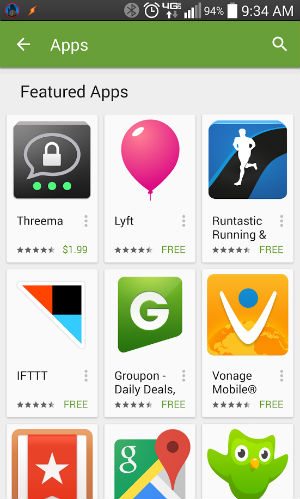 There are quite a few apps that you can install directly on the watch that will allow you to play games, see a calendar, use a calculator, use a compass and lots more. Like all apps, some are good and some are junk. Beware that you use your phone to download the Android Wear apps which install on the phone and then are pushed to the watch. That means each app uses a little bit of storage on your phone as well as the watch.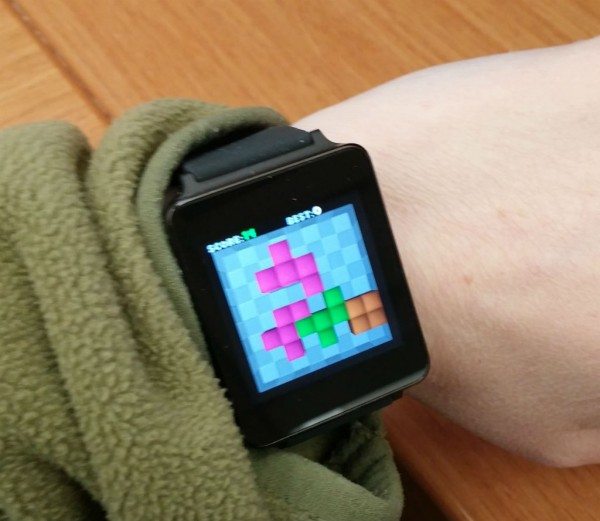 There are some cool apps, but the small watch screen makes it a little difficult to see some elements depending on how the app has been designed. Also navigating to the list of installed apps on the watch requires you to double tap the display, scroll down to the start button and then scroll to find the specific app. I think I'd rather just use my phone 🙂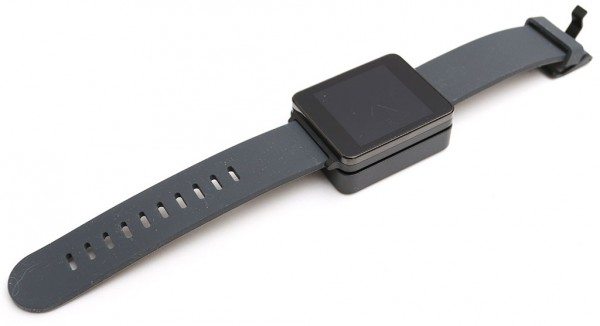 The watch comes with a magnetic charging dock that is pretty cool because you don't have to fool around with plugging a cable into the watch itself.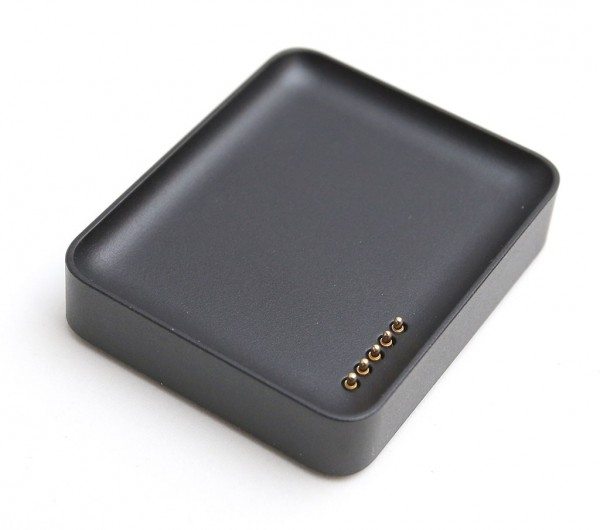 The dock has five pins that match up with five contacts on the back of the watch. Using the included micro USB cable and AC adapter gives you an easy way to charge the watch. I found that the LG G Watch would last about two days per charge, which isn't bad at all.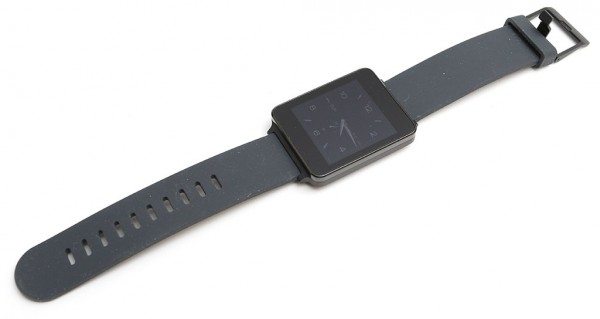 The LG G Watch uses a standard 22mm (0.86 inch) strap so you can easily customize it. That's a good thing because the plastic strap that comes with it is a magnet for lint, dust and dead skin. Yuck! No matter how many times I wiped it down, it would still have stuff stuck to it.
The watch is water and dust resistant. It is completely protected against dust and is able to withstand water immersion of between 15cm and 1m for 30 minutes.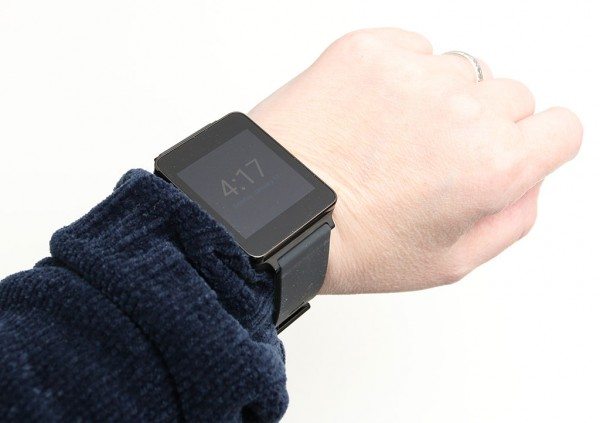 As you can see, my wrist isn't built for this smartwatche because my wrist is small and the watch is bulky. Watches tend to make my wrist sore relatively quickly. I have this issue with almost any wrist worn gadget though, so it's not just smartwatches that bother me.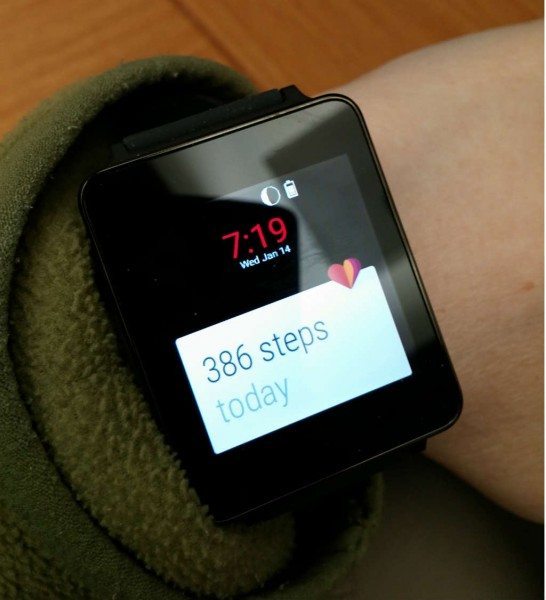 Being able to see notifications on my wrist, controlling music on my phone, asking google how many calories are in an apple and seeing who was calling me all without looking at my phone didn't really flip my gadget trigger. The most fun I had with the LG G watch was making different watch faces for it using the WatchMaker Watch Face app. This app installs on your phone and gives you an easy drag and drop interface for arranging different elements. You can then send the faces to the watch. I spent more time playing with that app than I spent reading notifications on the watch.
I tried to like the LG G Watch. I do think it's a decent entry level Android Wear watch and I had fun trying it out. But it wasn't useful enough for me to want to continue using and wearing it. I know there's a good sized market for Android Wear watches, but I don't fit it. My phone is always either in my hand, next to me on my desk, or in my pocket. I don't need to buy an extra device to show me all the same info that I can see on my phone and I definitely don't want another device that I have to charge. I don't know if I'm in the minority or the majority with this opinion though.
Source: The loaner sample for this review was provided by Verizon Wireless. Please visit their site for more info.

Product Information
Price:
$229.99
Manufacturer:
LG
Retailer:
Verizon Wireless
Requirements:

Compatible with Android 4.3 and later versions

Pros:

Shows all your phone's notifications on your wrist
Always on display
Easy to customize watch face and watch bands
Decent battery life

Cons:

Doesn't do anything your phone can't already do
Screen tough to read outdoors