We use affiliate links. If you buy something through the links on this page, we may earn a commission at no cost to you. Learn more.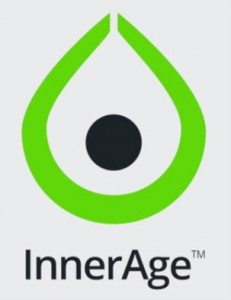 For a lot of people, a new year means resolutions to start getting healthier. To do that you just need to eat better and be more active right? Of course doing those two things are very important, but what about potential issues going on inside your body that you don't know about which could be effecting your health? Things that might be making your body age quicker than it should be. How can you find and fix those issues? You can go to your doctor and ask for a full panel of blood tests, but chances are this will cost a lot of money that insurance won't cover and your doctor might not want to do if you don't have a specific medical issue that warrants the tests. InsideTracker is a company that can provide you with the info you need to improve your health. Their InnerAge personal health analytics testing can give you insight on specific blood biomarkers that can negatively (and positively) effect your age and your overall health.
Developed over the past two years by some of the world's leading authorities on aging, nutrition and exercise physiology, InnerAge analyzes the blood biomarkers most scientifically proven to impact longevity to assess a person's biological/physiological age versus their chronological age. Its sophisticated algorithm then goes on to suggest five personalized "Focus Foods" with the largest potential to optimize these biomarkers, thereby lowering a person's InnerAge and helping them slow the effects of aging from the inside out.

InnerAge is not an anti-aging solution offering quick fixes or cosmetic shortcuts but instead helps people make sense of the most reliable science on aging to make lasting changes that can be tracked over time. Following a simple blood test, the InnerAge intuitive dashboard provides a wealth of information on the results as well as nutrition advice to improve outcomes.

By following its recommendations, people can optimize their InnerAge to be up to 15 years younger than their actual age and also catch early warning signs that could negatively impact their longevity.

The expert research team behind InnerAge, analyzed and reviewed hundreds of clinical trial studies and peer reviewed articles to identify the five key biomarkers with the highest correlation to longevity. They also ruled out biomarkers such as cholesterol that did not show strong empirical connection to longevity. The five include:

• Glucose
• Vitamin D
• Testosterone*
• hsCRP (an inflammation indicator)
• ALT (a liver damage indicator)
InsideTracker gave me the opportunity to try out their InnerAge test. My results for the five key biomarkers were interesting to say the least.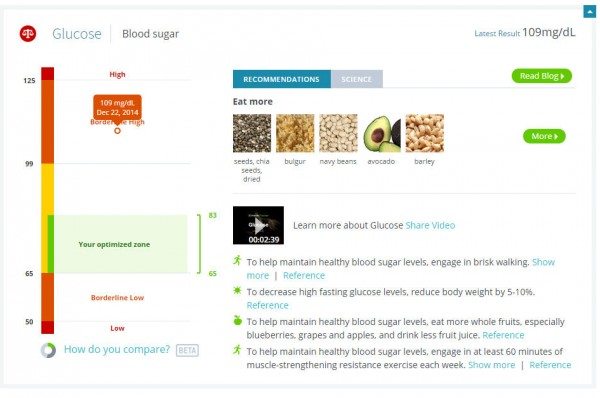 My fasting glucose was well above the optimized level. This didn't surprise me too much though because I have been a diabetic since 2004. For the last 10 years I've been managing it by diet alone with good results. Only within the last year have my numbers started creeping back up due to getting a little off track with my eating habits.
You don't want to screw around with high blood sugar because it can be silent killer that will damage your organs if left unmanaged and untreated. The InnerAge results include recommendations on how you can improve your fasting blood sugar by eating different foods and adding different types of activities.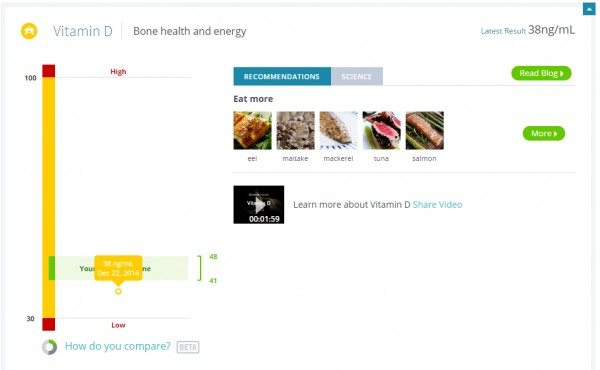 Darnit, my Vitamin D level was slightly low. Vitamin D also known as the sun vitamin is very important to bone health and energy. Unfortunately the InnerAge food recommendations suggested to improve that result are not foods I enjoy eating. Looks like I'll need to take a vitamin D3 supplement.
My InnerAge results showed that my testosterone levels were higher than they should be. Yes, women have testosterone too. The results suggested that I talk to a doctor about them so I asked a long time Gadgeteer reader who is also a doctor to take a look. He didn't seem concerned and mentioned that that hormone can be effected by different factors including the time of day. He mentioned that he's seen high testosterone results from women who are getting ready to work out. Even so, I plan to take my results with me to my next oncologist appointment next month. Better safe than sorry. I don't want to start growing boy parts 😉
My hsCRP (an inflammation indicator) and ALT (a liver damage indicator) results were both fine so it was time to check out what InnerAge determined was my body's true age vs. my chronological age.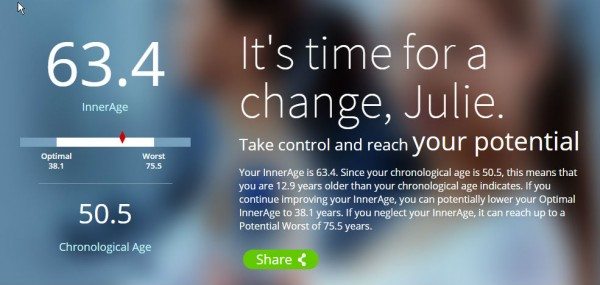 Well crud! No one wants to be almost 13 years older than they really are. I was pretty shocked and bummed to see that number.

But the results show the main reason for the elevated body age was due to my fasting blood sugar reading. That's a number that goes up and down for me. Typically you want it to be under 100, but mine was 109 on the day of the test. I normally see lower numbers when I test myself. I asked the InnerAge specialists what my body age would be if my blood sugar was in their suggested range and they told me it would go down to the optimal level of age 38. This has given me an incentive to do better with my diet and activity level.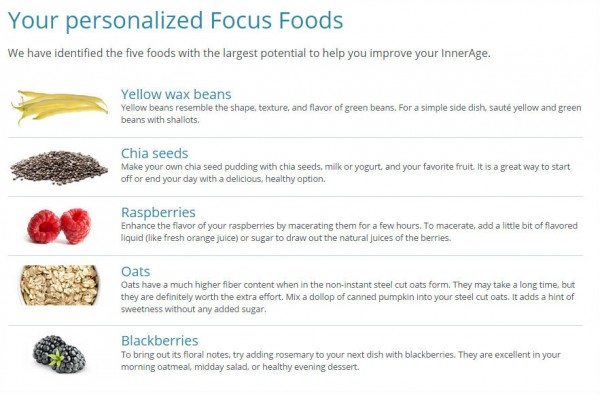 They include five focus foods that can improve my numbers. I've never tried wax beans before but green beans are one of my favorite veggies, so I'm anxious to start incorporating them into my diet along with the other suggestions. I've started this year with the goal to get healthier and InnerAge has given me the prompts to continue working towards that goal.
InnerAge tests start at $99 for a do it yourself home kit. They also offer other tests that provide even more comprehensive results. These tests are priced up to $499.
Source: InsideTracker provided me a complimentary blood test to write about their service. Please visit www.insidetracker.com for more info.