We use affiliate links. If you buy something through the links on this page, we may earn a commission at no cost to you. Learn more.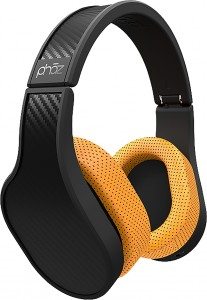 Picture this: You're cruising down the street plugged into your smartphone but the power is beginning to run low. You want to keep listening, but you're afraid of draining the battery completely if you do. Now, picture this: You just keep listening anyway because the headphone is charging your smartphone. You read that right. In an era of countless headphones available, a company really needs to offer something to be noticed. Phāz (pronounced phase) is such a company. Their new P2 headphone comes with a built-in 1200mAh battery that will transfer the power from the headphone's battery and boost the power of your smartphone via USB without compromising audio performance.

"Phāz is changing what it means for products to be mobile-friendly. Instead of simply working with your device on-the-go, we're actually going to help power it, too," said David Munzlinger, president of Phāz Music.
The Phāz P2 also comes with an built-in audiophile-grade amplifier powering 40mm speaker drivers. There is a 15dB bass-boost feature that enhances low frequencies which is something currently impossible with smartphone equalizer apps. However, if the P2's battery runs out, the headphone will still work in passive mode. Carbon fiber is used extensively to keep the P2 as lightweight as possible.
The P2's adjustable stainless steel hinges allow perforated, soft ear cups to fold into the headband for compact storage inside an included carrying case. The ear pads are detachable and interchangeable with 5 different colors (sold separately) including orange, green, pink, black and purple. The P2 also features an extra 3.5mm audio output jack allowing music to be shared.
Between now and 2016, Phāz plans to release a total of five headphones with various features and enhancements beginning with the P2 model. The P2 will be available on April 15, 2015 and will sell for $249.99 US. Visit https://www.phazmusic.com for more info.