We use affiliate links. If you buy something through the links on this page, we may earn a commission at no cost to you. Learn more.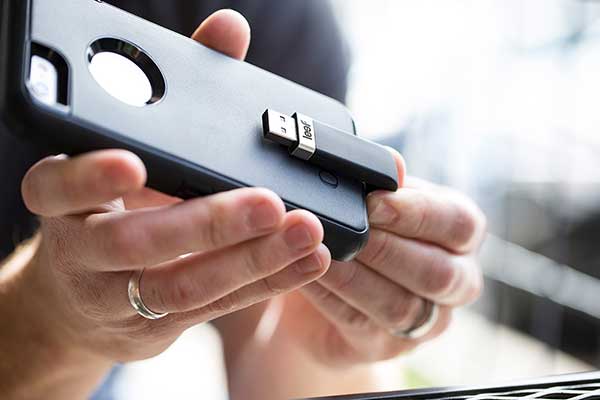 The iBRIDGE from Leef is a unique "J" shaped flash drive made specially for Apple iOS devices with Lightning connectors. iBRIDGE gives iOS users more storage space on their devices without needing to delete photos, videos, music or apps. Available in capacities ranging from 16GB to 256GB, it curves round the back of a device so it won't get in the way. You can use the flash drive to back up your photos and videos or stream media directly from the iBRIDGE itself. You can also set it up so that captured photos store directly to the iBRIDGE. The Leef iBRIDGE conserves power too. For example, backing-up 500 photos to your Leef iBRIDGE uses less than 1% of your iPhone's battery life.
The Leef iBRIDGE will be available in 16GB, 32GB, 64GB, 128GB and 256GB capacities with pricing that starts at $59.99 for 16GB and goes up to $399.99 for the 256GB version. Shipping is planned for mid January. Please visit www.leefco.com for more information.
For a less expensive alternative, check out Brando's i-FlashDrive.