We use affiliate links. If you buy something through the links on this page, we may earn a commission at no cost to you. Learn more.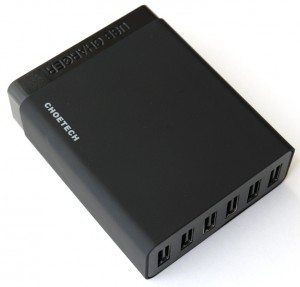 We have so many devices that are charged via USB in our house that multiport USB wall chargers have become a necessity for us. The Choetech 50 Watt 6 Port Desktop Smart USB Wall Charger is one that was offered to the Gadgeteer for review and I quickly volunteered to test it. To quote He-Man, "I have the POWER!!", or do I?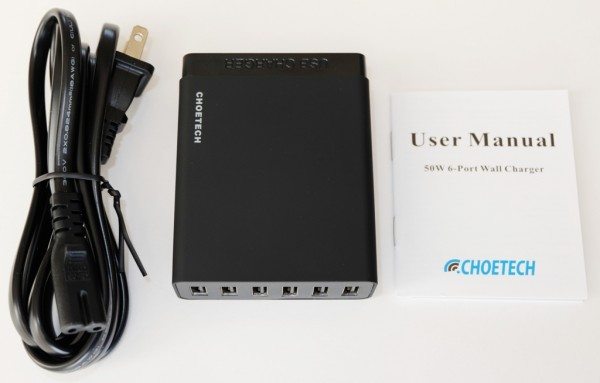 Package Contents
Choetech 50W 6 Port Desktop Smart USB Wall Charger
5 foot detachable power cord
Instruction Manual
Technical Specifications
Input: AC 100-240V
Total Maximum Output: 5V/10A
Charging Port Output: 5V/10A (max)
Weight: 158g
Design & Build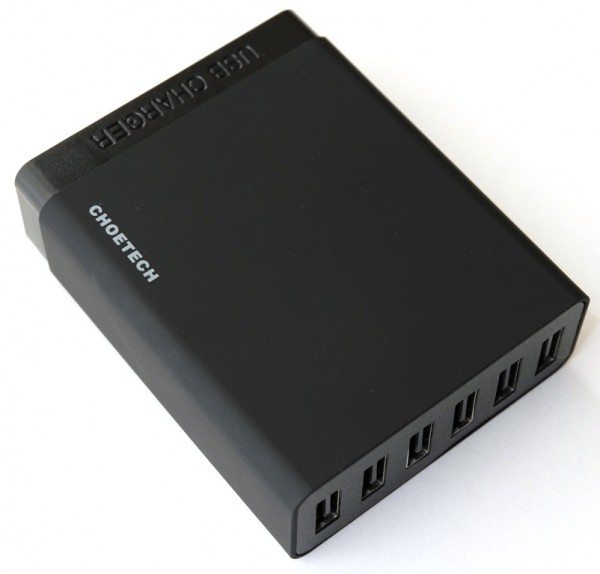 The Choetech 50W 6 Port Desktop Smart USB Wall Charger is 3.48 inches long x 2.81 inches wide x 1.14 inches deep, lightweight, and made out of sturdy, rigid black plastic (although it is also available in white) and is covered with a matte, hard black plastic that almost feels like a rubber coating.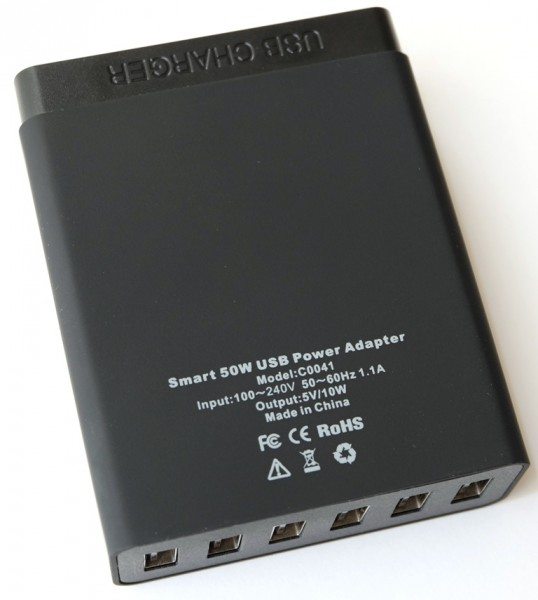 As stated on the bottom surface of the charger, it is rated for a total output of 50 watts. Choetech has also "incorporated a unique port-level circuit protection system that shuts it down in the event of overvoltage, overcurrent, overheating or short circuits" to protect devices.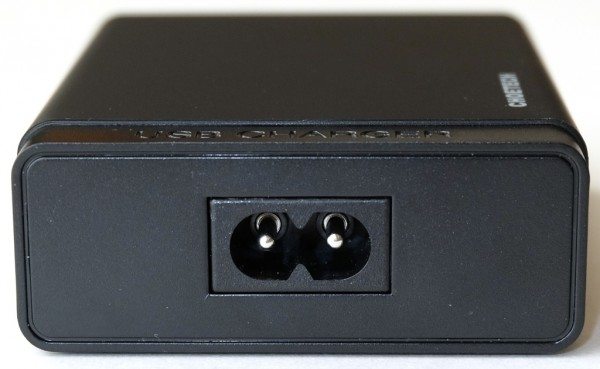 The back of the wall charger sports the port for the detachable power cord making this wall charger easily portable.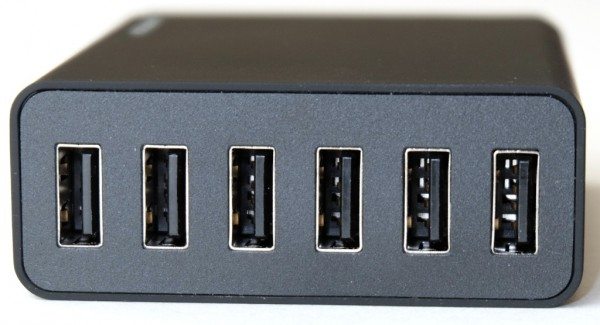 There are six USB charging ports. You'll also notice that from all of the above pictures, there are no LED status lights.
Being a smart charger, you may plug in any device into any of the six USB ports and this charger will identify your device and offer the correct current needed to charge that device. It also means (according to the manual) that if your device needs more than 10 amps of current, it will offer 10 amps without shutting down.
Use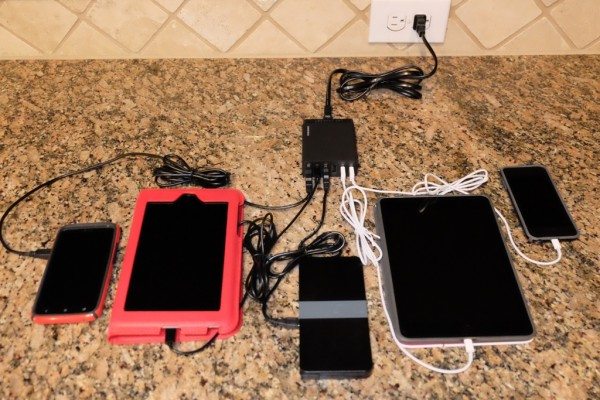 I found that charging our devices using the Choetech Smart USB Wall Charger worked as well as the OEM power adapters or in the case of the iPad mini (first generation), even better. In the above photo, I was able to plug in an HTC One X phone, Nexus 7 (2012) tablet, a Tylt Energi 5K+ 5200 mAh battery (reviewed on the Gadgeteer), an iPad mini (first generation), and a iPod Touch 5G into any USB slot. Initially, in my first three tests simultaneously charging at least five devices (with at least two of the devices being tablets), I was able to charge our phones, my iPod, the Nexus 7 and iPad tablets faster than charging with the OEM power adapters. Compared to the OEM power adapters, the wall charger decreased the amount of charging time for our HTC One X phones (~1.5 hours decrease), Nexus 7 tablets (~one hour decrease), and iPad minis (~1.5 hours decrease). In tests when I was charging one device at a time using the OEM power adapters or the Choetech charger, I received the same slower results with the OEM adapters than the Choetech charger.
I later found that the micro USB cables had something to do with this. After replacing the older micro USB cables with new ones, the OEM power adapter charging times sped up to match that of the Choetech multiport USB wall charger. The charging times using the old cables were slower when plugged directly into a wall versus the multiport USB wall charger. This may be due to the fact that the Choetech is a smart charger and will vary the current, which would compensate for a cable with a higher resistance whereas a wall charger would not. All Apple devices were using their original Lightning cables and power adapters. In these cases, the iPad minis charged consistently faster using the Choetech charger (3 hours to fully charge) than being plugged directly into an outlet (4-4.5 hours to fully charge).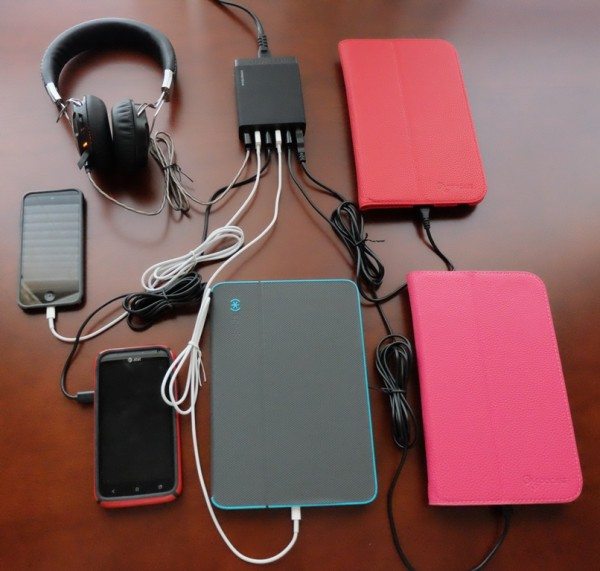 The wall charger was able to effectively charge six devices simultaneously which included three tablets. Here I have our Arctic P614 BT Bluetooth headphones, my iPod Touch, my phone, an iPad mini (first generation), and two Nexus 7 (2012) tablets. All devices consistently charged well. It was difficult to tell how quickly the headphones and battery charger charged because they need constant observation to determine charging times. The important point, however, is that all six devices charged as well as when using their OEM power adapters without over taxing the Choetech wall charger. The Choetech charger was only slightly warmer than when not in use and functioned quietly while charging.
The only feature lacking in this charger are status lights to indicate when the charger itself is receiving power and whether or not each device is charging. Yet many people use these multiport chargers on a nightstand in their bedrooms to charge their devices overnight, so any bright LED lights would be distracting. Thus, the lack of lights could be beneficial if this is a concern.
Final Thoughts
I found the Choetech 50W 6 Port Desktop Smart USB Wall Charger to be a wonderful addition to our multi-gadget home. It worked as well as the OEM power adapters and in the case of the iPad minis (first generation), better than expected by actually charging them faster than their OEM power adapters (what a treat!). The only possible downside is the lack of status LED lights to indicate when something is charging and when it has completed charging. However, this may not be a disadvantage especially if you use this in your bedroom at night. Are the ports durable and will they last? Only time will tell, but at this point having used it for about two weeks, I highly recommend it. It's official – I DO have the power!
Source: The sample used in this review was provided by Choetech Technology. Please visit www.choetech.com for more information.

Product Information
Price:
$25.99
Manufacturer:
Choetech Technology
Retailer:
Amazon
Pros:

Charges as well as OEM power adapters (or faster for iPad minis)
Inexpensive
Portable and lightweight
Quiet

Cons: