We use affiliate links. If you buy something through the links on this page, we may earn a commission at no cost to you. Learn more.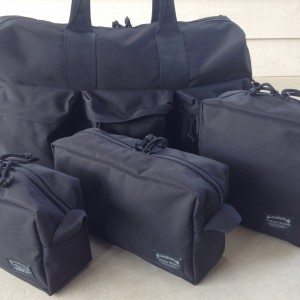 We haul lots of gear 'round these parts, some of us more than others. I like my gear-hauling bags to be durable and multi-purpose, and to include at least a few organizational features. Oh, and to look good too. Cargo Works has several products that seem to fit those criteria for me. I recently had the opportunity to try out an item from Cargo Works, and instead of requesting a backpack or messenger bag—both of which are fairly frequently reviewed here at The Gadgeteer—I requested to look at Cargo Works' Utility Carry All and 3 X Utility Pouches. Gadget on!
Background
Some of my favorite gear-type items are bags, packs and anything to help carry and organize other gear, whether for a work trip, my daily commute or a weekend road trip.  Although the contents of a bag or pack are certainly important, I consider the method of carrying them to be almost equally important.  Features, styling, durability and price are all factors that I take into consideration when investigating products to carry my gear.  A while back, I posted a news item here at The Gadgeteer highlighting the Cargo Works MacBook Air + iPad Sleeve.  Although I don't own a MacBook Air (yet), I really liked the style of this item.  So when Julie asked me if I wanted to review one of Cargo Works' products, I readily agreed.  Cargo Works has a growing number of products to carry and organize your gear, including several backpacks, shoulder bags and other accessories.  But rather than go for the obvious, like a backpack, for a change I requested to try their Utility Carry All bag, and asked if Cargo Works would include a set of their Utility Pouches as well.  My thought in choosing these items was that there are many of us (myself included) who travel and these items seemed like they would be useful for that purpose.
Specs
The specs for both the Utility Carry All as well as the 3 X Utility Pouches are as follows:
900 denier polyester canvas
Ripstop liner
YKK zippers
Location of Manufacture: Taiwan
Some additional spec info for the specific items:
Utility Carry All
Width: 19 in / 48cm
Height: 11 in / 28cm
Depth: 7 in / 18cm
Weight: 1.7bs / 0.75kg
3 X Utility Pouches
Compact:  7.1″ x 5.1″ x 3.5″
Wide:  9.5″ x 5.1″ x 3.5″
Tall: 7.1″ x 7.1″ x 3.5″
Total Weight: 0.9 lbs / 0.4kg
Options
The only option available for these items is color:
Utility Carry All – Black (reviewed here), Army Green and Blue
3 X Utility Pouches – Black only
Packaging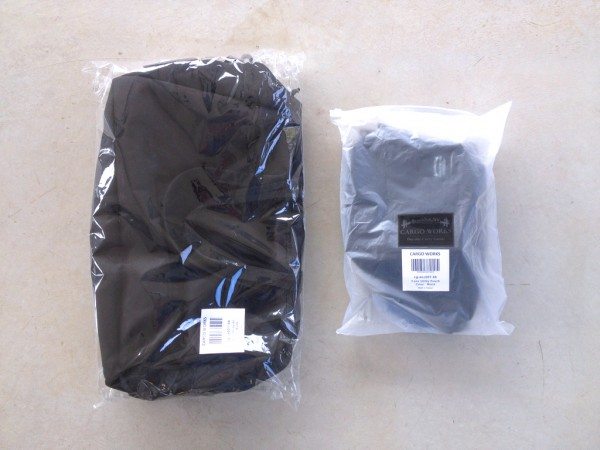 Exterior packaging was a standard corrugated cardboard box with the individual items packaged in plastic bags per the photo above.  I was a bit curious as to why the Utility Carry All (left) was in a clear bag while the 3 X Utility Pouches were in a translucent bag of a different plastic material which somewhat obscured visibility.  Thing that make you go "Hmm."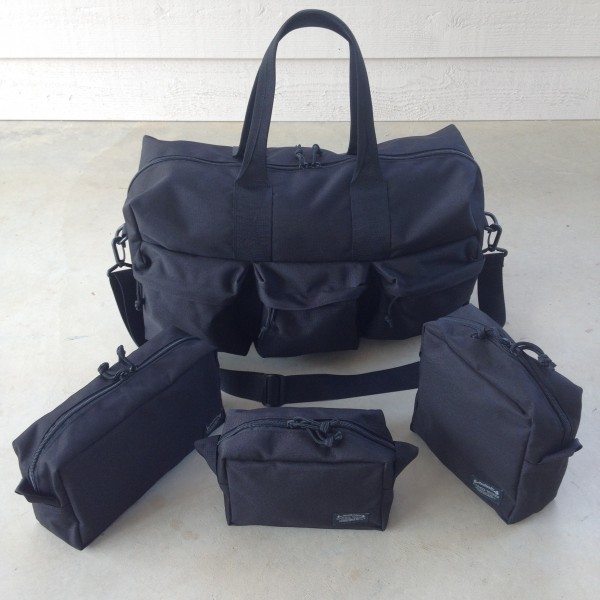 Features
Let's start with the Utility Carry All.  Here's a rundown of features:
3 large front zipper pockets
Large main compartment
3 internal dash pockets
2 internal zipper mesh pockets
Cord zipper pulls
Webbing straps can serve as handles or shoulder straps
MOLLE-style webbing on either end
Removable and adjustable shoulder strap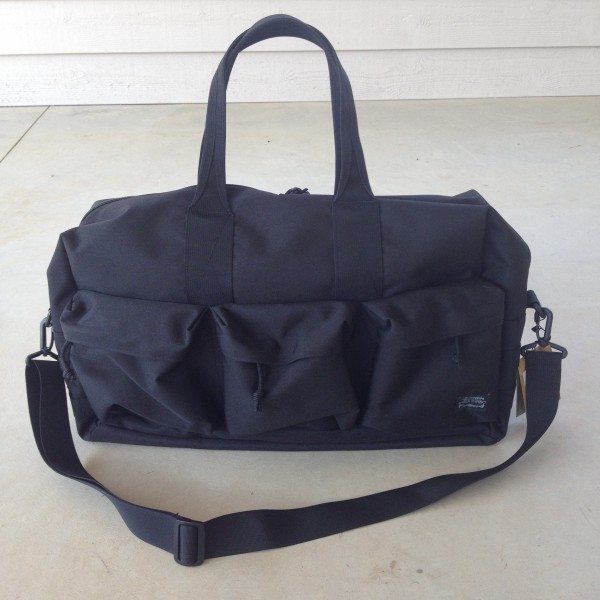 The Utility Carry All has a simple, understated look.  While I do think it looks like a fairly standard duffel bag or carry-all type bag, the three side pouches and the MOLLE webbing on the ends give it a bit more of a military-style "tacticool" appearance, and its rectangular shape makes it resemble a military kit bag.
The straps are basically strips of webbing material that have been folded over, tacked down and sewn to the body of the bag.  The folding over prevents the straps from cutting into your hands while holding them.  They aren't as comfortable as padded handles, but I was surprised that this simple fold-over actually helped a bit. They can be used either as hand-carry handles or shoulder straps for over-the shoulder carry.  I found that, for my height (about 5′ 8″), the length of these straps was not particularly conducive to their use as hand-carry handles—their length allowed the bag to nearly touch the ground, which you will see in photos below.  The length is also not quite comfortable for over-the-shoulder carry—they are just a bit too short for that.  So they are not quite right for either use, at least for me.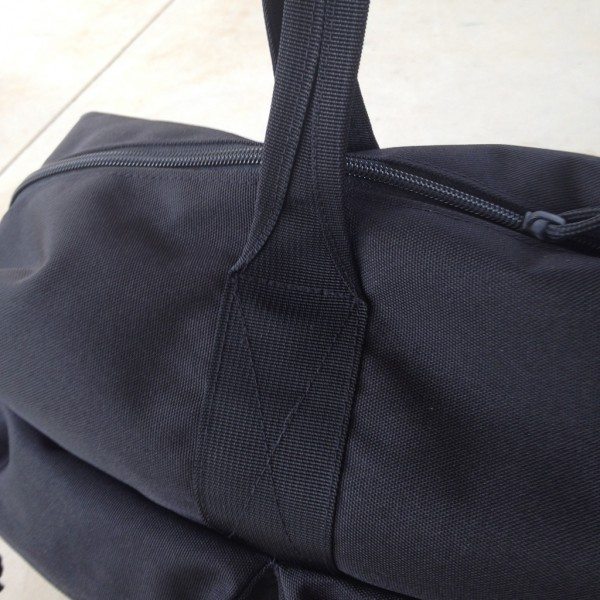 Regardless of the length, the strap construction seemed fairly solid.  The webbing itself seems to be made from a strong material, and the stitching of the straps to the body of the bag also seems well done.  I would have preferred to see some bar-tacking or additional stitching here, considering that these are load-bearing points, but it still seems like it would hold up to most use, unless you are hauling a load of bricks or something.  😉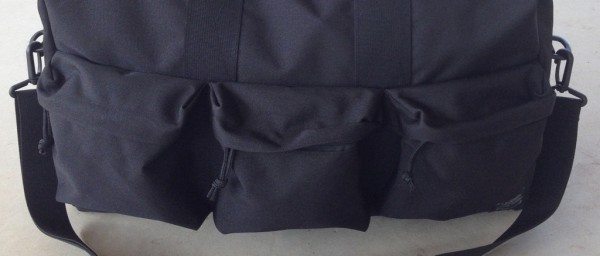 One of the distinguishing, if not more useful features of the Utility Carry All are the three small zipper pockets on the outside of the bag.  They are equally spaced on one side of the bag and provide quick access to small items without having to open the main compartment and root around in it.  Each has a zipper pull made from a knotted strip of cord—not 550 paracord, but something resembling it.  These three pockets also give this bag a bit of a resemblance to a "range bag," or a bag that shooter would take to the practice range with them.  I found these three pockets to be quite handy for storing cables, a small toiletries kit and other small items.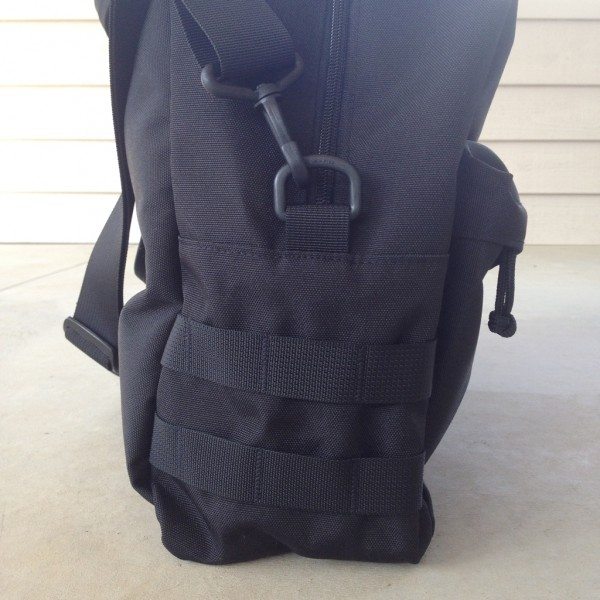 I was pleasantly surprised to find that the Utility Carry All included an adjustable shoulder strap.  I found this to be quite useful, considering that I wasn't too thrilled with the length of the main straps.  In addition to the shoulder strap, in the above photo are visible the two rows of MOLLE-style webbing that are on either end of the bag.  These give the Utility Carry All a subtle military look (or what I like to call "tacticool"), but can also be useful for attaching items like small MOLLE-style pouches, pens, carabiners and other items.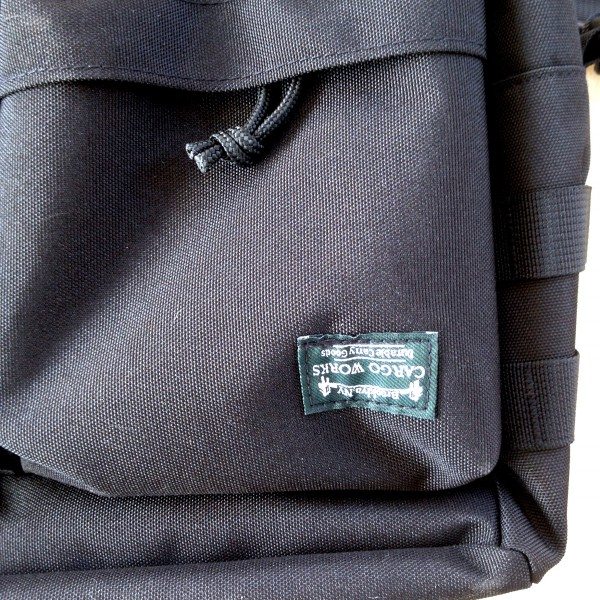 Although I found the overall construction of the Utility Carry All to be well done, the above photo illustrates what I consider to be a major fail in quality control—the subtle, understated Cargo Works label was actually sew to the bag upside down.  I was surprised and disappointed to see this.  And before anyone suggests that perhaps it was intended to be like this, in a unique, hipster sort of way, the same label on each of the three Utility Pouches was attached right-side-up.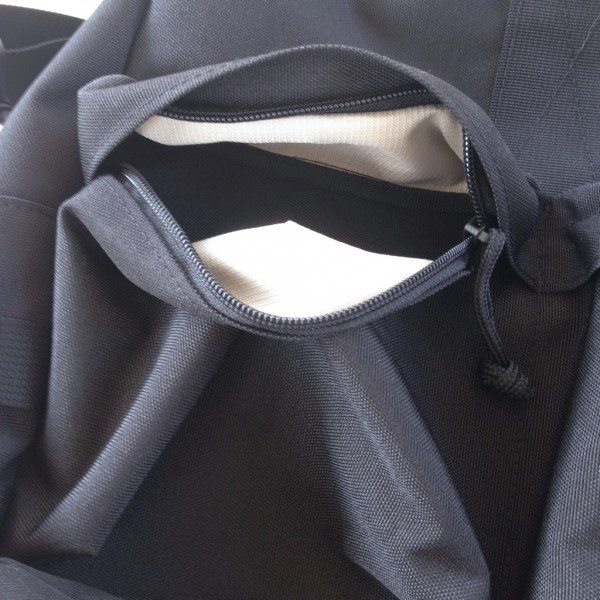 The inside of each of the three side pockets, as well as the main compartment of the bag itself, was lined with a yellow-gold colored ripstop nylon material.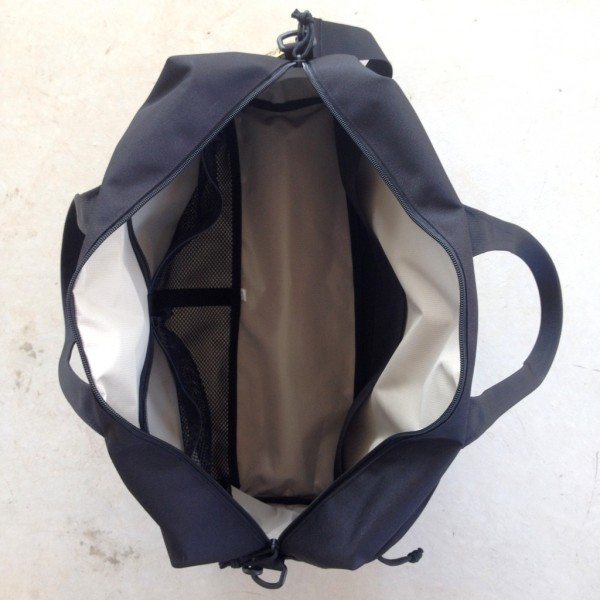 In the photo above, looking down into the open main compartment, the ripstop material is visible throughout.  In addition, the two internal dash pockets (left) and zipper mesh pockets (right) can be seen along the insides of the main compartment.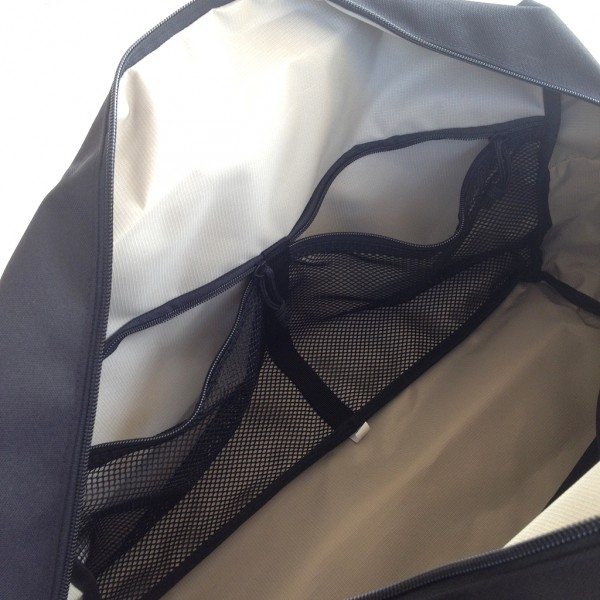 Above, a more detailed view of the two zippered mesh pockets located inside the main compartment.  Both are equally generously-sized and have corded zipper pulls like the one on the main compartment as well as on the three exterior pockets.  These pockets are a great feature that helps to organize a few smaller items and keep them from rattling around but without compromising the roomy main compartment.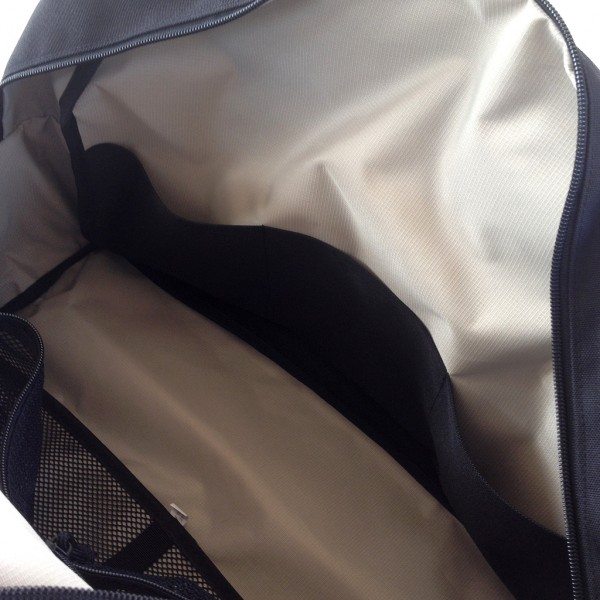 Like the two zippered mesh pockets, the three dash pockets are located inside the main compartment and also provide some organization for smaller items.  However, neither of these have any type of closure.
Next, on to the 3 X Utility Pouches.  Here are the features:
Come in 3 different sizes including compact, wide, and tall.
Each with a top zipper closure and two internal side pockets.
Webbing loop on either end

Each of the Utility Pouches is a similar design with the exception of geometry.  Pictured above from left to right are the compact, wide and tall pouches.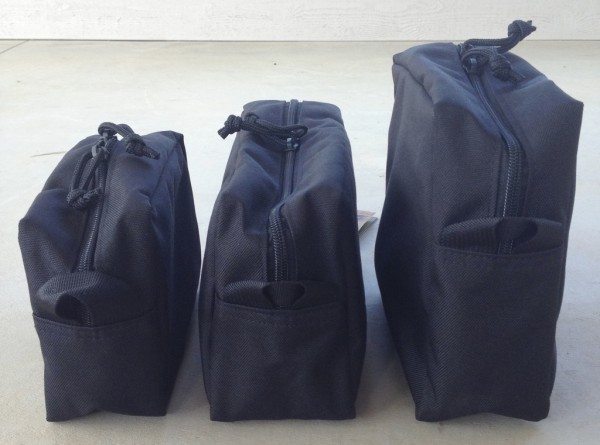 Above you can see the varying heights of each Utility Pouch.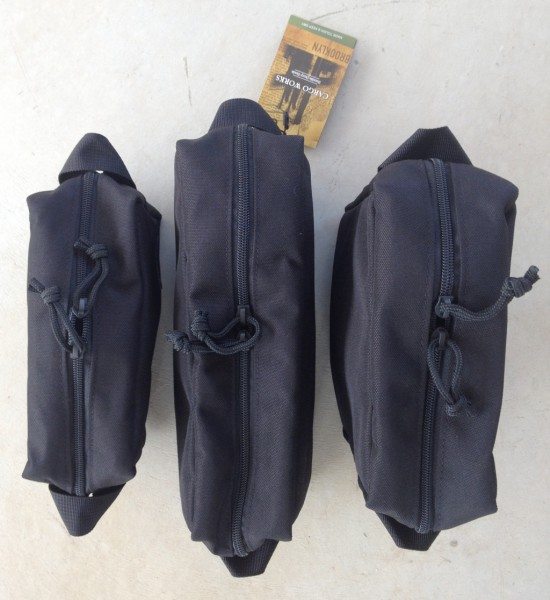 The variety of pouch sizes gives some flexibility with respect to what you may want to store inside them.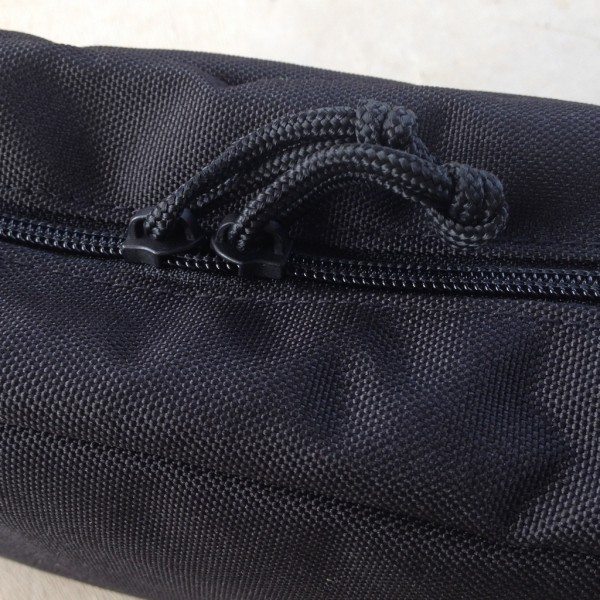 The above photo is a closeup of the zipper pulls that are included on not only the Utility Pouches but on the Utility Carry All as well.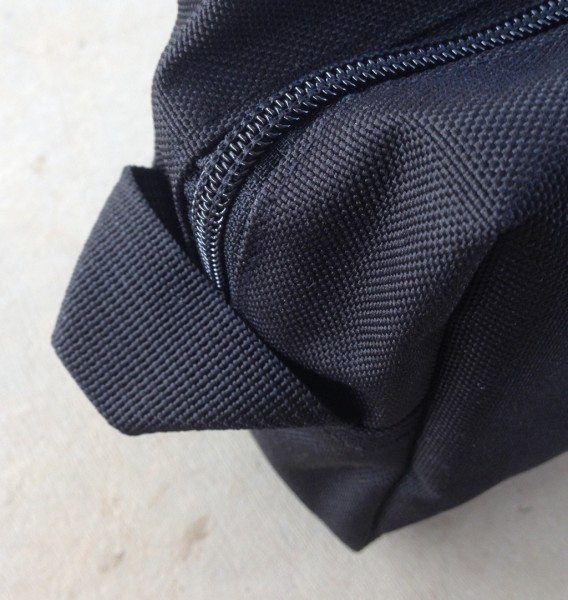 Each pouch has a tough webbing loop on either end that can be used as a grab handle or to attach the bag to something else, or attach something to it.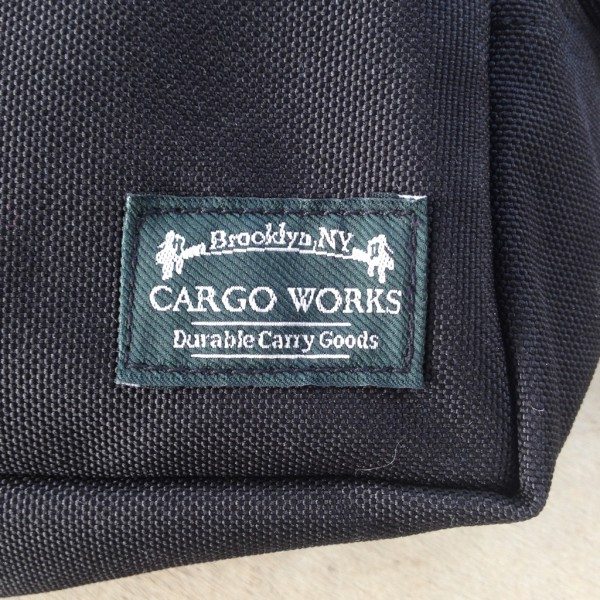 Cargo Works did manage to get their label sewn onto each of the three Utility Pouches in the correct orientation.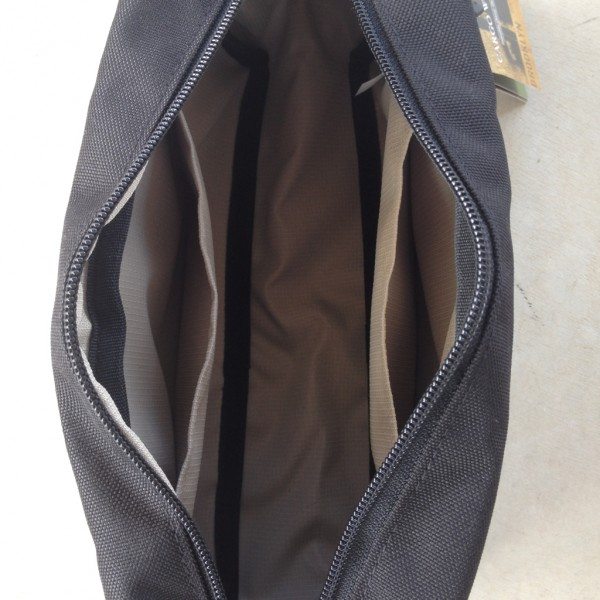 The inside of each of the Utility Pouches is lined with the same yellow-gold colored ripstop nylon material as the Utility Carry All.  In addition, each Utility Pouch has two internal side pockets that can be used to help organize smaller items.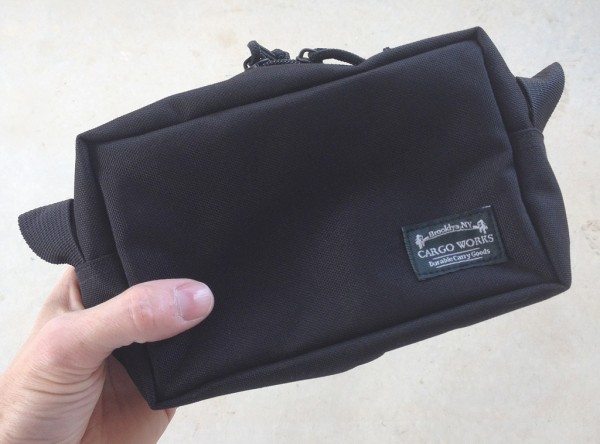 The Utility Pouch set includes pouches of three different sizes.  Pictured above is the smallest, the compact size.  It would be great as a minimal toiletries pouch, a pouch to hold cables and chargers, or any number of other small items.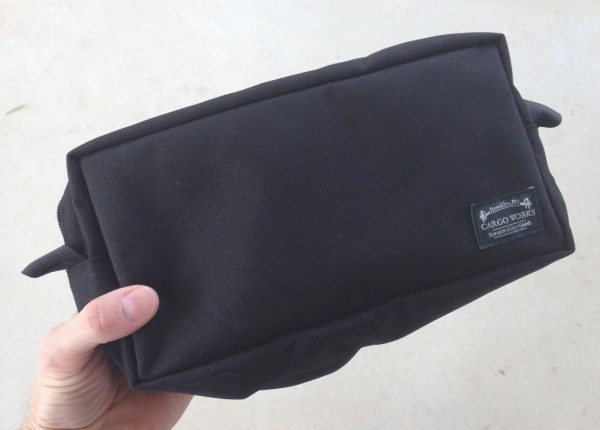 Above is the wide pouch, which is longer and slightly taller than the compact pouch.  This could be used to hold all sorts of smaller items as well.  I actually used this one as a small packing cube and put several pairs of socks and underwear in it.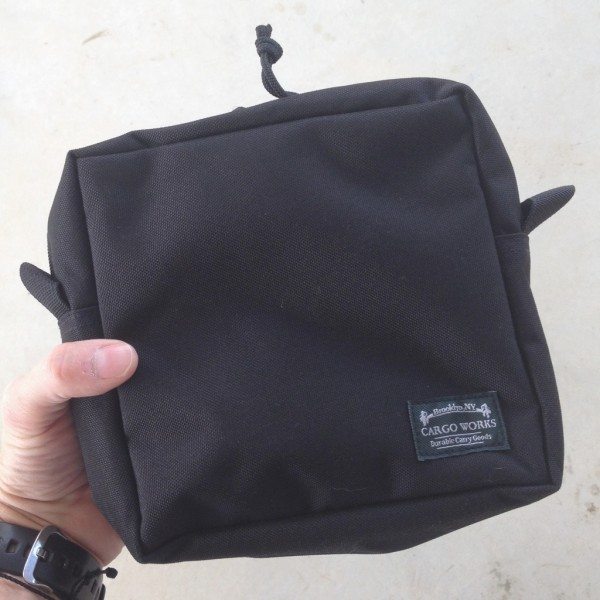 And finally, above is the tall size.  The largest of the three, this one seems to have been designed as a packing cube, and I was able to fit several T-shirts as well as a pair of workout shorts inside it.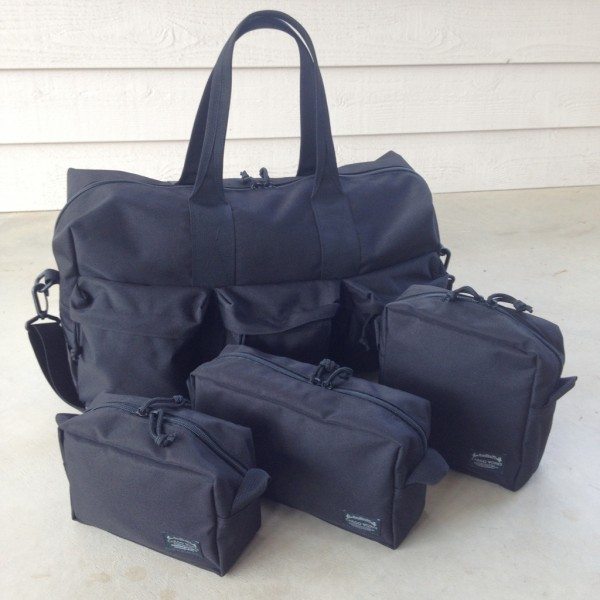 The Utility Carry All and Utility Pouches all stylistically complement each other well.  I used the Utility Carry All as a gym bag for a while and it performed well for this.  I haven't had a chance to use it as an airline carry-on, but I think it would work well for that also.  As a weekend or short trip bag it worked well too, as seen below.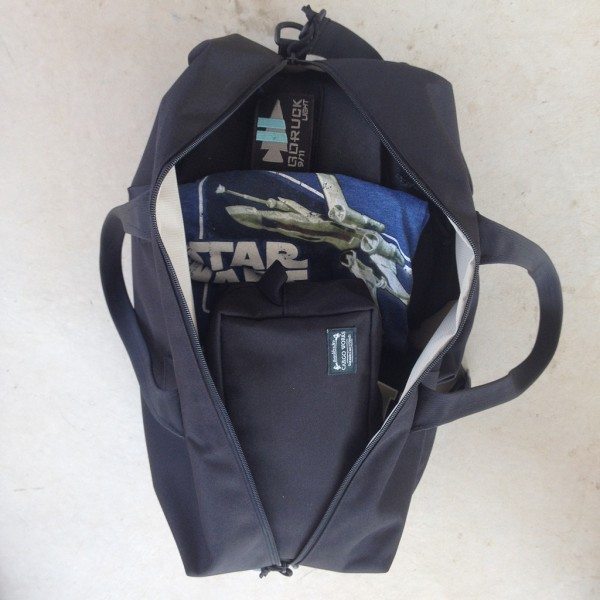 Above, I've loaded up each of the Utility Pouches with clothing, toiletries and other items and loaded each of them and a few other things into the Utility Carry All.  It easily holds enough for a weekend and if packing minimally could even hold enough for close to a week.  The Utility Pouches help with both the organization as well as shrinking down the volume of the contents to make it more manageable.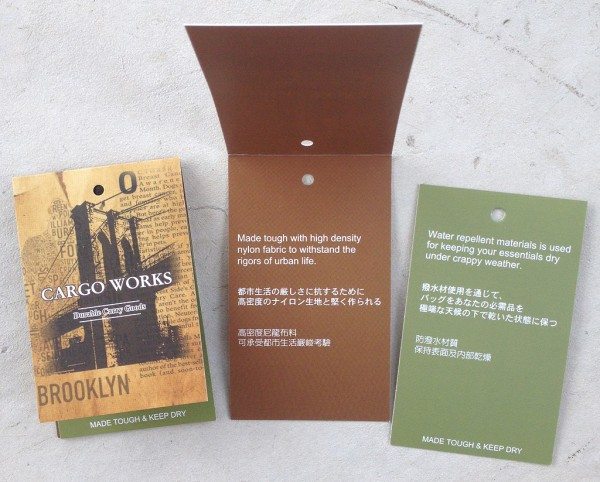 Above, a photo of the tags that were attached to the Utility Carry All as well as the largest sized Utility Pouch.  Ignoring the somewhat poor grammar, I had to wonder at the statement, "Made Tough & Keep Dry."  Does this mean I should keep the bags dry?  Or that the bags will keep their contents dry?  Likely the latter, I suppose.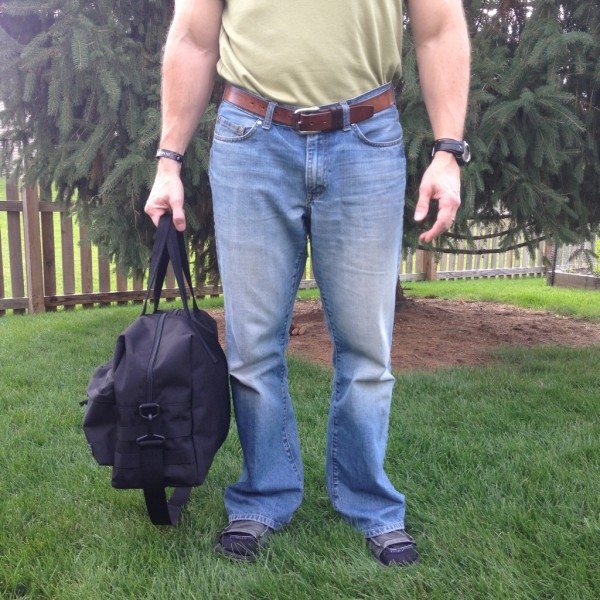 As mentioned above, the straps on the Utility Carry All are a bit longer than one might find on other, similar bags.  Because of this, I found that when carrying the Utility Carry All by the straps, it hung down near the ground a bit lower than I would have preferred.  I suppose if I were a bit taller, this wouldn't be an issue.  However, I am average adult male height, so maybe it's not me.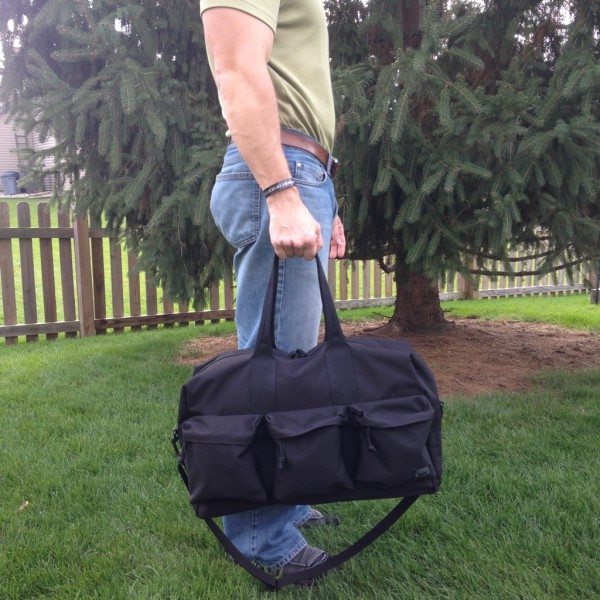 I suppose I did prefer carrying the bag as pictured in the above photo way better than the in way shown below…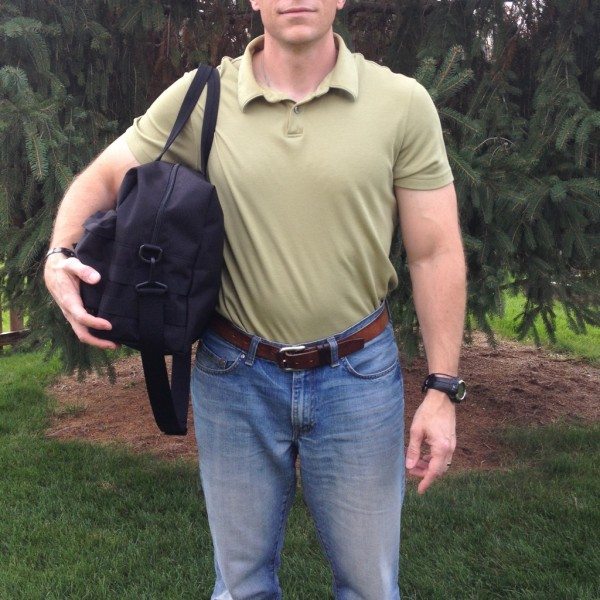 …as shoulder straps.  Tucking the bag under my arm like this just feels strange.  It is too bulky for this.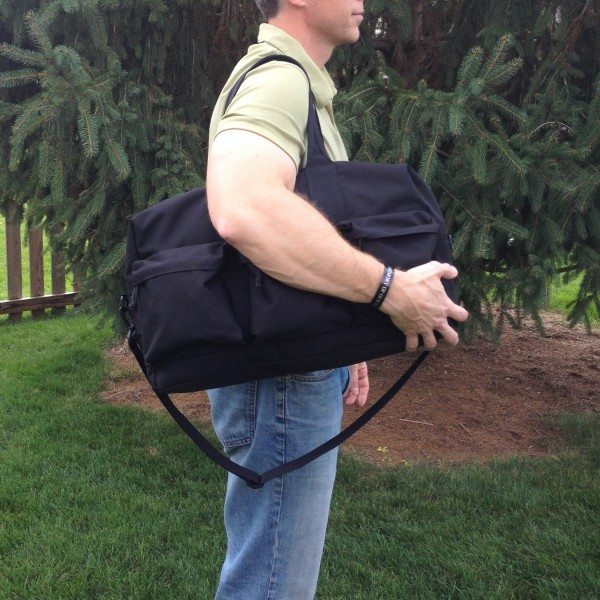 Additionally, my shoulders are a just a bit too thick to feel comfortable using the straps in this way.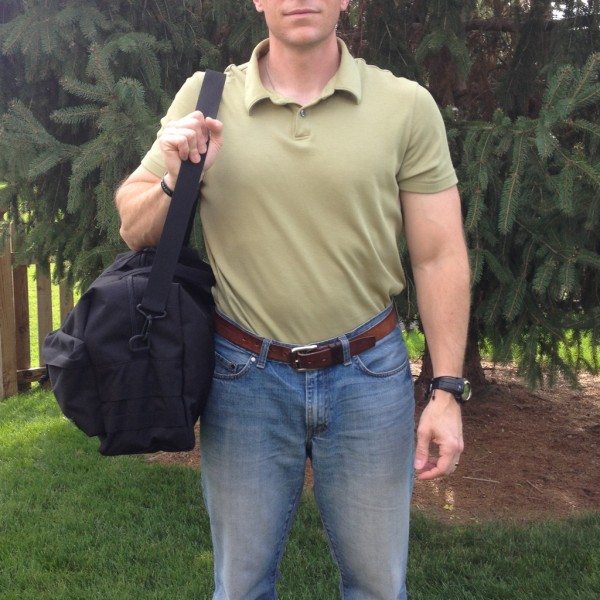 The most comfortable way to carry the bag is to use the included shoulder strap.  Easy peasy.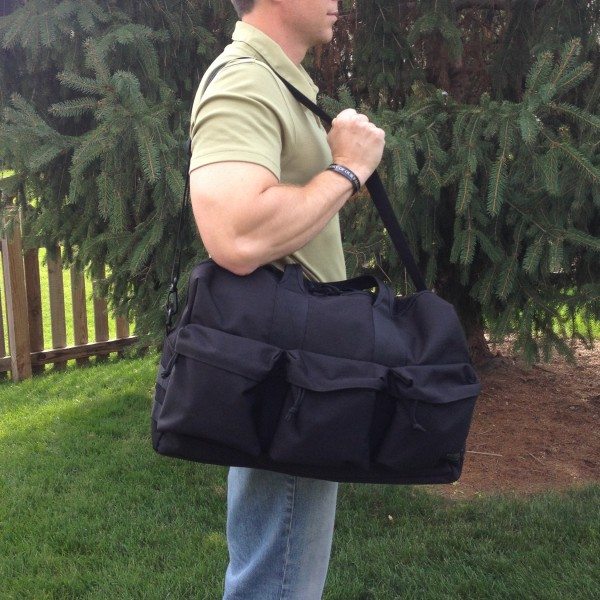 This is how the Utility Carry All feels most comfortable when carrying it.  This allows quick access to the main compartment or to the three smaller outside pouches.  And it looks cool.
Conclusion
The Cargo Works Utility Carry All and 3 X Utility Pouches have a simple, understated look. While the Utility Carry All may resemble a typical duffel bag at first glance, its MOLLE webbing and three side pouches give it a bit more of a military-style kit bag or range bag appearance.  Its internal organizational features are useful as well.  The 3 X Utility Pouches are made from the same durable materials and in a matching style, and when paired with the Utility Carry All, all work together for a useful, durable carrying solution as a gym bag, weekend bag or anything else you can think of.
Update 04/18/15
Great items. I am using the Utility Carry All as my travel bag for short trips and the Pouches are great for organizing smaller items.
Source: The samples for this review were provided by Cargo Works. For more information, visit http://www.cargo-works.com.
Product Information
Price:
Utility Carry All $69.90, 3X Utility Pouches $39.90
Manufacturer:
Cargo Works
Requirements:
Pros:

Simple, rugged style
Durable materials and construction
Useful organizational features

Cons:

Logo tag application in need of some quality control