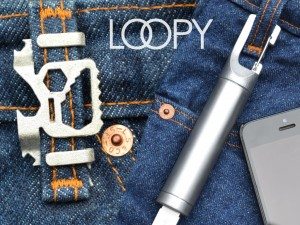 I am always on the lookout for quirky or unique tools and gadgets that look like they could be useful in an everyday carry situation. When it comes to pocket multi-tools I have my fair share, so in order to catch my eye you need to be a little different. The LOOPY belt loop multi-tools and power bank, a Kickstarter project from Tom Leszczynski is just a little different. So, what makes this set of multi-tools and power bank (backup battery) different? First there's the size, they are small and light weight (the multi tools weigh 0.3 oz and the basic power bank comes it at 3.4 oz). The second is the unique way they are designed to be carried, hooked to your belt loop. The belt loop tools come in two varieties, the PATH and the LAKE. The PATH is a metric version of the belt loop tool with 12 functions, the LAKE version is the same as the PATH with English/inch measurements. Both feature such items as a saw, wrenches, bit holder and bottle opener. Both are made of hardened tempered Stainless/Titanium alloy, designed to fit onto your belt loop and can be machine washed. The LOOPY POWER is a small backup battery also designed to be worn on the belt loop. The basic battery capacity is listed as 1800mAh. The funding for this project runs through January 4, 2015 with a pledge of $7 getting you a LOOPY PATH or LAKE. If successfully funded the product will start shipping in the May 2015 time frame.
Support The Gadgeteer
:
We may earn a small affiliate commission from purchases made from buying through links on our site. As an Amazon Associate I earn from qualifying purchases. Learn more.