We use affiliate links. If you buy something through the links on this page, we may earn a commission at no cost to you. Learn more.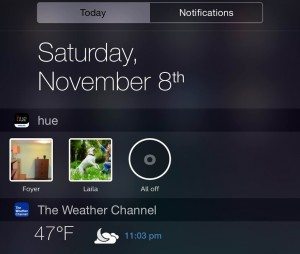 Now you don't even have to bother entering your passcode on your iPhone or iPad running iOS 8 to control your Phillips Hue connected lights.  When you update to the latest version of the Phillips Hue app, you'll have access to the Hue widget for the Notification Center.  To add it, just swipe down to open the Notification Center, scroll down to the bottom of the screen, and tap Edit.  Once you get the widget added, you'll be directed to the Hue app itself to select up to five of your favorite scenes to display on the Today page in Notification Center.
Because I can open the Notification Center without unlocking my phone, I can quickly turn on my foyer light and my living room lights in my favorite color recipe – before I even have taken the elevator up to my floor, or I can turn off all my lights with a single tap from anywhere in the world.
The Phillips Hue app is free in the iTunes App Store for iOS devices.