We use affiliate links. If you buy something through the links on this page, we may earn a commission at no cost to you. Learn more.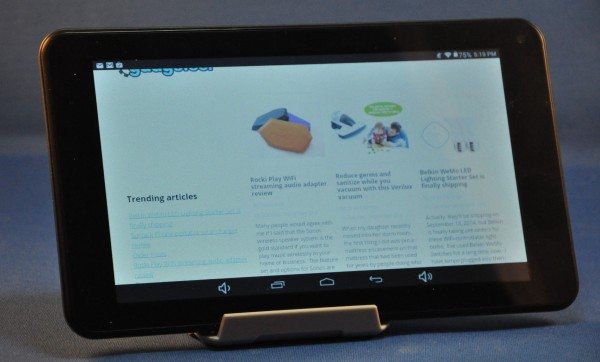 I've been an Apple product user since 1987, and wear that badge with honor. So I've never really used Android more than just flicking around on demo models in stores or using a friend's device. That's why, when Julie offered this unit to the team, I thought I'd take it for a test spin. What is it? It's an Ematic 7″ dual core tablet with Android 4.4 KitKat. It goes by the catchy moniker EGD172. Here's the inside story.(Photos can be tapped or clicked for a larger version.)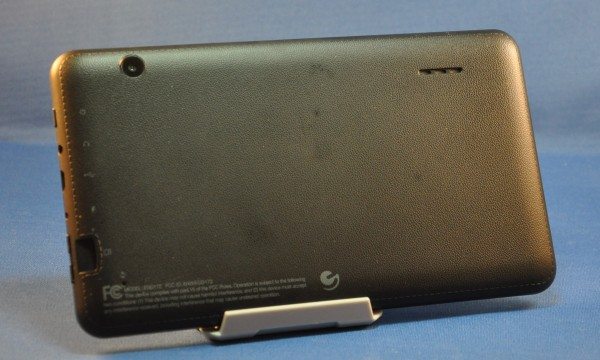 The unit, despite the name, is small, very easy on the hands, and light. The textured back panel was a bit of a shock when I removed the protective packaging, and together with the plastic screen, makes for a very easy to hold device. Slipped in the rear pockets of my favorite pants (511 Tactical pants – I really need to review these things!), it almost disappears from your mind. At 10 ounces, I could see someone using this type device in a setting where you had a lab coat, suit coat, or similar, without any sagging or other weight related issues. The device itself measures 7.5″ by 4.25″, which is almost 8.5″ diagonally. The active area of the screen itself is just over 6″ x 3.5″. Also included is a USB-micro USB cable and a proprietary charger with a thin bi-pole round plug.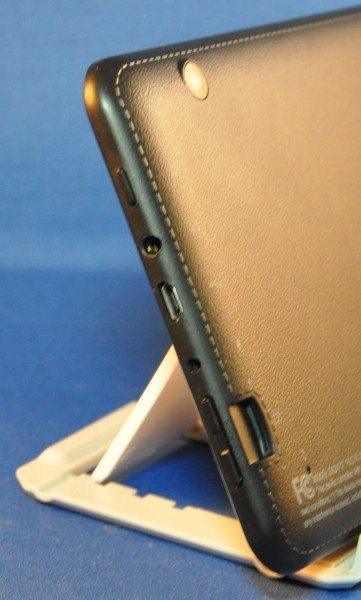 Startup was easy – signed in with my Google account and everything was set up: Mail, Google+, and, if I wanted it, GoogleNow. The box promises a "fast 1.1 GHz dual-core processor for superior performance while multi-tasking." I found the performance quite slow, however, even when doing only one task. It was nice using the Netflix app, but I was shocked that an HD show looked more like standard definition. So, I went over to my email. It was OK (not nearly as fast as my 2 year old iPad 3rd gen – which also has a dual-core 1 GHz processor – Apple's A5), and the layout was not too bad, but there's not much one can do about the font size, and the screen resolution made reading messages a chore. (Zoom in on the screen picture at the top of this article, and try to read the names of the authors of the articles in the posts. I'll wait while you go. See what I mean?)
As soon as I opened the box, I knew I really wanted to like it. I've had two full sized iPads, and use my current 3rd gen. daily, but I still am interested in something between it and an iPhone. Not as a phone, mind you, but to tweet, do email and watch videos. The first day I really started to use it, I downloaded Netflix and Echofon (a Twitter client) and logged into my accounts. The Echofon interface is probably the best of any of the apps I used. The layout between portrait and landscape is quite different and, despite a poorer screen and slower response it's not too bad for sailing through a twitter feed.
Netflix was great as well, and I sat and watched a 42 minute episode of one of the shows I'm following without any real trouble. The screen resolution didn't bother me since it's a TV show and the sound wasn't too bad, sitting alone on the couch in the family room. Then I thought I'd pair up a Bluetooth speaker. Whoops! No Bluetooth. Hmmm…. That's strange for a "media tablet" shipping in 2014. That also means, should I be able to read the screen's small print, I can't use an external keyboard. I downloaded SwiftKey and played around with its on-screen options, but the touch response is not quite accurate enough for more than single-finger hunt-and-peck work.
The tablet is a wide-screen format (800 x 480 pixels), but the viewing area is fairly narrow. While it's great for looking at straight on, looking from any angle off of dead center washes out the picture. So, while you can watch movies yourself, sharing them with another viewer will result in neither person seeing well – unless there's a good bit of snuggling going on. The screen is textured to resist glare – which is often called out as a negative on the glass-screened iPad. That may contribute to the poor off-angle viewing, as well as using a cheaper technology than the In-Plane Switching that Apple uses. The feel of the textured plastic is warmer, and takes a lighter touch, but it also results in fine surface scratches, even after a short period of time with very light use.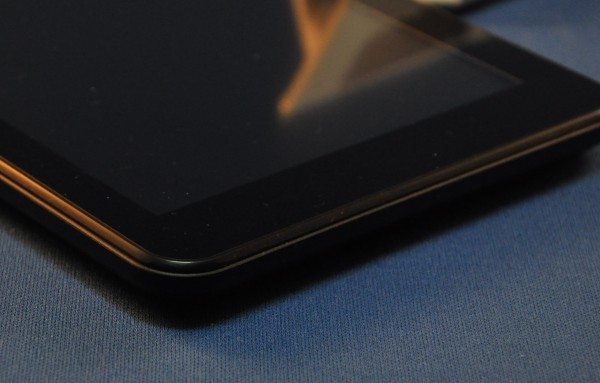 And, streaming video eats the battery in about two 40-minute shows, so keep some power handy. I didn't purchase any video to try non-streamed watching (to simulate an airplane in-flight experience), but I don't think the network was the big drain. We all know video takes processing power.
As I said, I really want to like this little guy, and kept wandering around the house reading email and such with it, to the point my Lovely Bride said "You moving over to the Dark Side?" I assured her I wasn't, but that Android wasn't the horror it used to be. Everyone I talk with tells me they like Android because it's less money, more customizable, doesn't cost as much,  lets you place items wherever you want on the home screens, it's cheaper, you have more choice of manufacturer, it's less expensive, it's open, there's no "Apple Tax" and the like. I understand the cost issue, I really do. I lust after better bikes, better cars, and more expensive things like leather bags and finely-crafted watches, and, when I do spend money on things, tend to buy really nice things without going over the moon for the wildly expensive ones. I drive a Corolla, not because I think a BMW would be bad, but for my budget, I can't justify the cost difference. But I shy away from the latest import from DodgyMotorCompany with their "blazing fast 2 liter engine". I know Toyota, and you get a good amount of functionality for a moderate investment.
So, I compared this tablet to similar models in Apple's world, since that's what I'm familiar with. Currently, you can buy the Ematic for about $70 online. You can get a refurbished iPad 3rd gen or original (non-Retina) iPad mini for $375 – $475. These have similar processors and memory configurations, all come with chargers. The Ematic is light, great for single-watching video, and some reading of online content. (My eyes were quite tired after most email/Twitter sessions of longer than 30 minutes.) You can't expand it wirelessly, and the cameras are pretty useless (similar to the iPad 2's).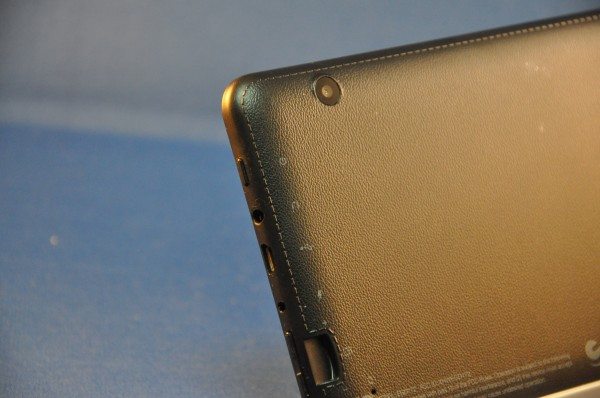 The iPads are larger and heavier, but have more than twice the battery life (I'm being generous – it's more like 3x), Bluetooth, and because of the popularity of Apple's refurbs, also have Cellular radios. They are also 400% more expensive. (There were no WiFi-only models to price match against!) By any measure, network performance, reading, typing, and durability are far out-paced by the Apple products. The Retina display on the third gen. still amazes me daily. But the question is, would you spend the money for a "meh" tablet that will be semi-worthless in a year or so? I don't think I would, but if you've got a kid who wants to get into the tablet world, or you want a wifi only solution to your email and web work while out and about and don't want to get a new phone, this could be an OK way to test drive the form factor.
Source: The sample for this review was provided by Ematic. Visit their site for more info.
Product Information
Price:
$70
Manufacturer:
Ematic
Requirements:
Pros:
Cons:

Plastic everywhere
Scratches easily
Cannot rest text easily