We use affiliate links. If you buy something through the links on this page, we may earn a commission at no cost to you. Learn more.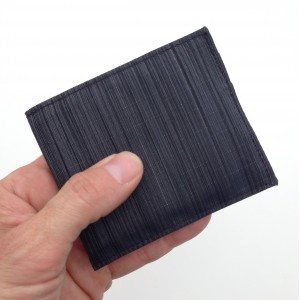 Wallets! The thinner the better, right? Tell that to George Costanza. In the meantime, thin wallets have been increasing in popularity for years and Allett, who "bills" themselves (see what I did there?) as the "The Original Thin Wallet" has been at the forefront. Their wallets are thin and lightweight and designed to help reduce the lump in your back pocket. You know, the one that is secretly giving you scoliosis. I've checked out several slim wallets over the years, but never got around to trying one from Allett until now. Behold the thinness and durability of the mighty Allett SoftTech Nylon Inside ID Wallet. Gadget on!
Background
One of my ongoing quests is for the perfect wallet (for me).  I've been leaning toward thinner, slimmer, more minimalists wallets and had been wanting to try one from Allett, one of the original "thin wallet" companies, for some time.  Recently Allett has released a few new styles and materials, so I was happy to have the opportunity to finally try one out.
Specs
Price – $19.95
Capacity – up to 12 cards
Material – SoftTech Nylon
Dimensions – 3 3/4″ x 3 7/8″ x 1/8″
Weight – 0.5 ounces
Location of Manufacture – San Diego, California, USA
Options
Colors – Black (reviewed here), Pebble Brown, Beryl Blue
Note that Allett does offer a sister product, the SoftTech Nylon Outside ID Wallet, with the same color options and for the same price, but with the ID slot on the outside rather than the inside if that is your preference.
Packaging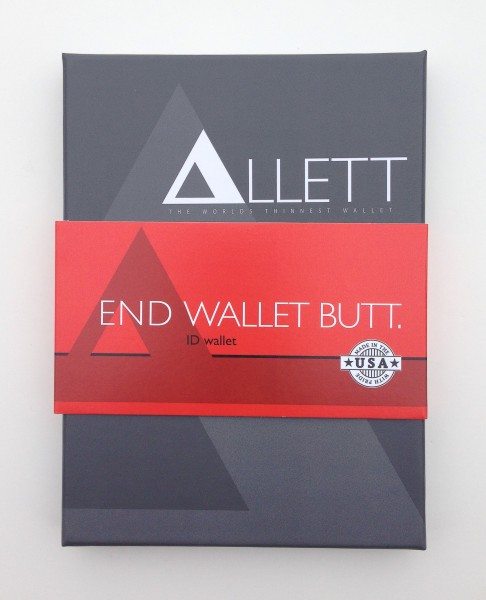 The wallet arrived in some nice-looking packaging.  Interesting slogan on the box's belly band.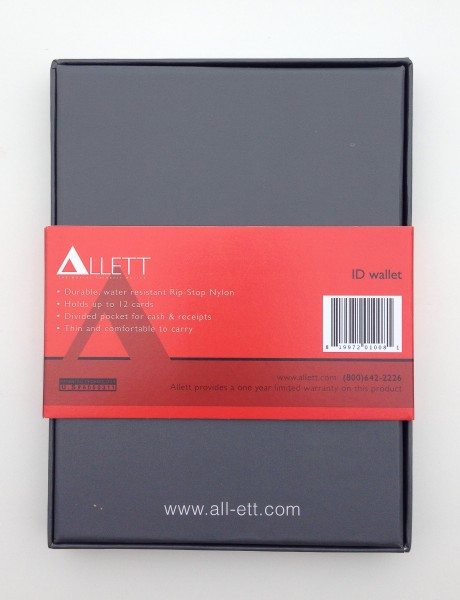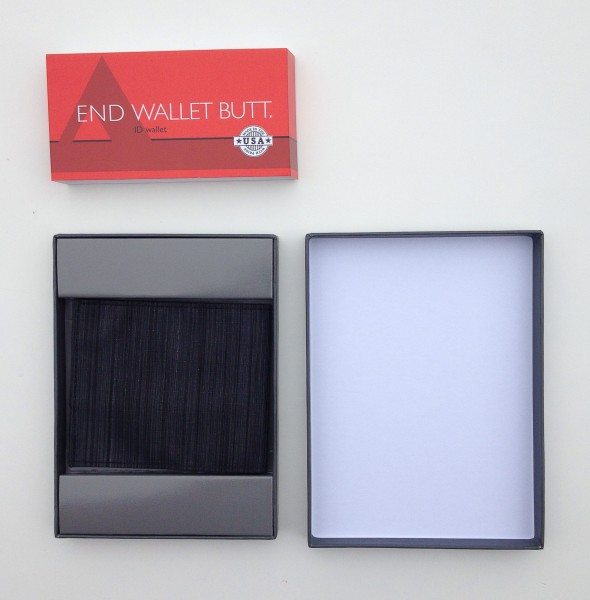 Come to think of it, maybe this elegant packaging is a bit overkill.  Even thought it is nice-looking and made from recyclable cardboard, be alternatives that are more favorable to the environment.
Features
Right out of the box, the wallet has a simple, subdued appearance, with an interesting tactile feel to the material.  The SoftTech Nylon material, which has a cross pattern stitch throughout, is intended to provide ripstop-type tear-resistant strength and long-lasting durability.  It is also designed to be water resistant, wicking away moisture (think sweat, rain, spilled drinks, etc) and very tough but still thin.  In fact, when I first picked up the wallet, it felt very thin, almost paper-like, but not really flimsy at all.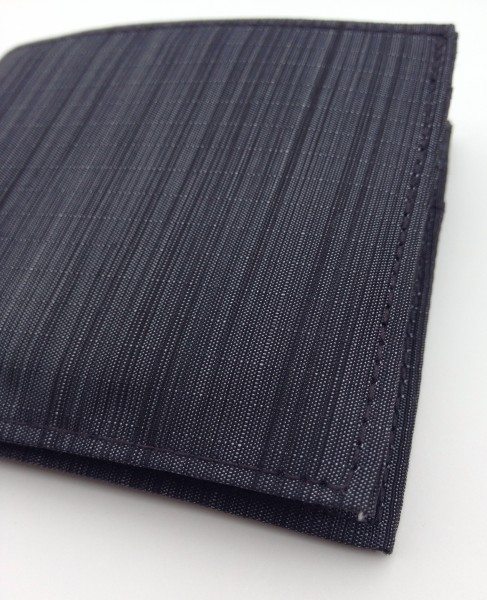 Construction was top-notch throughout.  Straight edges, right angles, tight stitching and no loose threads.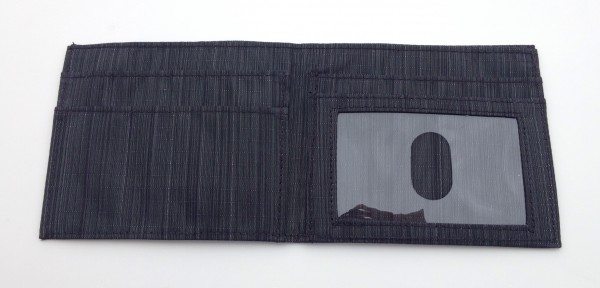 Inside, the wallet has a standard bi-fold wallet-ish appearance.  It has several card slots—two on the left and one on the right—as well as a transparent ID slot with a thumb-hole for easier removal of your ID.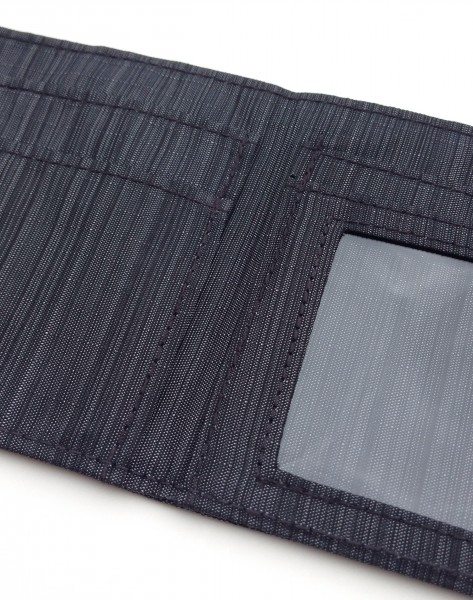 One aspect to note is that this wallet does not include a pair of pockets behind the main card slots as you would find on most other bi-fold wallets of this type.  I was a bit disappointed to see this, but at the same time I think not having these pockets does force you to further cut down on the amount of extra junk you may be tempted stuff into your wallet and therefore cut down on the thickness.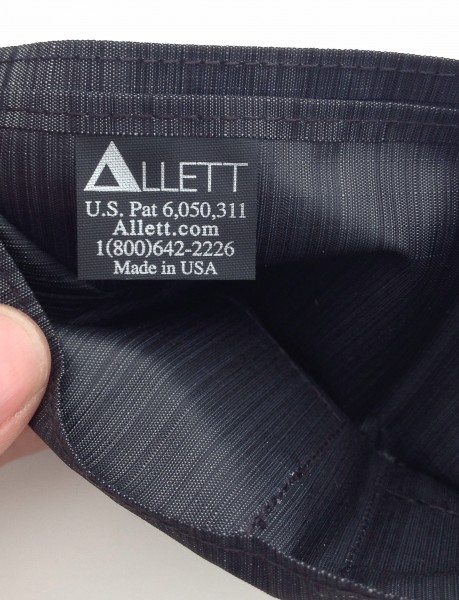 Allett lists a patent number for their wallet design as shown on the internal tag.  Also, it is made in the USA.

Empty, this wallet quite thin, as seen in the above photo.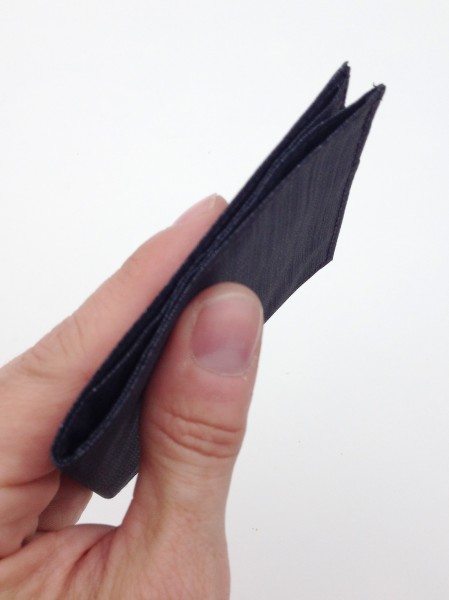 Go ahead, give it the squeeze test.  I really is thin, owing I think to both the thinness of the materials themselves as well as the minimized layers of material in the wallet.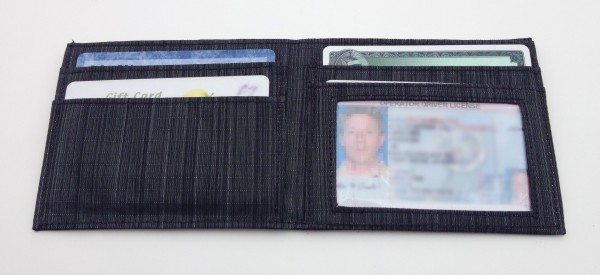 Above, I've loaded the wallet with four cards including my ID as well as some cash and a few receipts.  This is perhaps a few less cards than I would carry on a daily basis but basically a fairly typical amount of items for me.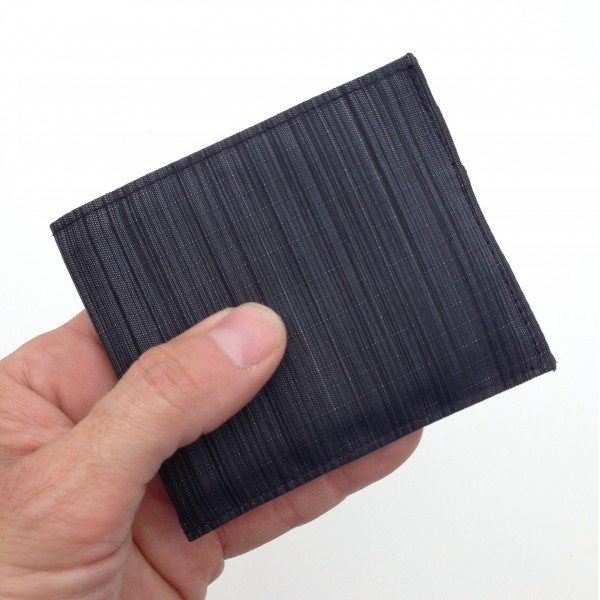 Adding the above amount of items did increase the thickness of the wallet, but it did remain quite thin.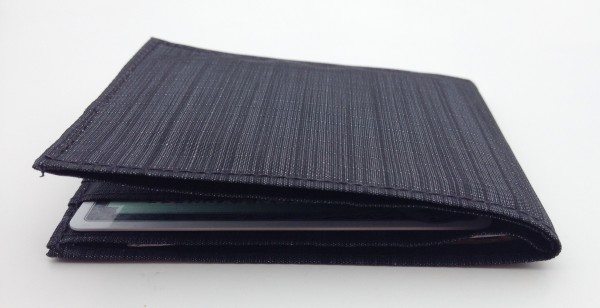 With this amount of items inside, the wallet still closes on its own when lying on a tabletop.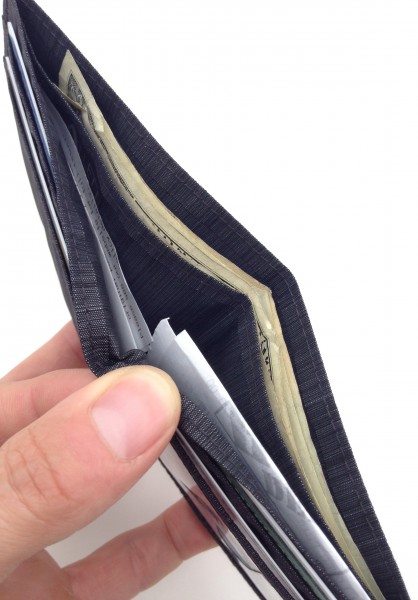 As mentioned above, in addition to the four cards, I also placed a few bills and a few receipts in it.  The bill pocket divider does add an extra layer of material to the wallet and contributes to its overall thickness, but I do like this feature because in addition to a few bills, I tend to carry a few receipts around with me which I will empty out of my wallet at the end of the day.  The divider is just a useful addition to me.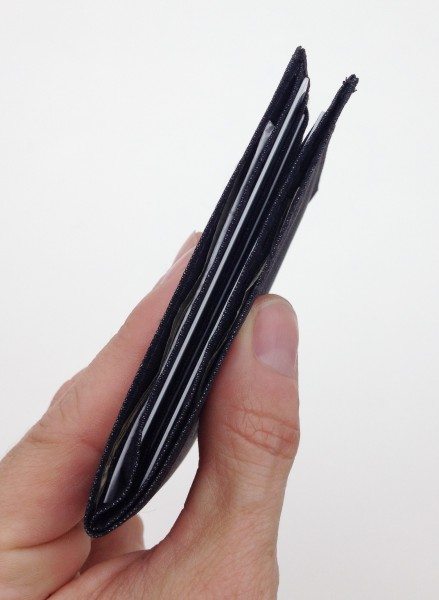 At this thickness, the wallet can easily be used for either front- or back-pocket carry.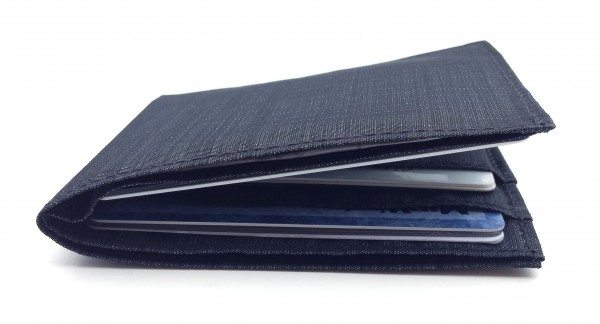 Above, I've loaded the wallet with more cards, eight to be exact. This is a bit more than I would typically carry on a daily basis, but I wanted to give it a thorough test. As seen in the photo, the wallet no longer closes on its own.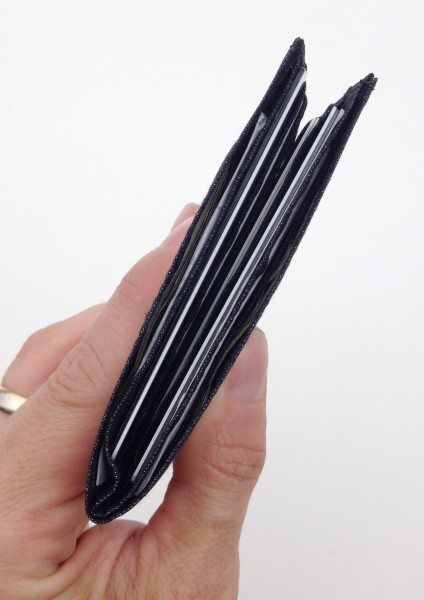 Obviously, the addition of more cards does increase the thickness of the wallet, but with a total of eight cards, several bills and some receipts, the wallet is still quite thin, thinner than most leather bi-fold wallets of similar design.  Even loaded to this degree, I found it could be used comfortably in either the front or back pocket.
Conclusion
The Allett SoftTech Nylon Inside ID Wallet is a high-quality, well-constructed minimalist wallet at an affordable price.  The SoftTech Nylon material is thin and lightweight, yet provide water and tear resistance.  It also has a decent carrying capacity for a thin wallet—I placed up to 8 cards inside and it did not prohibitively increase in thickness, still begin appropriate for either front- or back-pocket carry.  If you are looking for a thin, durable and high-quality minimalist wallet, give the Allett SoftTech Nylon Inside ID Wallet a look.
Update 04/18/15
A very nice slim wallet. I will occasionally use this when I want to carry a bit less in my pocket.
Source: The sample for this review was provided by Allett. For more information, visit http://www.all-ett.com/.
Product Information
Price:
$19.95
Manufacturer:
Allett
Pros:

Thin
Lightweight
Durable
Water-resistant

Cons: