We use affiliate links. If you buy something through the links on this page, we may earn a commission at no cost to you. Learn more.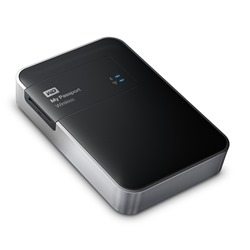 I'm not a very good geek because I don't have a backup of my backups. I use an Apple Time Capsule with a WD USB drive hanging off of it. Lately that drive has been acting a little wonky, so it's time to replace it AND come up with a strategy for backing up that backup, preferably offsite. Backing up your files is obviously important, but having another copy somewhere other than where the first copy is stored is just as important. Today I received news that WD has just announced the availability of a new backup drive. It's the WD My Passport Wireless and it looks pretty spiffy.
The My Passport Wireless drive broadcasts its own wireless network that allows up to eight devices to connect at the same time and access any content stored on the drive. Available in 500GB, 1TB or 2TB models, users now have the ability to store and access up to hundreds of hours of movies and music, as well photos and other digital files, from their smartphones and tablets that are typically limited by minimal storage capacity.
The WD My Passport Wireless drive is currently available for pre-order online at the wdstore.com and will be shipping later this week. The price is $179.99 USD for 1 TB and $219.99 for 2 TB. The WD My Cloud mobile app currently is available for download for free from the App Store™ and Google Play™.