We use affiliate links. If you buy something through the links on this page, we may earn a commission at no cost to you. Learn more.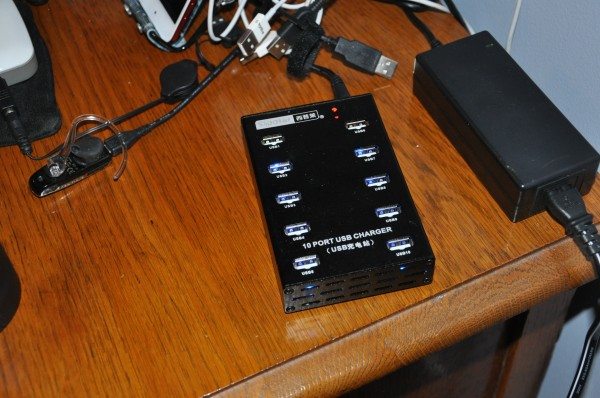 I've reviewed many portable power options, as well as a dock or two, but this is a first, and something that we may see more of: it's a USB charger for up to ten devices! Talk about Nerd Nirvana! It's from a company called Sanrao, who makes industrial-grade USB chargine stations for testing labs and commercial applications. Brando sent us a unit for review. This is not a USB hub, so there's no syncing or other connectivity offered, so let's take that off the table right away. This is not a computer peripheral. Once I had this revelation and moved it off my desk, my appreciation of this device changed completely. While not for everyone, if you're a little gadget-crazy and have infected – um – passed that happiness on to other members of your household, you may need one of these, if not now, then soon. It's a huge boon to a gadget-happy lifestyle!
Note: Pictures can be tapped or clicked for a larger size.
Each port is rated at 2.1 Amps, and there's a separate world-ready power supply. (The power supply has a 45 inch cord ending in a hot collar round plug for the main charger. The 5 foot cable that runs to the wall is identical to what Lenovo has been using with their Thinkpad power supplies for the last decade. This won't be hard to replace.) The distance the cables run makes this a perfect candidate for using on or in a piece of furniture (I'm thinking conference table, reception area, break room, family room area, etc.) where loads of people may need to grab a charge. Overall, the charger is about 3″ by 5″, and is only 1″ thick, sitting on four rubber cushions that protect furniture and give cooling air circulation. On the back side where the power connects, there is also an on-off switch and a vent for air cooling. There are ventilation holes in the front side opposite as well. The top face is where all the action happens, though. Each USB port has a good amount of space around it, in case you're charging something that has it's own plug, rather than a cable. There's also a blue light inside each port when power is on. There is also an indicator light near the power input for the same purpose. When plugged in, you can almost land aircraft with the light it gives off, but you can also see enough to know if there is something plugged in, and which ports are free. (This is great if you're under a table attaching a new cable to it.) Reading further on their website, the LEDs in the port are also useful in case one of the ports burns out during use. Remember, this is designed for industrial applications, so you can actually remove a bad port and replace it.
The ports are numbered 1-10, and if you're going to use this as a hub for sending power to many stations, having that label for troubleshooting would be great. I wanted to mount it under the counter on the den side of our family room, but was over-ruled by the ladies of the house. They don't want me putting any more tech out there than I already do, they said. (I'm sure you all have to deal with this anti-gadget sentiment at times. We all must suffer, it seems.) I am now using this on a side table in my office, where I can charge various devices easily. I had been using it on my desk for a month or so, with 2 Lightning cables, two 30-pin cables, and various mini/microUSB cables for headphones and speaker units. It's quite a handy unit for the gadget-obsessive. Being that I have quite a few items always in rotation, this is a five-star item for me. Drawbacks would include the sprawl of cables it encourages, (which is why it's now on my "charging table" – see photo below!) and the sheer number of LEDs that are used. It's hard to have it on your desk in your line of sight, but in an area with several routers or other items charging with their own lights, it's right at home.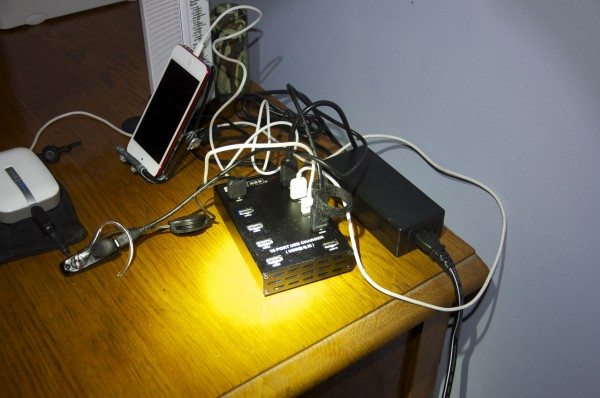 The ports are rated at 2.4 Amps, and I've not seen any drop in power with half-a-dozen things charging. I could fill it up, I guess, but devices charge fast enough now that I rarely have anything in need of a boost! When I return from traveling, I unload my iPad, portable battery chargers, speakers, iPhone and Bluetooth phone earpiece, plug them all in, and go unpack the rest of my suitcase. In an hour or two, everything is ready to go again. I never noticed any heat on any of my devices, or on the unit itself, so I think it's safe for any gear.
Update:
Just finished testing my iPad (at about 75%) with every charger in the house. The iPhone chargers always say "not charging" – even a non-Apple charger. The iPad charger (Apple) and the SiPolar both show the same time to charge using Battery Doctor from the App Store. It reads the current battery charge, and bases the "time to full charge" based on the number it's getting from the charger. So, whatever power the SiPolar is sending, the iPad thinks it's identical to the original iPad charger that came with my third gen iPad.
Not having a USB volt-ohm meter (I know, there goes my geek cred, right?), that's all I can do. I did find a web site for the exact unit I'm testing (as far as my limited non-English reading could get me, which is to say, the pictures looked identical), and the Engrish said hi speed charging for tablets on all ports. That's what I based the speeds in the review on.
Update #2 from Brando:
Dear Julie,

The AC has 12V and 5A, (with optimal, it has 60W, as you know, hear and other current deduction will change some).

It has Max 60W, if for 10 ports 5V, all using, it can provide 1A each.

If only lesser connections, the power current can goes up.
Source: The sample for this review was provided by Brando. Please visit their site for more info.

Product Information
Price:
$52.00
Retailer:
Brando Workshop
Requirements:

Power source
USB devices that need charging

Pros:

Quick, easy set up
Can charge multiple devices quickly and safely
Industrial quality

Cons:

Bright LEDs - 11 on the main unit, one on power supply
Encourages cable sprawl
Industrial styling may not meet design sensibilities of some