We use affiliate links. If you buy something through the links on this page, we may earn a commission at no cost to you. Learn more.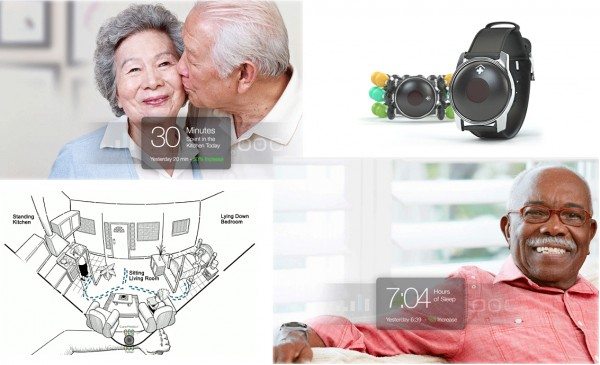 Do you have an aging parent or relative who wants to live on their own, but you are concerned about fading health?  They don't want to live with you or in an assisted living facility, but you'd like a way to know what is happening with them on a daily basis?  There are various monitoring devices available, but they tend to be of the "I've fallen and I can't get up, send an ambulance" types.  The Tempo Wearable Technology for Seniors monitors can give your relative some independence while keeping you aware of how their day is progressing.  Tempo is seeking funding on the Fundable crowd-funding site.
The system consists of room beacons, a hub, and a wearable monitor that looks like a bracelet or watch.  The bracelet and beacons track where the wearer goes in the house and how much time they spend there.  "Tempo monitors motion (walking, sitting, lying down), location (bedroom, living room, bathroom, kitchen etc.) and activities (cooking, eating, sleeping, bathing etc.) to create a map of of your loved one's day-to-day habits. Tempo even picks up on subtler, more gradual changes—like slower motion, more time spent sitting down, or cooking less often—that can often be indicators of a change in quality of life or even underlying medical conditions."  The hub collects data about the daily activity and sends it to the cloud, where it is analyzed for patterns and changes in patterns.  When something unusual is noted, like spending too much time in the kitchen (which could indicate a fall), the system will send a notification to your computer, phone, or other mobile device.  You'll know when to make an extra call to see how they are doing.
For a pledge of $169 ($149 if you get one of the few remaining early-bird special pledges), you'll receive a monitoring device, four room beacons, a communications hub, and three months of the monitoring service.  A pledge of $269 adds a second monitoring device, one for each parent, and a total of six months of the monitoring service.  There's no date specified for shipping the Tempo Wearable Technology for Seniors on the Fundable site.