We use affiliate links. If you buy something through the links on this page, we may earn a commission at no cost to you. Learn more.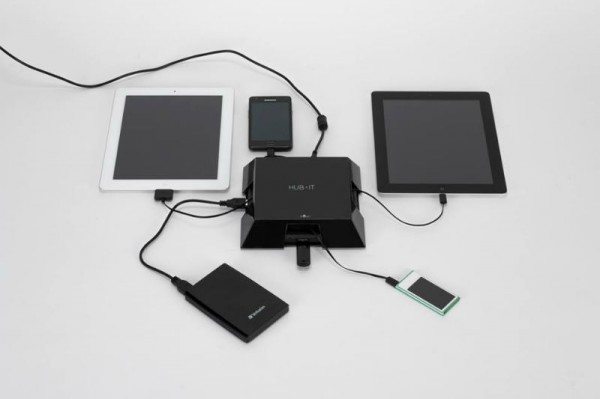 Too many gadgets, too few USB ports, never a charging cord when you need it.  Sound familiar?  The Eggtronic HUB IT attempts to solve this problem with this nifty USB hub with fixed and retractable USB cables.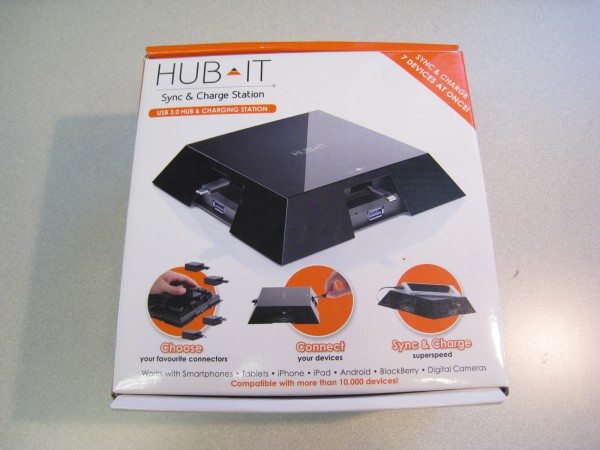 According to the Eggtronic site, the HUB IT is:
"a USB 3.0 Super-Speed Hub & a Smart Charging Station
Enjoy the Fast Charge and the SuperSpeed data Transfer
Now Sync & Charge everything at maximum speed!"
Dimensions: 6.7″ x 6.7″ x 1.3″ (170mm x 170mm x 34mm)
Weight: 8.8 oz (250g)
Connections: 3x USB 3.0/2.0/1.1 compatible ports (type A)
4x USB 3.0/2.0/1.1 slots
5x power cartridges expansion slots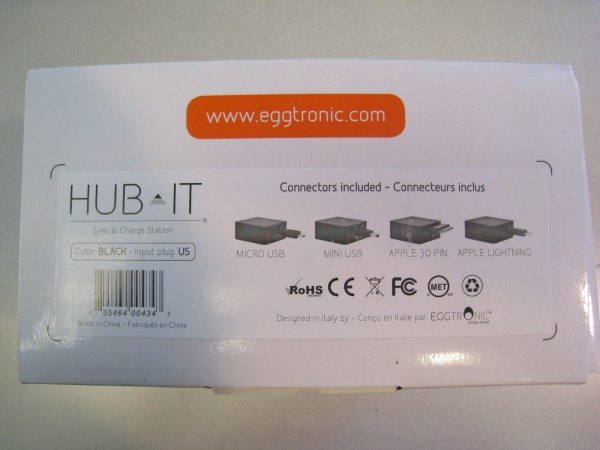 The box indicates there are four retractable connector modules included:  Micro USB, Mini USB, Apple 30-pin and Apple Lightning.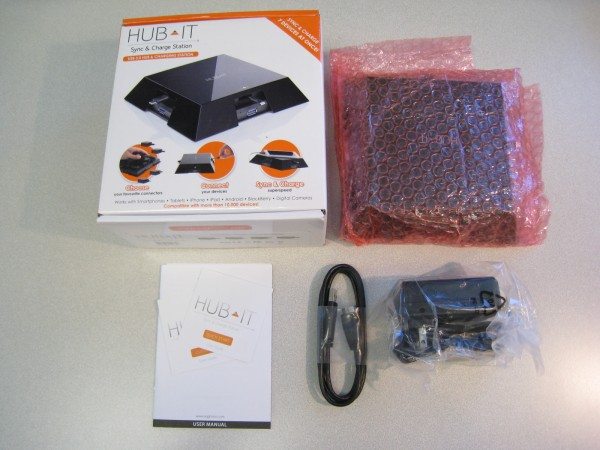 Comes with the HUB It, instructions, USB 3.0 cable and power adapter.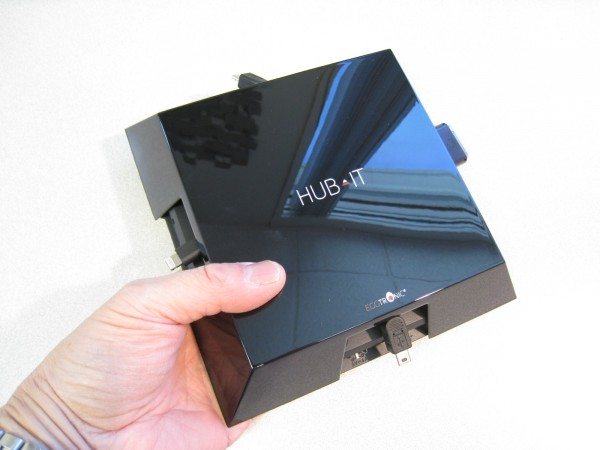 The HUB IT is trapezoidal shaped.  The cover is a glossy black plastic.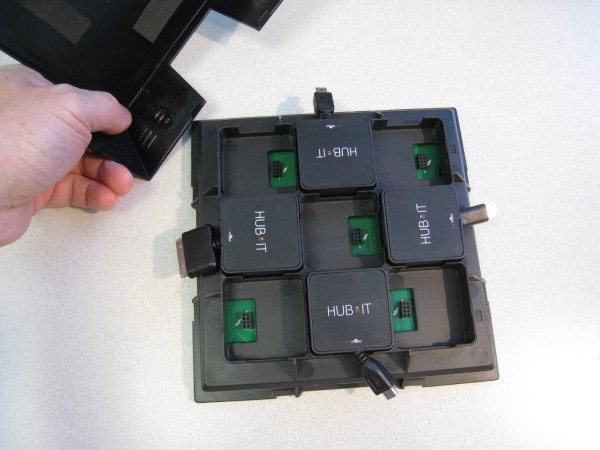 The cover pops off fairly easily.  Here you can see the four included modules that can be mixed and matched.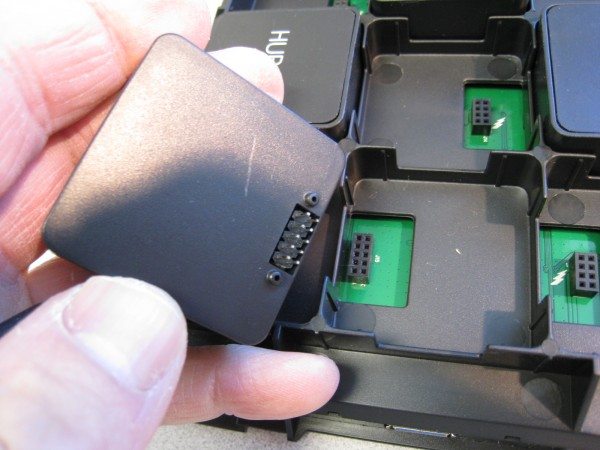 The included modules had 10 pins on the back.  This design allows you to rearrange the USB modules any way you like amongst the four "bays".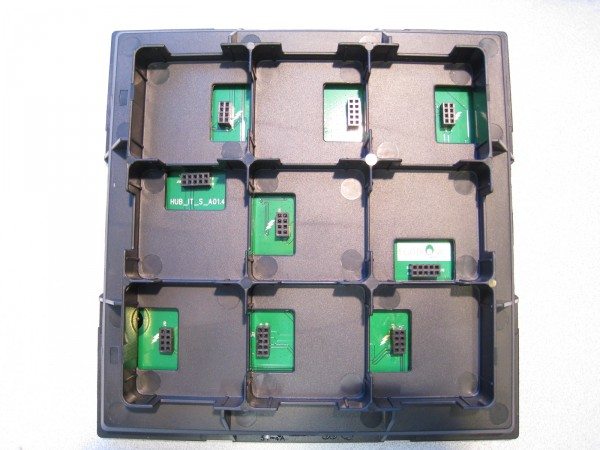 There are a total of nine bays, four of them intended for use with the retractable cable modules.  Other options, such as wireless charging, are supposedly possible but I didn't see any other reference to them.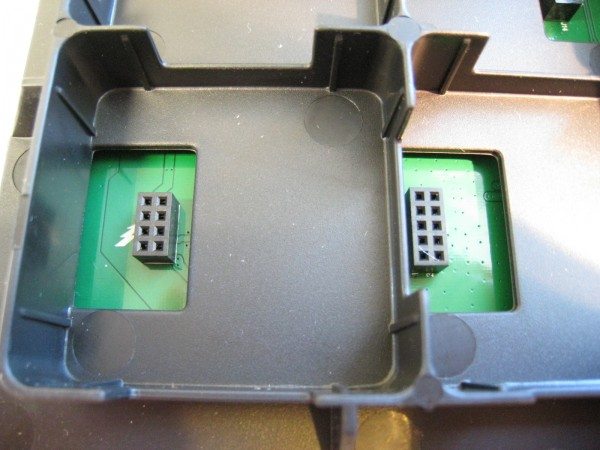 Close up of the eight pin (left, with lightning bolt printed on the PCB) and the "regular" 10-pin (right).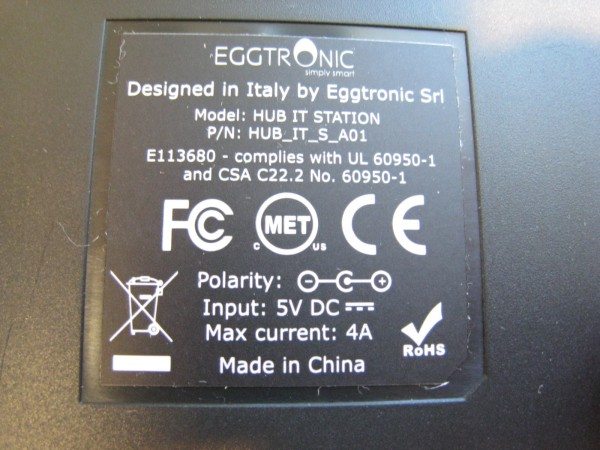 The back label of the HUB IT.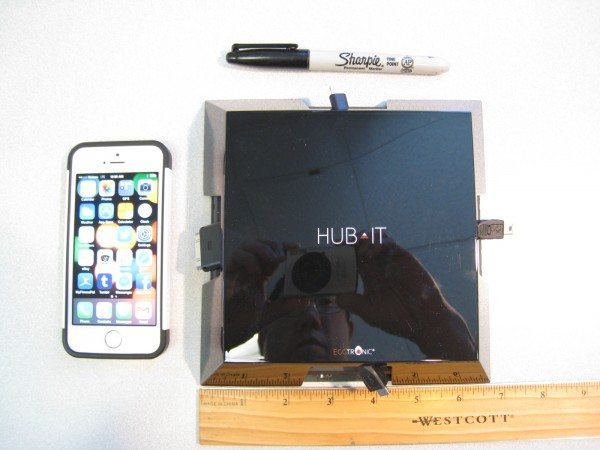 The HUB IT isn't exactly small.  Each side measures under 7 inches.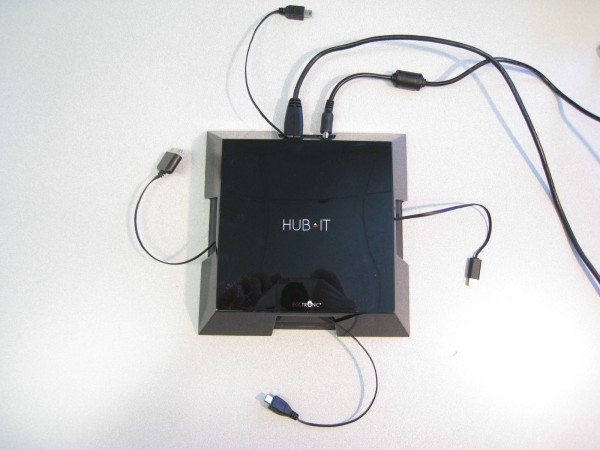 Here's a shot of all four cables pulled out:  Mini USB, Micro USB, Apple 30-pin and Apple Lightning.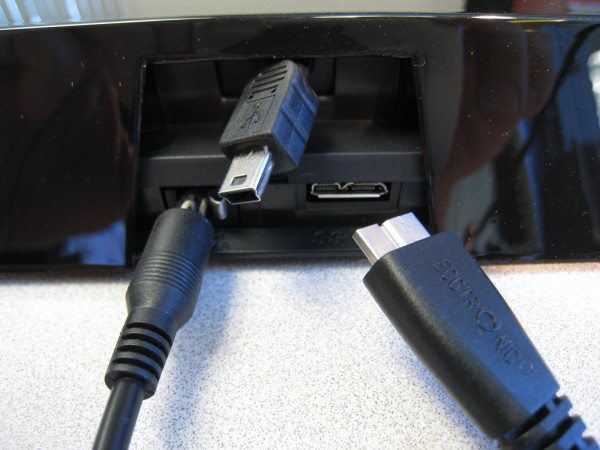 So how does this connect to power and your computer?   Under one of the retractable modules is a round external 5V plug, and a mini USB 3.0 connection on the other.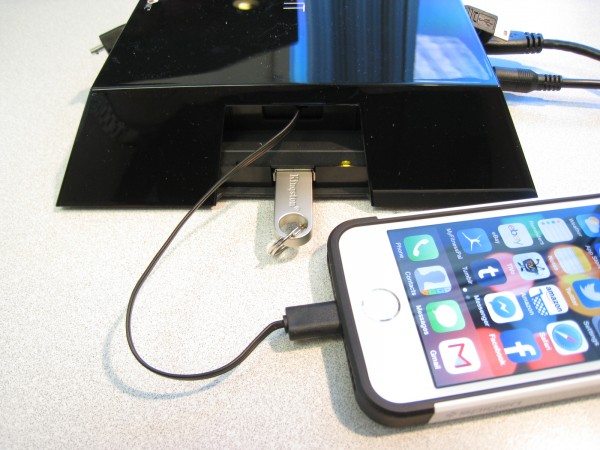 It's easy to forget that the HUB IT also features three traditional USB ports as part of the hub.  They are the blue-colored USB 3.0 port.  In this photo, my iPhone 5S is plugged in with the retractable Lightning cable, as well as a thumb drive.  What's not immediately apparent is that the HUB IT's three USB 3.0 ports are installed upside down.  In the case of my USB thumb drive, the logo is facing down.
The Eggtronic HUB IT is a great idea if you need a desktop hub or charging station, and don't like keeping different cables lying around that you'll eventually misplace.  The modular retractable cable design is clever, and additional modules are available (sold separately).  This one now has a home at my desk at work.
Source: The sample for this review was provided by Eggtronic. Visit their site for more info.
Product Information
Price:
$57.59 - $79.99 (depending on retailer)
Manufacturer:
Eggtronic
Requirements:
Pros:

Retractable cables keep things tidy
Mix and match retractable module
Expandable

Cons:

Extra USB modules sold separately (about $7.99)
Contact Eggtronic regarding wireless power modules