We use affiliate links. If you buy something through the links on this page, we may earn a commission at no cost to you. Learn more.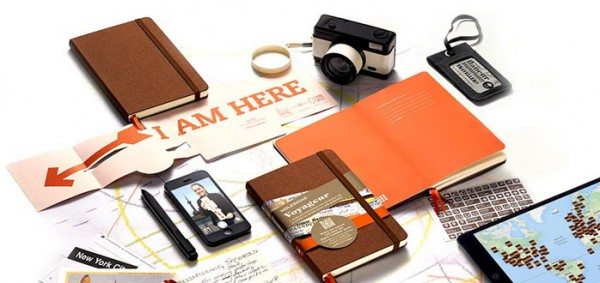 I always like to take my journal with me when I go on vacations so I can go back later and read about the things I've seen and done. I usually print out a Google map with the trip route and stops and glue it to the page that starts the trip. I also glue in other things like ticket stubs, flyers, etc. My journal looks more like a scrapbook than a journal, but I don't mind. Moleskine has just added a new travel inspired notebook to their line up that incorporates some of these same ideas. The Voyageur notebook is 4 x 7 inch (an odd size compared to Moleskine's normal offerings) and features a brown cloth bound hard cover, with 208 pages and a sheet of stickers. The notebook is divided into ruled, dotted and plain page sections which are marked by colored tabs. There are also detachable perforated pages that are perfect for creating packing lists.
Need inspiration for your next trip? Check out this video:
The Voyageur notebook is priced at $24.95 which seems way too expensive for what it offers. Although I know people will buy it just because it comes from Moleskine, so it has to be good – right? I prefer to just use a plain notebook that's less than half that price, but if you want a Voyageur notebook for your next trip, they  are available from Moleskine.