We use affiliate links. If you buy something through the links on this page, we may earn a commission at no cost to you. Learn more.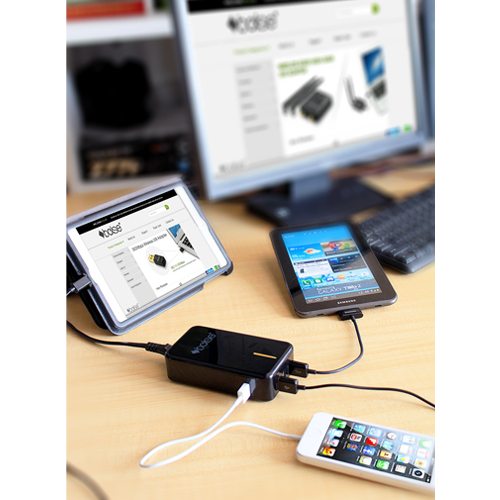 Perhaps, like me, your bedside table has evolved over time into a charging station. I run down the batteries in my devices during the day, and the nightstand is the most convenient place to both recharge the devices while I sleep and keep them nearby for nighttime reading, email or phone calls. I haven't adapted gracefully to this electronic incursion, so I found myself with a nasty octopus next to my bed consisting of a multi-port extension cord, several adapters, and associated USB cables connected to my essential devices. When I was offered an opportunity to manage this mess with a 5-port USB charger from Bolse, I jumped right on it. Here's what I discovered.
The charger arrived from Bolse in a thin cardboard box with a label pasted on, looking more like an industrial product than a slick consumer gadget. No problem – I don't judge a book by its cover (especially after moving to a Kindle for all my reading!). Inside the box was the shiny black plastic charger brick and a five-foot power cable. 
Note: Images can be clicked to view a larger size.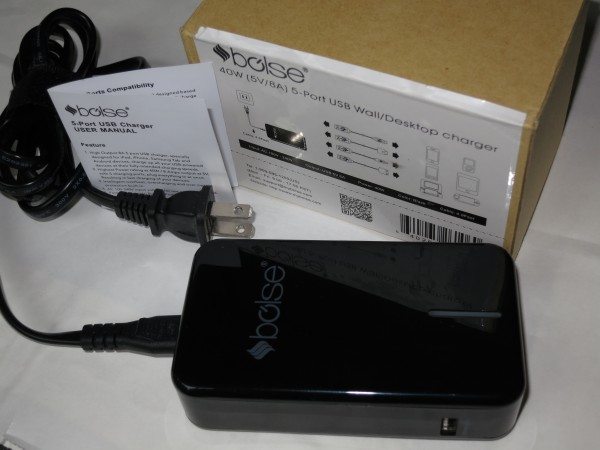 The included "User Manual" is a folded 3" x 5" card with features, specifications, notes on port compatibility, and warranty information. It's not much, but ample for this product. The power cord is intended to be long enough for the charger to reside on a desktop. If it's too long, there is a handy Velcro cable wrap to keep things tidy. The Bolse charger is also available in white (with a white cord).
Specifications
Input: AC 100V-240V
Output: USB, 5.0V, 8A across 5 ports
Power: 40W
Material: White or Black Plastic
Size: 4.56 x 2.46 x 1.18 inches
Weight: 7.8 ounces
Cable: 4.9 feet
Warranty: 12 months
My first impression was that this looked like a polished version of a basic AC/DC power brick, which of course is what this is. The top is shiny black plastic with the Bolse logo not too prominently displayed in grey and a one-inch power-on light that I'll complain about later. The shiny plastic does attract dust and fingerprints, although I didn't really notice this until I started taking photos for this review – the white version probably wouldn't have this issue. The photo below, without any dust or prints, comes from the Bolse website. Most of the other photos required a couple of takes to remove dust specks – hey, it's pollen season!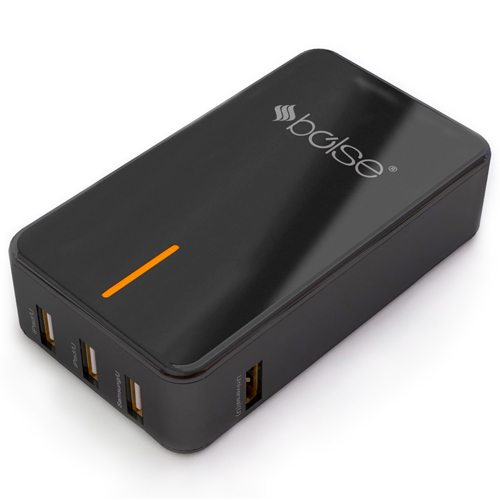 The bottom has four rubber feet that do a reasonably good job of keeping the charger from sliding around, and a label with specs and certifications.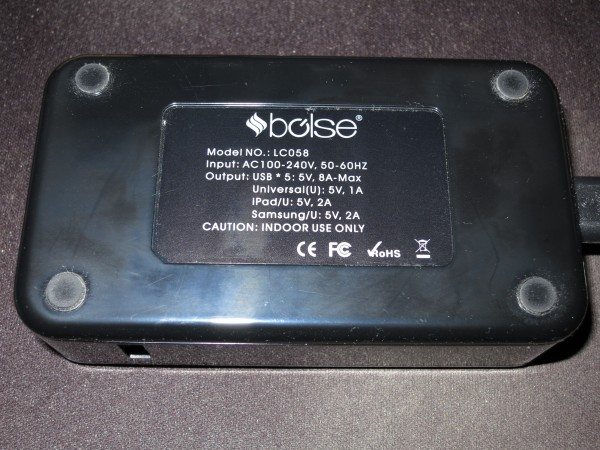 The rear side is where the AC cord attaches, and Bolse does sell the product on different Amazon country websites with the appropriate power cord for each country. (Oddly, the Amazon links on the Bolse website are to different Amazon country websites for the black and white versions; so it's not clear that both black and white versions are available for these different countries.)
There are five USB ports located on the other three sides of the charger. The USB ports are not all the same, and the labels on my black version are not very easy to read, so it's worth figuring out what they are before connecting devices.
The three USB ports on the front side are the higher-powered ports: 5V/2A. These are suitable for tablets and smartphones that require more power. Two of these ports are labelled "iPad/U," where the U stands for "Universal." iPads and some legacy Apple devices should be plugged into these ports, which are specifically designed to support them. The third port is labelled "Samsung/U" and is intended for Samsung Tab tablets and other devices that benefit from 2A charging. The manual says that iPads will not charge in this port and, sure enough, my iPad displays a "Not Charging" notification if plugged into this port.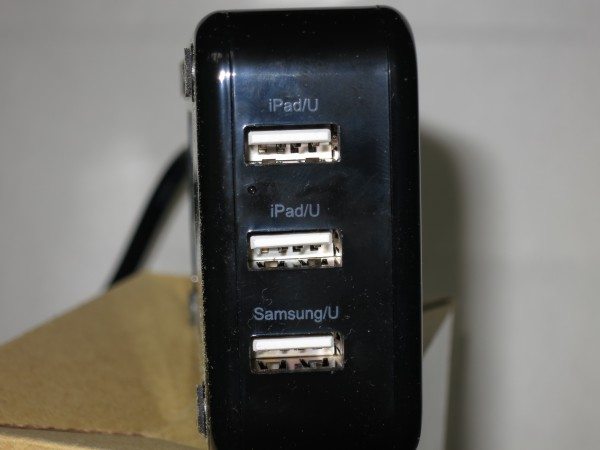 Each of other sides of the charger include a single 5V/1A USB  "Universal" port to charge less power-hungry devices (or to charge power-hungry devices half as fast).
Three 2A and two 1A ports add up to the total 8 Amps in the product specifications, so you should be able to charge five devices simultaneously at full speed, which is a good thing. The manual says to expect the charger to warm up when in use, but I didn't notice anything excessive. It is designed to protect against overheating, overcharging and over-voltage to connected devices.
I've used the Bolse charger for a few weeks now and it's an emphatic improvement, with a few caveats. First, here is a "before" photo.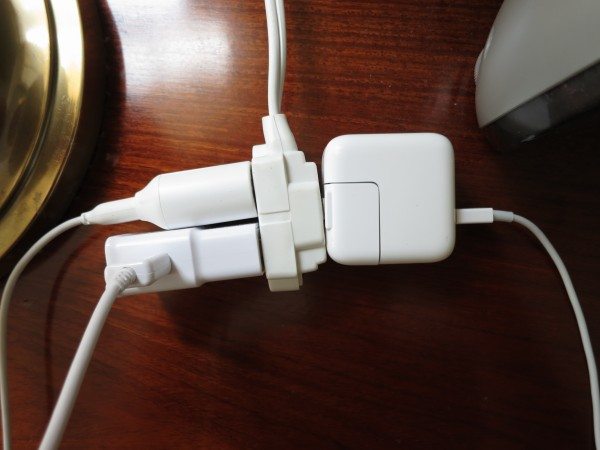 It's unattractive and messy, both in the plug configuration and the dangling cords which stick out in all directions. There is also no extra plug for a fourth device. However, it has adequately done the job of charging my iPad, Samsung S4 smartphone, and Kindle Paperwhite.
Here's the nightstand with the Bolse 5-port USB charger: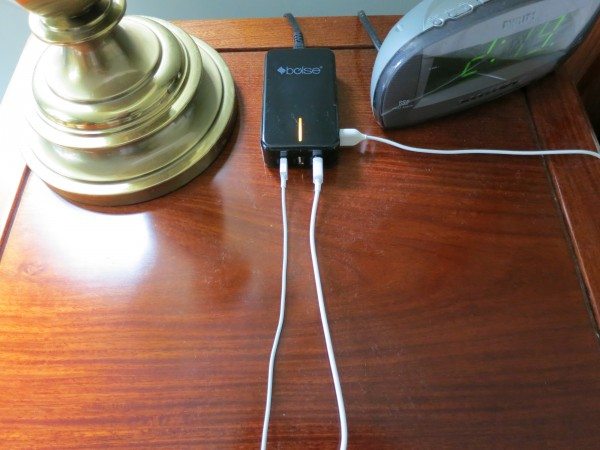 It's much neater, even if I didn't really save any space because the "brick" is pretty big.
The charger eliminates the adapters, which can be used elsewhere or thrown in my travel kit. To fully realize this benefit, I'll need to make sure that I have extra USB cables – especially the Lightning/USB cord for the iPad – so I don't have to remember to grab the cables when I want to charge elsewhere with the adapters.
I like the look of the black color on the table, but it doesn't match the white cables. You may wish to consider this – and the propensity of black to show dust and fingerprints – when choosing between black and white.
The cables are all in one plane, but they still dangle all over the place. I could get shorter cables, but then I'd have to unplug and reconnect the devices when I want to use them in bed or field a phone call. The same issue would apply to something more along the lines of a multi-device docking/charging station. There are quite a few of these on the market, but I haven't yet seen any that appear to meet all my needs. (Suggestions welcome, however!) Wireless charging is attractive, but only really addresses the smartphone charging, not the Kindle or iPad. So, for now, I'm happier with a reduced mess, but haven't figured out a way to eliminate it.
I also have two extra ports available for more gadgets (!) or to share with my wife.
The only real issue that I have with this new setup is the bright orange light on top of the charger. It turns into a bedside beacon at night! Its only function is to show that there is power to the charger, so a dim LED on the side, or even on the back, of the charger would suit me better for a bedside device. I'm still deciding between the lazy approach of getting used to the light or sticking a piece of electrical tape over all or part of it.
Conclusion
The Bolse 5-port USB Desktop gets my recommendation as a versatile charging station with multiple ports for a range of devices. It's probably best deployed in a stationary home or office location, as I did, but could also be useful for traveling. Although somewhat bulky, it can not only replace several adapters but also charge multiple devices from a single wall outlet, and outlets can be hard to come by in airports or older hotel rooms. I can't confirm that it works with all devices, but it charged my three devices flawlessly. And, while I haven't had any problems, the 12-month warranty adds some peace of mind as well. All in all, this gadget is a keeper.
Update 12/24/14
Of everything I've reviewed, my favorite and most-used gadget is the Bolse 5-port USB desktop charger, which sits proudly on my nightstand and charges three or four devices every night when they come home to roost. Instead of putting electrical tape over the obnoxious LED light, I simply rest my phone on top of the box (and LED) for charging. Hey, a fabulous idea: have the top of the device support Qi charging so I could put my phone on it wirelessly, but leave the USB charging ports available on the sides for attaching my other devices! ( I just did a quick online search for this and found a kickstarter project from QHARTZ which is very similar, but the device is a powerbank with Qi charger – this might work if I can also keep it plugged in using its wall-charger on my nightstand.)
In my Bolse review, I speculated that its bulky nature would reduce its usefulness for travel, but that hasn't prevented me from taking it on every trip I've taken. It's invaluable to only need one outlet to charge all my devices rather than using every outlet available, including in the bathroom, and still having to drag the bed or wardrobe away from the wall to plug in that last gadget. On the road is where the above-mentioned QHARTZ power bank with Qi charging would really shine, although it only has 2 USB ports.
Source: The sample for this review was provided by Bolse. Please visit their site for more info about this product.
Product Information
Price:
$22.99
Manufacturer:
Bolse
Retailer:
Amazon
Requirements:

AC power outlet (100-240V)
Up to 5 devices with USB charging cables requiring a 1A or 2A, 5V power source

Pros:

Charge up to 5 USB-powered devices at full charging speed from a single AC outlet
Attractive package removes power strip and adapters from the desktop
Supports many devices from Apple, Samsung, and most other manufacturers

Cons:

It might defy the laws of physics, but it would be nice if the charger could be smaller
The bright and distinctive orange light becomes annoying if used on a bedside table