We use affiliate links. If you buy something through the links on this page, we may earn a commission at no cost to you. Learn more.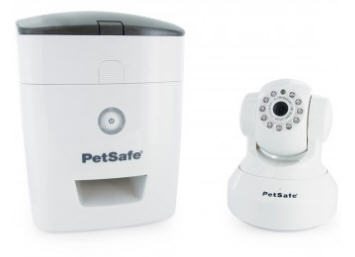 We love our pets just like any other member of our family (maybe more depending on the family!), but the sad fact is that a large percentage of pets are left alone at home during the day while their owners are away at work or school. This means that the pet might get lonely for us and we certainly get lonely for them. A fun new solution to this problem is the new PetSafe SocialPet system which includes a camera and treat dispenser that can be accessed through the SocialPet Facebook App via a computer or smartphone. Pet owners and their friends can can use the system to watch a live video stream of their pet anytime they like. The app also has the ability to take and share photos with others as well as being able to give the pet his or her favorite treat. The SocialPet feeder works with dry food or treats up to 1/2 inch in size does allow the pet's owners to set permissions for friends and family so that their pet can only be treated during specific times and by specific people that they select.
The remote pet feeder feature along with sharing photos and videos via Facebook is fun, but the camera also lets the pet owner monitor their pet's behavior in real time when they're not around. If you're worried that your pet freaks out when you're not home, you'll be able to keep an eye on him with the SocialPet camera. The camera offers pan and tilt features so you'll be able to pin point your pet in the room. Too bad it doesn't include 2-way audio… But, maybe that will be included with the next version.
The PetSafe SocialPet Camera & Treat Dispenser can be purchased online for $149.99 at http://store.petsafe.net/socialpet.