We use affiliate links. If you buy something through the links on this page, we may earn a commission at no cost to you. Learn more.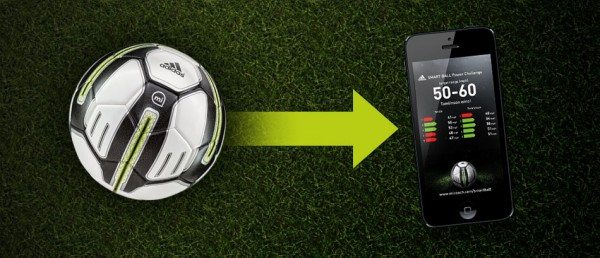 Adidas has created the miCoach Smart Ball for young and adult soccer players who are serious about improving various dead ball shot skills (i.e. penalty kicks, goal kicks, corner kicks, etc.). The sensors inside the ball monitor statistics like speed, power, spin, impact points, and trajectory, which are then sent via Bluetooth 4.0 to the iOS app on your iPhone, iPad, iPod Touch devices running iOS 7 or higher (no support for Android). This ball will help with drills, but not necessarily help with scrimmages or kicks along the ground (the ball must be airborne). The app also helps train the player for ball mastery by providing you with video libraries of drills, and with tips and guidance. The miCoach Smart Ball comes with a charging base and AC charging adapter to allow for wireless charging.
Technical Specifications:
Size 5 regulation weight
32 heat-welded die-cut TPU outer panels with integrated sensor package; TPU bladder; requires inflation
Battery life: ~2,000 kicks / one week
Charging time: ~one hour
Package includes charging base and AC power plug
The miCoach Smart Ball is available from Adidas for only $299.