We use affiliate links. If you buy something through the links on this page, we may earn a commission at no cost to you. Learn more.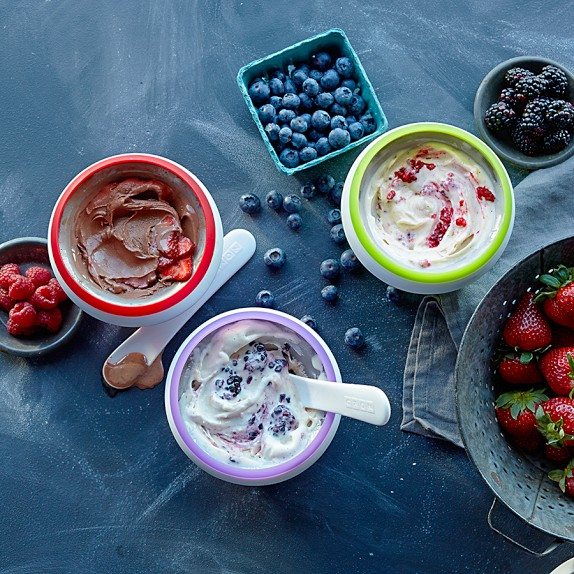 Even if your passion for ice cream (or sorbet or frozen yogurt) is a year-round thing, summer is an especially fine time for sweet frozen treats. So what better time to introduce a fun gadget to create and serve up your very own bowl of ice cream?
Williams-Sonoma is exclusively offering the Zoku Ice Cream Maker to help satisfy your craving. Similar to the concept behind slush mugs and some larger ice cream makers, The Zoku Ice Cream Maker is based on a pre-chilled stainless steel bowl that you remove from the freezer, put in its insulated container, and then fill with an ice cream base mixture. Then you stir and scrape the liquid as it freezes until it's ready to eat. You can mix in fresh fruits, as shown above, or candy pieces to create your own custom dessert. Delicious!
The Zoku Ice Cream Maker holds six ounces (providing built-in portion control!). For guests, larger appetites, or to have some for later, you'll want a larger 1-2 quart ice cream maker (or store-bought ice cream). But homemade ice cream often doesn't keep well, turning into a rock-hard mass in the freezer, so there is an advantage to mixing up a standard 1-quart base recipe  to keep in the refrigerator. Then you can make fresh portions when the mood strikes (just as long as your mood strikes less than every 12 hours, which is how long it takes to re-freeze the Zoku bowl).
With school letting out for the summer, this offers an opportunity for a snack activity to keep the kids busy for a few minutes while they stir up their treat and wait for the reward at the end. Unless, of course, you've already snuck into the freezer and rewarded yourself!
The Zoku Ice Cream Maker is available in red, purple or green. It is sold by Williams-Sonoma for $25.95.