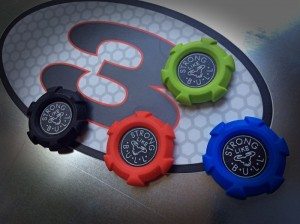 Ever toss a magnet at something to watch it stick? Simple but fun, right? Until you scratch or gouge the surface where the magnet lands. Brian Conti wanted to capture the fun of tossing magnets and watching them stick to things while avoiding damage to the magnet or the surface, so he created the crowedfunded Kickstarter campaign for his latest design, Strong Like Bull Throw Magnets. Brian knows a thing or two about both Kickstarter campaigns as well as magnets, including his successful original Strong Like Bull Magnets (see related links for a review). Brian's latest, Throw Magnets, are Neodymium disc magnets with polycarbonate covers on either side and encased in a custom molded silicone rubber outer ring with nubs for gripping. Brian has even designed a game based on the magnets, with target scoring stickers and a metal game backboard available at higher reward levels. Reward levels start at $17 for a set of 3 Throw Magnets. Fly on over to the Strong Like Bull Throw Magnets Kickstarter campaign for more info and to become a backer, but do it soon, as the campaign ends on June 16, 2014.
Support The Gadgeteer
:
We may earn a small affiliate commission from purchases made from buying through links on our site. As an Amazon Associate I earn from qualifying purchases. Learn more.