We use affiliate links. If you buy something through the links on this page, we may earn a commission at no cost to you. Learn more.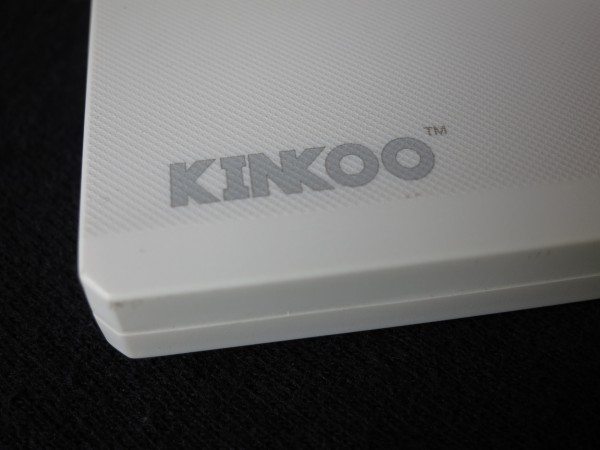 External batteries are everywhere, at least for sale. Still I don't know many people who use them regularly to top off their phones or other devices. Perhaps I'd notice them more if I ventured away from the grid a bit more often, and for longer periods of time. Nevertheless, they do offer peace of mind when you plan to spend hours or days more than a cord's length away from the nearest power outlet; especially if you can't imagine that "getting away from it all" could possibly include doing without phone calls, email, texts, GPS access, or multimedia entertainment. 
This article is a review of the Kinkoo® Infinite One 8000mAh Portable Backup Battery Charger. Let's see if it measures up according to the four primary criteria that I've established for power bank products:
Size and capacity
Convenience
Reliability
Price
 Specifications
Model: Kinkoo Infinite One
Cell type: Li-Polymer battery
Capacity: 8000mAh
Input: USB, 5.0V, 2.0A (max.)
Output: USB, 5.0V, 2.1A (max.)
Size: 135 x 67 x 11mm (5.3 x 2.64 x 0.43 inches)
Power Bank Weight: 162g
Cycle Life: 500+ cycles
Warranty: 15 months
Package Contents
1 x Kinkoo Infinite one Portable Charger
2 x Micro USB cables: 40" (100cm) and 8" (20 cm)
1 x User manual
1 x Travel pouch
The Infinite One comes in a relatively fancy box with foam padding – Kinkoo is clearly going for a premium first impression. Below you can see a picture of what comes in the package. It's very minimalist, but attractively so. The power bank itself is covered in solid plastic with a matte black or white color and a soft feel. The travel pouch is large enough to carry the cables along with the power bank. The user guide is small but impressively packed with handy drawings, specifications and informative usage tips. (For example, the manual estimates that the battery will hold a charge for up to a year and recommends recharging an unused battery every six months. It also states that the battery may be legally and safely brought on airplanes.)
Note: Images can be clicked to view a larger size.
Size and capacity
As you can see in the photos below, the Kinkoo Infinite One is very similar in size to my Samsung Galaxy S4 smartphone, just a tiny bit thicker and heavier. So it will fit almost anywhere the phone will. For instance, I can place it into my WaterField Designs Finn Wallet in the same fashion that I usually tuck away the phone for extra protection – the wallet can't hold both items, however. That sets the Infinite One apart from the larger Intocircuit PCASTLE 10000 power bank that I reviewed last month, which is just enough bigger in every dimension that it won't fit in the wallet. (Of course, that product has the benefit of an extra 25% capacity in those slightly larger dimensions.) While the Infinite One isn't something I'd carry in my pocket everywhere, it's not so big that I'd avoid grabbing it if, say, I'd neglected to charge my phone overnight and was worried that I'd run out of juice while out and about.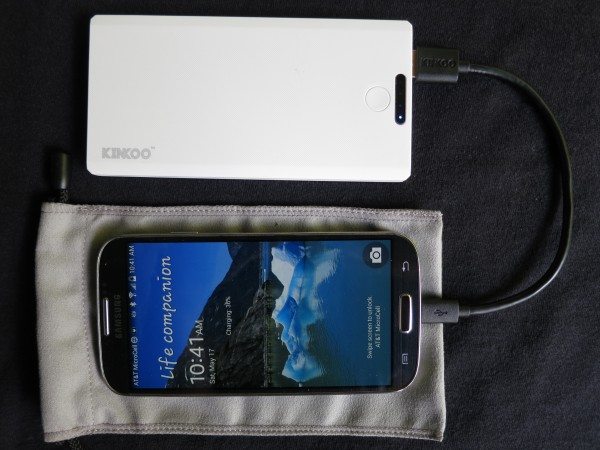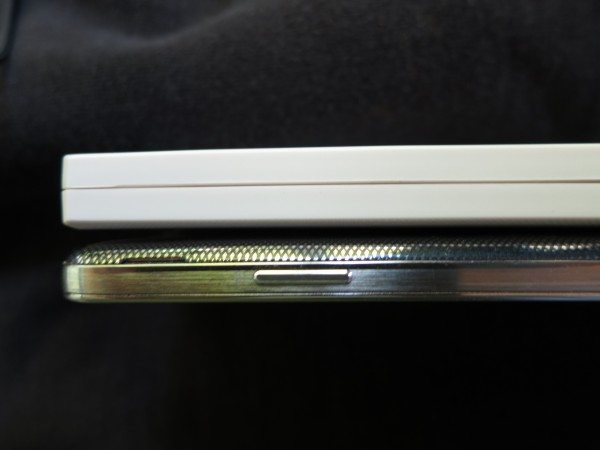 As for capacity, Kinkoo joins the rest of the crowd in making somewhat exaggerated claims, in my opinion. The website states that the battery has "real 8,000mAh capacity, [and] it can charge the average phone 3-8 times." These numbers are somewhat misleading. First, the "real 8,000mAh capacity" doesn't mean that you can use all of that power in your own device due to the loss of up to 20-40% of that power in the transfer. Second, the battery size of the "average phone" has been growing rapidly. My smartphone has a 2600mAH battery and even the smallest "basic" phone that I found offered by AT&T has a battery capacity of 900mAh. I suppose you could charge that phone up from about 25% full around eight times, but not a full charge.
In my testing, I could almost charge my phone fully two times, putting in a total of 5018mAh before the Infinite One stopped charging. It took two hours to fully charge the phone, but that time reflects a gradually slowing charge rate. I achieved a 70% charge in the first hour.
Getting 5018mAh from a battery rated for 8000mAh isn't that great. It represents about 63% efficiency, about 10% lower than I've seen with other batteries. So I charged up my iPad, where I was able to put in 5549mAh before charging stopped. At 69% of rated capacity, that's closer to what I expected. Still, this isn't a powerhouse power bank, especially if you have a power-hungry smartphone or, worse, tablet. The Infinite One is definitely for those who are willing to trade off capacity in favor of a smaller size.
Convenience
There is nothing fancy about the Kinkoo Infinite One, as you can see in the photo below. It's a solid slab of plastic-covered battery. There is one button, which serves to illuminate up to four small LED lights to show the approximate charge level of the battery. You also have to push the button to initiate charging after connecting your device, which I found slightly inconvenient if you're used to a battery that doesn't require this step, but it's not a big deal.
There is a micro-USB port for charging the power bank, and a USB port for charging your device from the power bank. The same cable can be used for either operation. You must provide your own AC adapter to connect the USB cable to an outlet for charging, or you can connect to a USB port on a computer.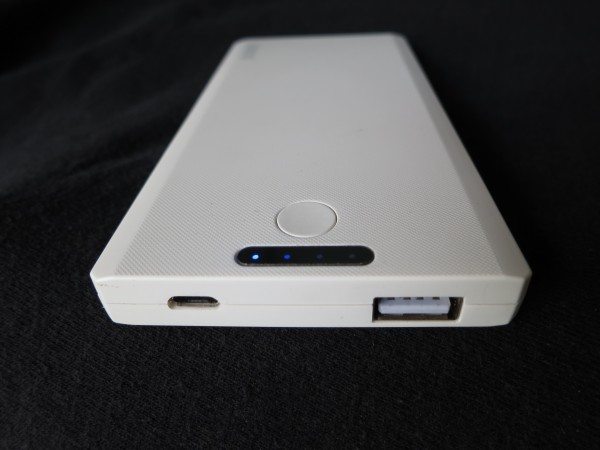 For me, the most convenient feature included in the Kinkoo Infinite One package was the little 8" USB cable. All my other USB cables, and the other one in the package, are about three feet long, so they're a little bulky to carry and you have to coil them up. The little cable is a snap to toss in to your pocket or pouch, and it keeps charging compact and untangled. If I didn't now have a short cable, I might go buy one to keep on-hand for traveling.
The Infinite One can only charge one device at a time, but that's probably appropriate for any power bank with a capacity less than 10000mAh.
Reliability
The Kinkoo Infinite One is as solid as you'd expect from a battery. The cables are standard, but not flimsy. It performed as expected during my tests. I have the same quibble with this unit as with the Intocircuit power bank that I reviewed previously: the USB output port is "upside down" and you have to orient the USB cable opposite from the way you'd expect when connecting your device. Since this isn't the only product with this anomaly, I'm guessing that there must be some configuration of the internal battery circuitry that forces this configuration.
The Infinite One makes a common claim in its specifications of 500+ charging cycles in its lifetime, which is hard to confirm. More impressively, however, the product comes with a 15-month warranty. This is a nice way to differentiate the product in a crowded field. A quick scan of competing products revealed either a standard one-year warranty or no mention of a warranty at all. Note that the warranty requires product registration within 15 days of purchase.
Price
There is no getting around the fact that the Infinite One is quite expensive relative to its peers. Listing at $69.90 on the Kinkoo website (including free shipping), it's also available for $59.97 from Amazon. Dozens of very similar products – ranging from 6000mAh to 14000mAh in capacity – are also available from Amazon, mostly in the $25-40 price range.
What do you get for that price? A better-than average warranty and a simple, convenient design with no bells and whistles except a very handy short USB cable that retails for about $5. I do like the Infinite One, but I don't like the price.
Conclusion
I've got a wonderful idea for using the Kinkoo Infinite One power bank. I recently purchased the Golfshot GPS app for my phone and people seem to like everything about it except that the GPS activity can make it difficult for many phones to survive the entire course without running down the battery. I figure the Infinite One will be perfect to throw in my golf bag – or even my pocket – along with my phone, and I won't have to worry about anything except my pathetic golf game. It will also be nice to have the Infinite One on my next plane trip. Basically, anywhere I can bring my phone, I can bring this same-sized battery. Then I can refrain from scanning for electric outlets in every public place I enter. It's also nice to see that Kinkoo is confident enough in their product to offer a 15-month warranty.
The bottom line is that I might buy this as a gift for someone else, because it looks good, works well, and has a great warranty as well as a 30-day return policy. However, because I can buy a similar product with a one-year warranty at half the price, I would hesitate before hitting the 1-Click Buy button to send a Kinkoo Infinite One power bank to myself.
Update 12/24/14
Other than the price, this clean-looking, slim yet powerful power bank is probably my favorite of several that I've reviewed. In fact, I gave it to my mom, which says something! The price has dropped 20% since the review, but it's still relatively high…
Source: The sample for this review was provided by Kinkoo. For more info on the Kinkoo Infinite One, visit Kinkoo and Amazon.

Product Information
Price:
$59.97
Manufacturer:
Kinkoo International
Retailer:
Amazon
Requirements:

Any rechargeable USB device - mobile phone, tablet, etc.
5V/1.5A wall charger or powered USB port for charging the power bank

Pros:

Slim and attractive - fits almost anywhere your large smartphone does
Reliable - backed by 15-month warranty
Includes a handy 8" USB cable

Cons:

Price
Wall charger not included
Confusing USB port orientation is "upside down"