We use affiliate links. If you buy something through the links on this page, we may earn a commission at no cost to you. Learn more.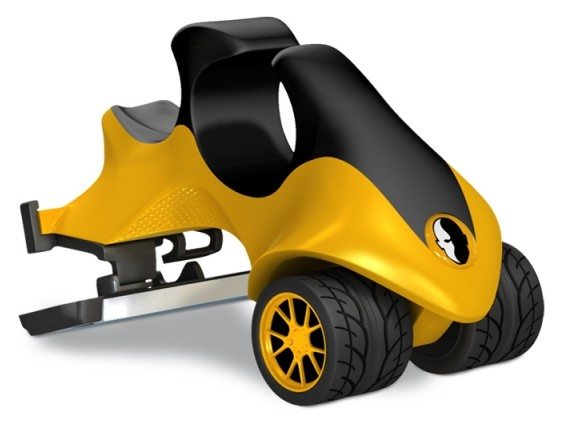 I hate my hair.  Words cannot describe how much I detest my thin, sparse hair.  I've never been able to grow it to my satisfaction but now it just looks awful.  If I grew it long I would look like a crazy radiation victim.  So what do I do?  I shave my head.  This is not so easy to do by yourself and with a stick razor it's fairly difficult.  I searched for a different way to shave my pate and found this little beauty.  The HeadBlade ATX is a cross between an ATV and Zamboni, with a rubber finger loop at the top and sporty wheels that guide the contraption on your head.  The blade is a four-blade job with wider gaps between the blades than most razors.  It pivots to follow the terrain.  The blades are removable and replaceable.
Essentially, one first lathers up with a good shave gel, then you put your middle finger into the rubber loop.  You can shave with the wheels forward (shaving back to front) or the wheels in back (shaving front to back).  It's possible to shave the head very quickly with this.  The first time I tried it (this afternoon) it took me half the time it usually does.  I will get faster as I get more used to this novel way of erasing my scalp.
I picked mine up for $13 at Walgreens and it's available on the HeadBlade site for $15,  Your head will thank you for it.
Update 12/10/14
I bought one after doing the review. I used it for months to shave my scalp clean. I am not great at it and did give myself some nice cuts but far less than I did with the regular razor. I eventually gave up on the shiny look and settled for keeping my hair trimmed down to about a quarter of an inch.