We use affiliate links. If you buy something through the links on this page, we may earn a commission at no cost to you. Learn more.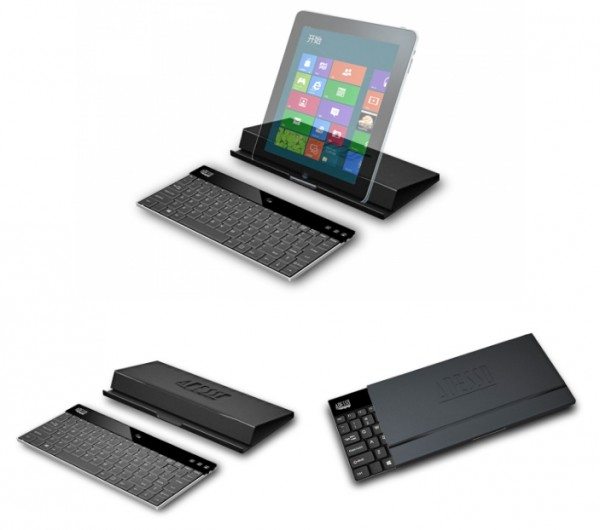 Although Adesso mentions Windows 8 in the title and Android in the description, the Compagno X Aluminum Bluetooth Keyboard with Universal Case Stand for Windows 8 Tablets should work with any mobile device with Bluetooth 3.0 wireless technology compatibility (backwards compatible with  2.1, 2.0, 1.2 & 1.1).  The aluminum keyboard has an 84-key US layout with scissor-switch keys for quiet, accurate operation.  It's only 9.50″ X 4.70″ X 0.25″ and weighs 0.56 pound, so it's great for taking along in your gear bag.  The rechargeable lithium-polymer battery provides 100 hours of use or 30 days of standby between charges.  The keyboard's microfiber case is reinforced with stainless steel and converts into a stand that supports tablets and smart phones in either the horizontal or vertical position for easy viewing while working.  
In Adesso's e-store, they actually have a white version that's labelled for use with iOS devices; this black one is specified for Windows 8 and Android.  Each color is $59.99.  The Adesso Compagno X keyboards are also available at other retailers.