We use affiliate links. If you buy something through the links on this page, we may earn a commission at no cost to you. Learn more.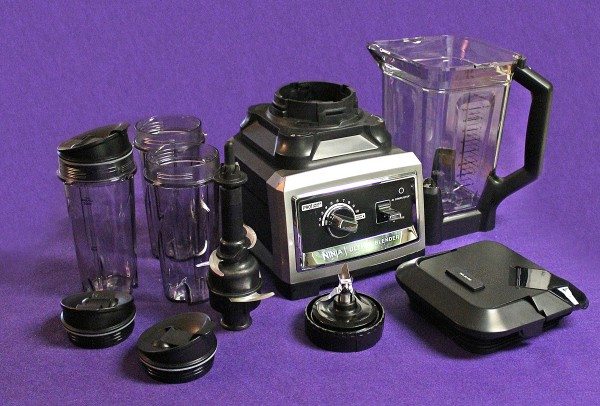 No, I'm not Bill Henderson, aka Mr. Headphones. I'm his wife, Cheri. And let me start this review by telling you a little about what it's like to be the wife of Bill Henderson.
I'm a freelance writer and editor who works out of a home office. I spend a lot of time on the phone – doing interviews for stories, touching base with colleagues, on conference calls. And almost invariably when I'm on the phone, the doorbell rings. It's another gadget delivery. For Bill.
When the doorbell rings, the dogs bark. And bark. And if I have multiple calls in one day, I can be sure of more deliveries. More doorbells. More barking. More boxes, some of them heavy.
I like gadgets too, just gadgets of a different nature. My toys have contributed to Bill's weight gain over the 26 years of our marriage. I cook. So when Bill asked if I wanted to review a Ninja Ultima blender, I was all over it.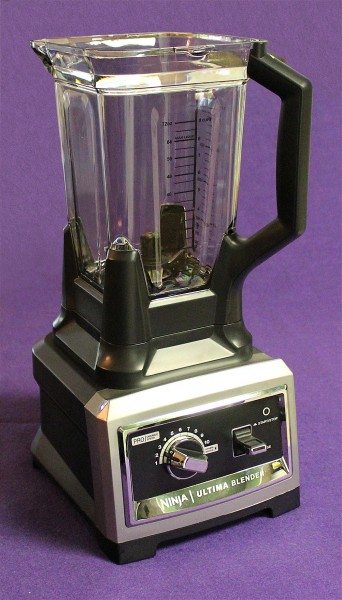 One day the doorbell rang and a big box was there. It had Bill's name on it, but I knew it was for me. Somehow the barking didn't bother me, and I was gratified to see my box was bigger than any of his. He was thankful the thing had finally arrived so he would no longer get hourly messages from me asking when my new toy would arrive.
Here's my big reason why I wanted the Ninja: I'm hypoglycemic, as in dangerously so. My blood sugar can suddenly drop to the you're-gonna-die range, so yogurt smoothies are literally my lifeblood. But my poor Osterizer blender was going to be the death of me yet.
I needed something that could actually blend fresh and frozen fruit, yogurt, ice and greens. And I needed something that could do it before I passed out or before the neighbors filed a noise complaint.
My son helped me unpack this beast of a blender, and we both were very excited to see individual smoothie cups with sippy lids. Yes, I could blend my smoothie in its own cup, remove the blade, screw on a lid and move on with my life. Beautiful.
But I do have to admit I was a bit overwhelmed with all the components, at least initially. See, here's the thing: I can write product manuals, but I'm really lousy at taking time to read them. Most of them are boring. The one exception was a Nelson sprinkler manual I actually sat down to read about 20 years ago because it was really funny. But the learning curve with this blender would compel me to read the manual, dull or otherwise.
Don't tell my husband, but I got away with a quick scan of the manual and found the whole thing was way less scary than it looked. The one thing that still freaked me out was the blades. My husband had read online about how ridiculously sharp they are. And I've foreseen my death, and it is by a lethal cut to a finger. Much care must be taken to extend my life.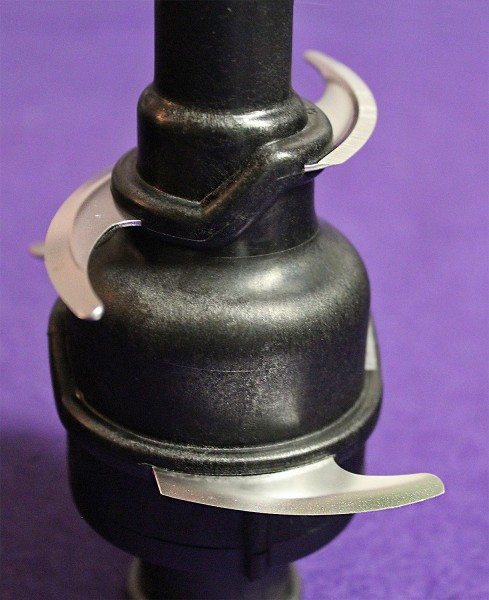 But if you're smart – and I will be smart if it's life-saving – you never have to touch the blades, not even to clean this thing. The single-serving blade goes right into the dishwasher (because I would sever a finger and die if I tried to wash it by hand), and the main blades are washed by pulsing soapy water in the container, then rinsing. My fingers are intact, and I am alive.
Here are some specs of  the Ninja Ultima:
1500W/ 2.5 peak horsepower motor
10 Speed Variable Dial
72 oz. pitcher
Removable quad blade
Sealed and lockable pitcher lid
(3) 16oz. cups with sealed lids
Once everything was clean and assembled, I had to figure out where to put this thing, which is about the size of a young hobbit. Young hobbits may be small compared with humans, but try to fit one in a standing position underneath your kitchen cabinets. In fact, if you do this, please send me a picture. I mean that. However, we managed to tilt the hobbit-sized blender backward and wedge it under the cabinet. To use it, we must tilt it back and pull it out. If it were larger, it would have to be collapsible.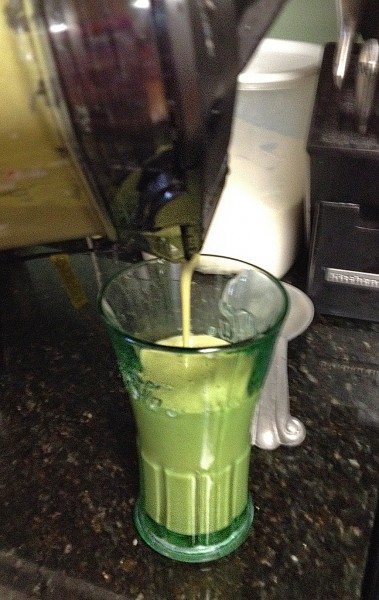 As my first test, I made an especially hard-to-blend green smoothie that always takes five to 10 minutes to blend to a chewable consistency in my Osterizer. Instead of having to blend every new ingredient individually, I was able to throw all the ingredients into the Ninja at once. Using the bottom and top blades, I pulsed a few times and then blended on 8 till smooth. The result: a smooth – not chewable – smoothie. Yum. No passing out and no finger loss.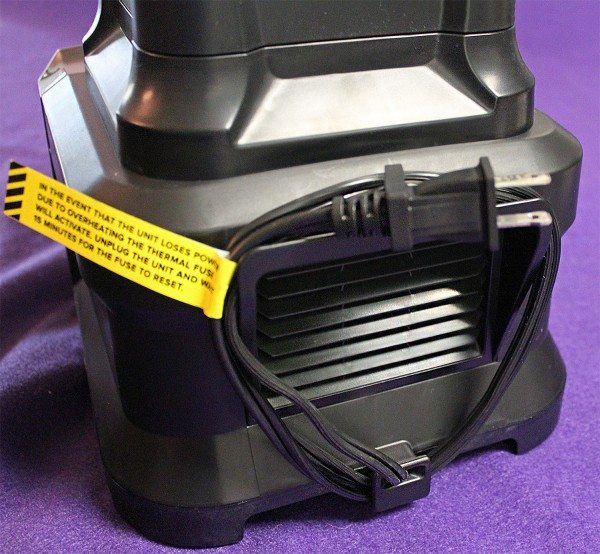 Though it's quieter than the Osterizer, which sounds as if you're living in an airplane hangar, it still could function as an alarm for late sleepers in your house. If you have college students living in your house, don't expect them to share your joy about your morning smoothie. But if your smoothie is especially good, you may not care.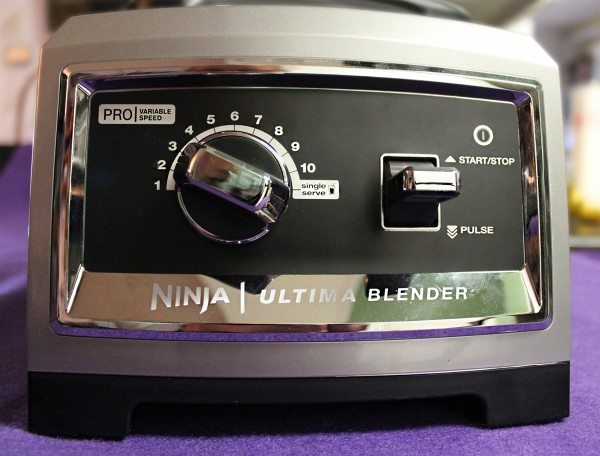 Ninja promotes its products as tools for a healthier lifestyle. The website encourages users to "get healthy with Ninja" using recipes broken into the following categories: Metabolism Defense, Probiotics, Immune Support, Healing & Calming, Heart Healthy, Super Natural Foods, Muscle & Bone Builders, Cell Defense, Mood Lifter, and System Purifiers. Some appetizer and entree recipes are included, but most involve some form of smoothie.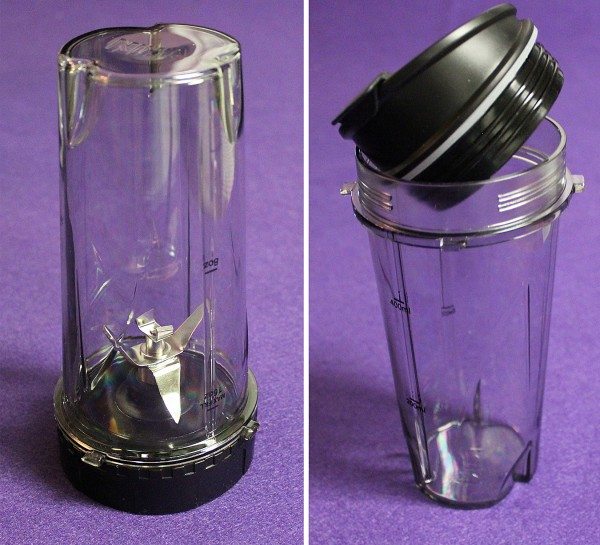 It was time to try a single-serving smoothie. I used spinach, banana, some strawberries, and some orange-tangerine juice. Then I screwed the blade onto the top of the jar, inverted it, and screwed it onto the motor base. With a few pulses, my smoothie was perfectly blended..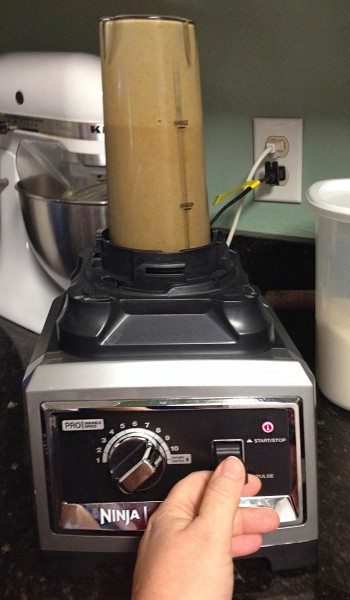 The challenge with single-serving smoothies is you can't fill the cup without impeding the movement of the blades if you use leafy greens or frozen fruit. Fresh fruit combined with yogurt and/or liquid gives you the best bang for your cup.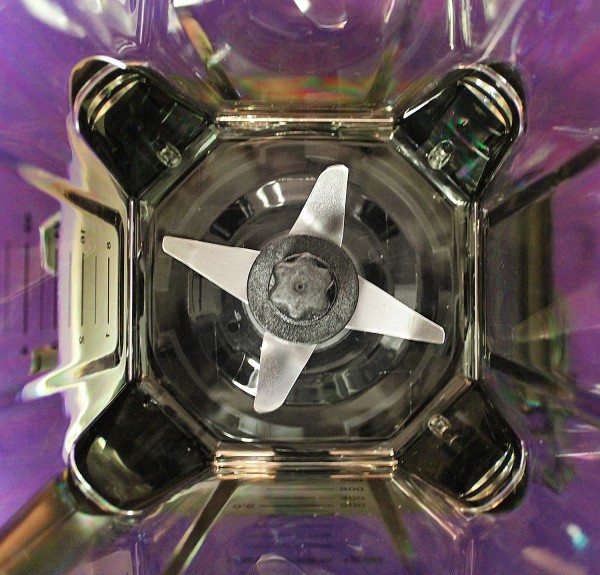 If you're making more than one, it's best to put it all in the main container, which makes quick work of smoothies for two. When I did this, I realized something that was certainly in the manual I almost kind of ignored: The lid has a pouring spout so you can easily dispense your drink without fear of lethal encounters with slipping blades. Genius. Just be sure to snap the spout shut before pulsing the blender clean or else you'll end up with soapy smoothie goo all over your kitchen. Not that I've done that. Twice.

But it was clearly time to venture out. I had some whole almonds in my freezer and decided to whip up some almond honey butter, one of the recipes on the Ninja® Ultima site. The directions called for using the bottom blade only. First you toss toasted almonds in some oil, then pulse the almonds until finely chopped. Then you pulse five times after adding honey and salt. (I added a touch of cinnamon as well. Good call.) Next you're instructed to turn to Speed 3 and slowly increase to Speed 8, adding more oil as needed.
However, the ground almonds stubbornly sat unmoved in the bottom of the blender. I added more oil, tried again, then added more oil and tried again, then added more honey and oil and tried again. My lump of almond goo sat unmoved. Adding the top blades did not change the equation. I moved the lump to my Cuisinart food processor, adding more oil and honey as it processed, with little improvement. Finally I finished it off using my KitchenAid stand mixer. Much more oil and honey were required before the butter took on more of a spreadable consistency. So much for my healthy recipe.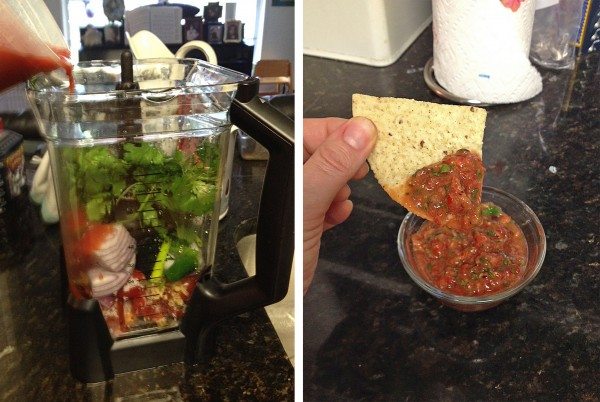 Now it was time to try some salsa. The Ninja recipe book includes a salsa recipe, but it looked pretty bland. I improvised, combining a pint of grape tomatoes, some red onion chunks, a seeded jalapeño, garlic, a bunch of cilantro, a cup of tomato sauce, some coarse salt and fresh pepper. I pulsed just a few times before I achieved yumminess. If you've never filled an omelette with Mexican cheese and topped it with fresh salsa, you have not lived.
Overall, I'm thrilled with my Ninja and am determined to find new uses for it. Juicing, perhaps? And just between you and me, I do think Bill is jealous because he's already plotting to review something that comes in an even larger box than my toy. This could be war.
Updates 04/30/15
Today my husband, Bill "Mr. Headphones" Henderson, told me it's time to update my review seeing how my Ninja Ultima and I have cohabitated for a while now. His timing was perfect, but I'll get to the reason for that in a minute. First I want you to rejoice with me that I've yet to experience a lethal finger cut. This is my primary concern and consolation.
Now for why Mr. Headphones' timing was spot-on. We're in Week 1 of the Whole 30 diet, so tonight I decided to complement our spicy chicken meatballs with a lovely fresh cucumber-zucchini-mint salad. But to make my salad really pop – because Mr. Headphones isn't so impressed with the whole idea of sacrificing his artificial sweeteners and sugar and bread for 30 days – I decided to create noodles with the veggies.
The whole stinking 30 minutes I stood over the cutting board, I found myself thinking, "If I had a Vitamix, these veggies could be julienned in no time flat." So if I could change something about my Ninja Ultima, it would be that I could wiggle my nose and find my Ninja replaced with a much-pricier Vitamix so I could have even more cool features. Oh, and if the pouring spout could automatically close, I'd be really, really happy. (Yes, I still forget to snap it shut before cleaning the unit, thus sending soapy, food-filled scum flying around my kitchen.) But at least my upper cabinets are wiped down often.
But, seriously, how often do I make veggie noodles anyway? My world is smoothies and salsas, with the occasional blender Hollandaise, all things the Ninja does flawlessly. (Try it sometime. Find the recipe in The Joy of Cooking.) Okay, so I did try to use it as a food processor to chop some pecans recently, but I have to admit the resulting pecan meal was a happy accident for my pan-basted mahi mahi.
One note: As you can see for yourself, one reader complained her Ninja bit the dust prematurely, as Ninjas as reportedly wont to do. Mine is very much intact, thank you, and does everything it's supposed to do. Maybe I need to work it harder. Regardless, I'm mostly happy. And still alive.
Source: The sample for this review was provided by Ninja. Please visit their site for more info.

Product Information
Price:
$230-$380 depending on which store
Manufacturer:
Ninja
Retailer:
Macy's, Kohl's, Costco Wholesale, BJ's Wholesale Club, Sam's Club
Pros:

Huge box that competes with my husband's toys
Powerful and solidly built
Cheaper than a Vitamix
Safe to use despite seemingly lethal blades
Makes smooth smoothies and great salsa
Quieter than an airplane

Cons:

Not much quieter than an airplane
Hobbit-sized
Makes lousy nut butter