We use affiliate links. If you buy something through the links on this page, we may earn a commission at no cost to you. Learn more.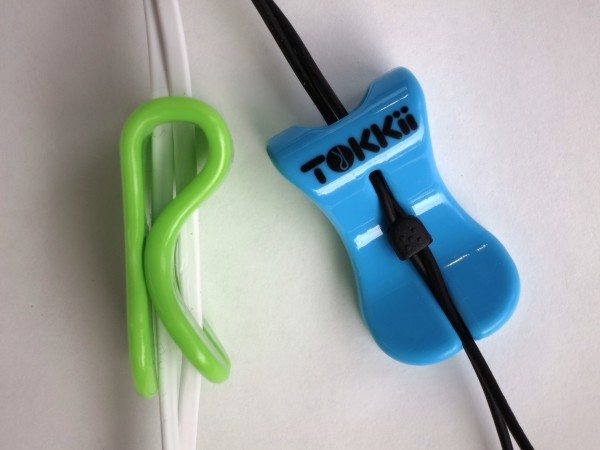 It turns out – who knew?! – that there are many products on the market to clip your earbud wires to your clothes. I haven't seen any yet that are as sleek and simple as the Tamer from Tokkii. With the Tamer, Tokkii claims to be an all-in-one earbud solution for many aggravating issues that may have bugged you but didn't appear to have a ready solution. The product claims include:
Controls annoying wire movement during activity
Drastically reduces instances of earbuds falling out
Easy to install and clip on
Tapered waist design works great as a wire wrap for storage
Compatible with Apple earbuds and most similar in-ear headphones / earbuds.
Weighs less than 0.5 oz
That second item on the list is my pet peeve when working out. Above all else, I need earbuds that are comfortable and stay in place without fuss. Read on to see if Tokkii met their claims as well as my requirements.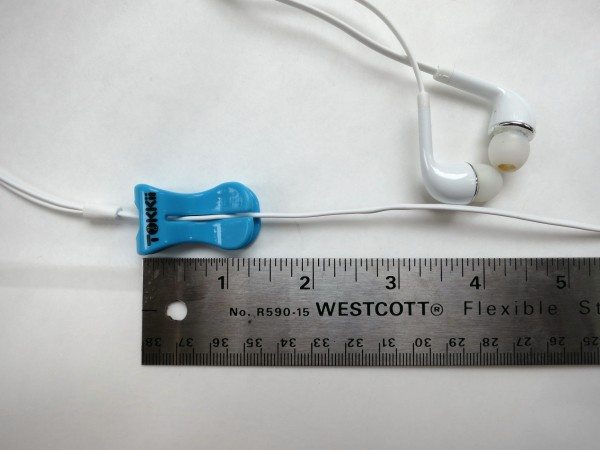 There's nothing complicated about the Tamer. It's a piece of molded plastic about 1 ¼" long by ¾" wide, folded over with a maximum thickness of ½". My food scale says that it weighs one-eighth of an ounce, which may not be very accurate but is certainly less than 0.5 oz. as claimed. I received one blue and one green Tamer, and it also comes in black, white, orange and magenta. There is a hole where the plastic folds over and a slit in the top, curved side. It's a simple and elegant design, but it's not immediately obvious how to connect the Tamer to your earbuds. The Tamer comes clipped to a card with simple-sounding instructions, but I had to resort to the video on the Tokkii website to make sure I was threading the wires correctly.
I have two different sets of earbuds, neither of them the Apple Earpods that were apparently the basis for the Tamer design. The first earbuds, shown above, came with my Samsung Galaxy S4 smartphone but I've only ever used them with my Apple iPad 4. Annoyingly, they tend to fall out of my ears frequently when exercising on my treadmill. I tried looping the cords around my ears but finally gave up and bought a pair of Sony MDR-AS20J headphones with loops that go over the ears, and they work great.
Anyway, the installation experience was different with each set of earbuds. The Samsung earbuds have a straight but fairly large jack and I really had to pry the Tamer clip open to get it through. The cords are also thick enough to provide a lot of resistance to placing them properly in the tension slot. The Sony headphones have an L-shaped jack that I was worried about but it turned out to fit through easily, while the Sony wires are almost too thin for the tension slot to keep them from sliding. There is no way to adjust the Tamer , so be aware that your particular headphones may present their own difficulties. (For instance, I also have a pair of Bose Quiet Comfort 3 headphones, and the beefier jack doesn't even come close to fitting in the clip, although I'm not sure why I'd want to pair the two together.) In particular, the Tamer is unlikely to be able slide past any inline control or microphone, although the one on my Samsung earbuds is up higher than the clip would ever need to slide. In any case, I would recommend that you plan to set up the Tamer once and leave it alone. The only real reason to adjust it is to change the position depending on where you will clip it on your clothing.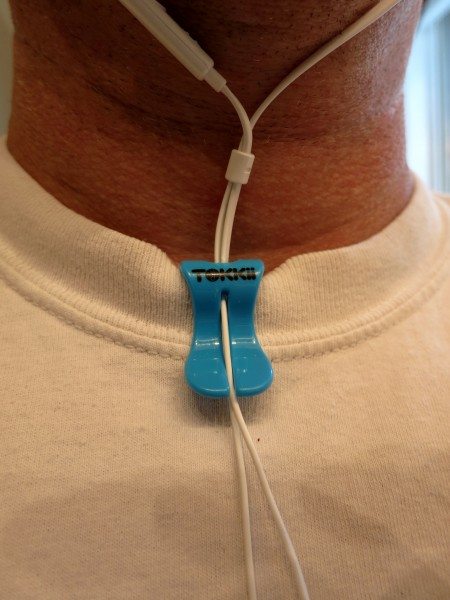 Here is the Tamer in position, with the earbuds in place and very little slack in the wire above the clip. The clip slid snugly onto my t-shirt with little effort, although it could be more of a struggle to affix it to a thicker jacket or over a zipper. Note that, unlike some "pinch-style" clips, very little of the Tamer extends up past my collar, so it's very comfortable.
Never miss one of our posts again. Sent MON, WED, and FRI with the latest gadget reviews and news!
I stayed on the treadmill for 50 minutes, and the Samsung earbuds remained in place the whole time! I was amazed and, while I still prefer the feeling of the secure loop on the Sony headphones for exercising, I can say that the Tamer exceeded my expectations in that regard. So far, so good.
When I got off the treadmill, I was pleased to discover that the Tamer clip supported the buds after I removed them from my ears, so there wasn't a long, dangling cord to manage. However, I forgot that, due to the clip, taking the buds out of my ears didn't detach me from my device, so I had to make a quick grab for the iPad when it followed me away from the treadmill! Lesson learned: detach yourself and, for temporary interruptions, it's probably easier to detach the jack from your device than remove the clip from your clothing.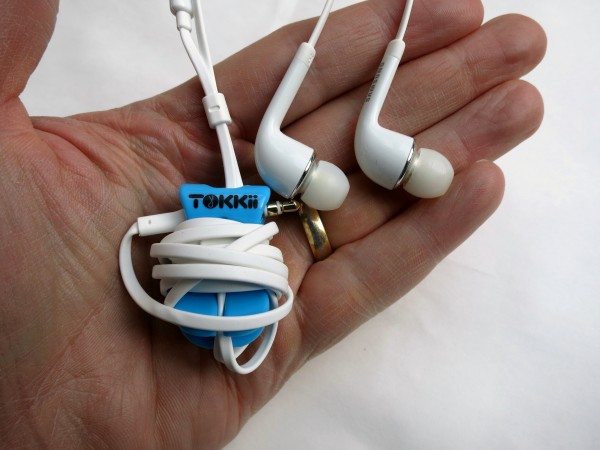 The final step was storage, not a big issue for me because I just throw the headphones on the table next to the treadmill. But this time I followed the instructions to wrap the cord around the waist of the Tamer, tucking the jack into the folded end of the clip to complete the process. It works adequately to manage the excess wires, as you can see. My only reservation about this is that the fragile earbud components themselves are still dangling and unprotected. If I had more expensive headphones to worry about, I wouldn't be satisfied with the Tamer as a "storage" device. For most of us, this extra convenience feature will be sufficient.
At a price of $7, the Tamer makes a nice little gift, for yourself or others. Most people will find that it improves their messy relationship with earbud wires – whether by adding a colorful and catchy little accessory, helping keep the buds from falling out, preventing them from flapping and catching on objects, or providing an object to wrap them around. The Tokkii Tamer may not be an essential piece of gear, but it's nice enough to have that I'll be using mine.
Update 12/24/14
My Tokii Tamer earbud holder is still used every time I step on the treadmill – too bad I don't use them both more often! It removes much of the aggravation of dangling wires.
Source: The sample for this review was provided by Tokkii. For more info or to order, visit Tokkii.
Product Information
Price:
$6.99 (+ $2.49 shipping in the US)
Manufacturer:
Tokkii Inc.
Requirements:

Mfr: "Tamer is compatible with Apple Earpods and most similar in-ear headphones/earbuds"

Pros:

Simple, elegant and comfortable design
Keeps earbud wires from flapping
Helps keep earbuds in ears during activity
Can be used to wrap earbud wires for storage
Relatively Inexpensive (<$10 with shipping)

Cons:

May not be compatible with particular earbuds/headphones
Requires a little patience with initial setup
Limited earbud protection when used for storage