We use affiliate links. If you buy something through the links on this page, we may earn a commission at no cost to you. Learn more.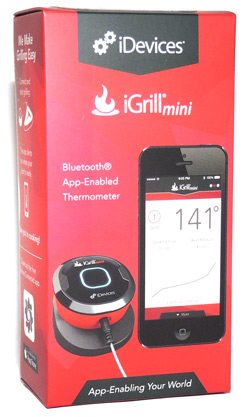 The Gadgeteer Kid and I are huge carnivores, as are many of our friends and family members. We barbecue year-round, especially during the summer months. As many of you aficionados of the grill know, cooking everyone's meal to perfection can be a challenge. Well, the folks at iDevices have recently introduced the iGrillmini, a smaller, more tech-rich follow-on to their original iGrill meat/temperature monitor engineered to help you do just that.
Note: Images can be clicked to view a larger size.
As a follow on device, the iGrillmini has all the same basic functionality as the iGrill (aka visually and/or remotely monitor the internal temperature of the meat you are cooking). Like the iGrill, the iGrillmini is Bluetooth and app-enabled but with a few more tricks up its sleeve and in a totally new form factor…smaller, lighter, more transportable, etc.
Package Contents: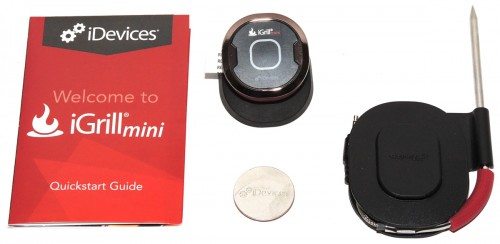 iGrillmini Device (Battery installed)
Meat Probe
Probe Wrap
Magnetic Disc
Quick Start Guide
Connections:
Bluetooth® Smart (4.0)
Compatible with iPad (Mini, 3rd Gen & newer), iPhone (5s, 5c, 5 & 4s), iPod touch 5th Gen
Connect multiple iGrillminis to one smart device
Requires iOS 7 or newer
Features:
Updated Design – New rugged and modern styling in an ultra-compact size.
Bluetooth Smart Connection – The latest Bluetooth technology makes for a simplified user-experience and a range of 150 feet.
Extended Battery Life – 150 hours of use on a replaceable coin-cell battery.
Smart LED – The LED ring on the device indicates when you're paired or out of temperature range as well as the temperature progression of your food.
Proximity Wake-Up – In order to optimize your battery life, the Smart LED will only illuminate once you and your smart device are within range of the iGrillmini.
Connect Multiple At Once – With the new Bluetooth Smart technology, you can monitor multiple iGrillminis at once from your smart device.
Convenient Mounting – Magnetically mount the iGrillmini to your grill or smoker and choose from two viewing angles. Have a smoker or grill that isn't magnet-friendly? No problem, the iGrillmini comes with an optional magnetic disk to stick onto your grill or smoker.
Brand New App – The iDevices Connected app, for iPad and iPhone, will be the central hub for managing all of your iDevices Connected products.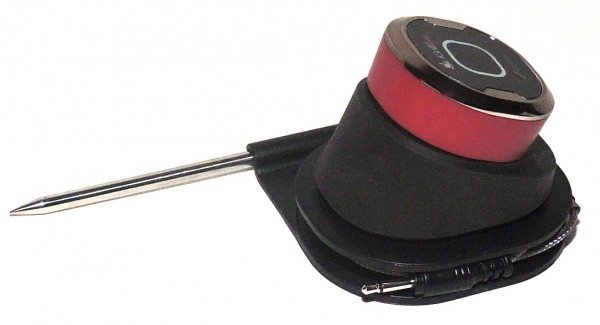 The iGrillmini rests in its black, rubber coated magnetic base, that sits on top of the probe wrap/temperature probe cable. The device itself is only 1.5″ square and approximately 1″ tall. The body is red plastic with a silver plastic ring encircling its top. In the silver ring, the main face is black with a glowing rounded square, that illuminates and changes color to notify you of your meat's level of doneness.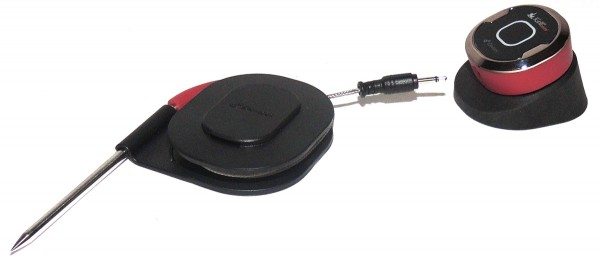 The iGrillmini has a single port on its bottom edge where the temperature probe is connected. The temperature probe cable is encased in metal mesh and measures approximately four feet long. While the iGrillmini can only accommodate a single probe, multiple iGrillminis can be wirelessly connected to a single iOS smart-device.

The iGrillmini is aware of when you (or at least your smart-device) leave the general area of the BBQ and its Smart LED will go into a power-save mode until you come back into range. Though the app will continue to monitor your food so you can check the progression from your device, up to 150 feet away from your grill. I found that my iPad mini received temperature telemetry only to approximately 75-80 feet…even less through walls or obstacles.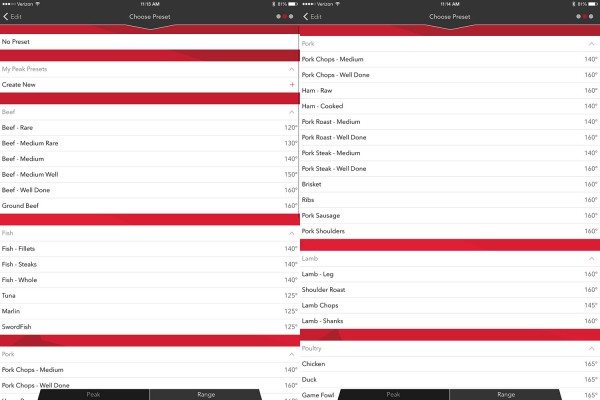 The iGrillmini is easy and simple to connect and setup with your iOS devices. If your iOS device is in-range with its Bluetooth on, the iDevice app and iGrillmini instantly see each other and start to communicate. The app has many recommended presets based on the meat type and desired doneness/internal temperature. Currently the iGrillmini only works with iOS devices but according to iDevices, an Android app is in the works, due out this summer.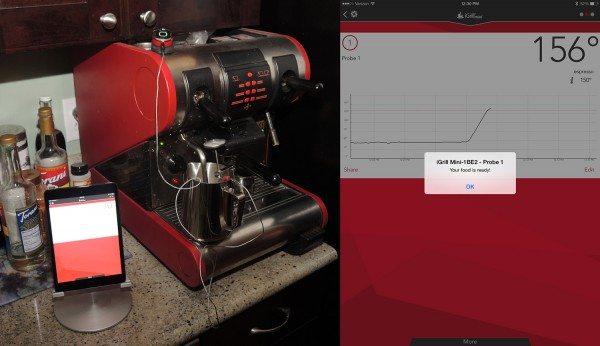 To make sure I had everything setup correctly and working properly, I tried the iGrillmini with my espresso machine a couple of times. I compared what the probe said to my old, trusty milk thermometer and it was nearly spot on. The probes response time was smooth and responsive.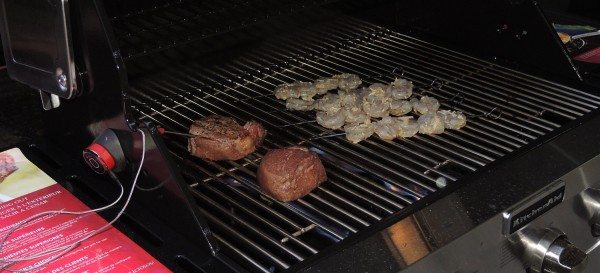 I do not advise the placement of the iGrillmini that you see here…let's just say the base will never be the same ever again. The heat of the barbecue melted the magnetic holder just a wee bit. But thankfully the base and the iGrillmini seem to have weathered my stupidity. The steaks you see here, cooked to perfection…medium (140 degs) for me and a little more for the GK (145 degs).
The iGrillmini is a great little device for the Grill-Master in your world. At $40, it would make for an excellent birthday gift, stocking stuffer, or just because surprise. The only negative comment I have is that I wish iDevices would have made it out of metal versus plastic. While the iGrillmini looks nice enough on my grill, I question its survivability of barbecuing in poor to [email protected] weather conditions or high temperature of the BBQ itself. That said, it is still a great way to bring some cold hard numbers and awareness to the (many times) guess work of cooking big slabs of meat on the barbie ;).
Product Information
Price:
$39.99
Manufacturer:
iDevices
Requirements:
Pros:

Easy to setup
Works well/simple to use
Gives both visual and remote notifications
Excellent app/presets

Cons:

iOS only/no Android or Windows mobile support
Wireless range was under 100 ft for my use