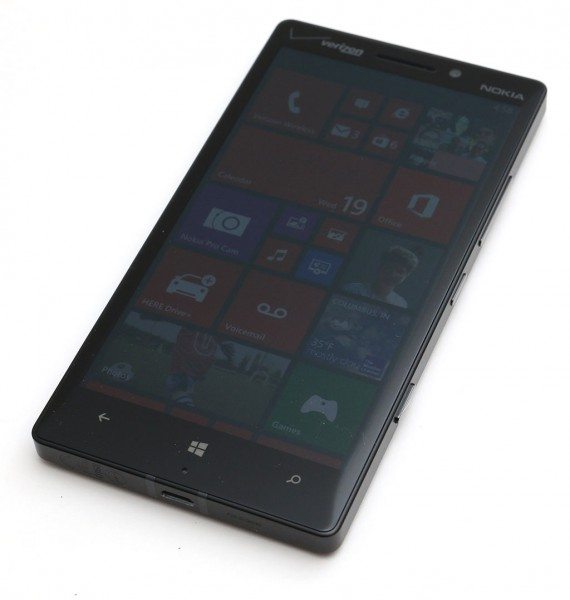 I enjoyed reviewing the Nokia Lumia 2520 Windows 8.1 RT tablet a few weeks ago and since it's been over a year, I thought it was time that I reviewed another Windows Phone device as well. Verizon offered to send me the Nokia Lumia Icon (aka Lumia 929), which is available exclusively from them. I swapped SIM cards with my Samsung Galaxy Note 2 and have been using the Icon for the past week. Do I love it? Hate it? Let's find out.
Note: Images can be clicked to view a larger size.
Hardware specs
Processor: 2.2 GHz quad core Snapdragon 800 processor
Operating System: Windows® Phone 8
Memory: 32GB on board memory + 2GB RAM
Network: LTE Band 13 & 4; CDMA 850/1900; WCDMA 850/900/ 1900/2100, GSM/EDGE 850/900/1800/1900
Display: 5" Full HD 1920×1080 OLED display, 441ppi;
Camera (rear): 20 MP PureView Rear-Facing Camera & Camcorder with ZEISS Optics,
Camera (front): 1.2 MP
Wi-FI, Bluetooth 4.0, NFC
Headset: 3.5mm Audio Jack
Battery: 2420mAh (Non–Removable Battery)
Dimensions: 5.39" (H) x 2.79" (W) x 0.39" (D) inches
Weight: 5.86 oz
Package contents
Nokia Lumia Icon
Pre–installed SIM Card (4FF NFC)
Wall/USB Charger
Quick Start Guide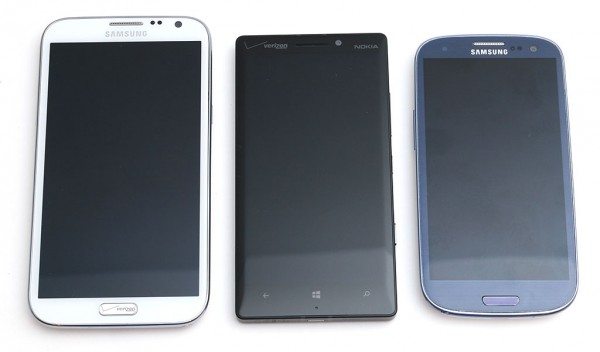 Style and design
The Nokia Lumia Icon does not have a slim and light design like most current smartphones strive for. It's noticeably heavy, thick and well… blocky. You see it sandwiched between a Samsung Galaxy Note 2 and a Samsung Galaxy S3 in the image above. It's more pockable than my phablet Note 2, but it feels heavier than my S3 due to the Icon's metal frame.
The Icon is available in black or white. As you can obviously see, I was sent the black model.
The flat sides give this phone an iPhone-esque type of look. It's not an unattractive phone by any means, but it's not eye catching either. Of course, that's not a bad thing. It's just the way it is.
The entire top surface of the phone is glass, with the 1920×1080 OLED display in the center, with the front facing camera and speaker at the top, and the three backlit soft buttons and a microphone at the bottom. There's a second microphone on the front, but I'm not sure where it's located.
The back of the phone has a matte polycarbonate non-removable cover along with two more microphones (for a total of four microphones), the 20MP camera lens and LED flash.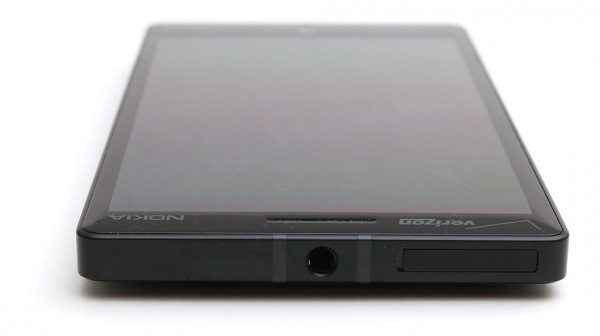 The top edge of the Icon has a 3.5mm headphone jack and a SIM card tray for Verizon's LTE nano SIM. Be aware that the tray is difficult to remove. You'll need some sort of pry tool or really pointy fingernails.
Notice the stripes on either side of the headphone jack? There's a matching set on the bottom edge too. I was really excited when I first saw these stripes. I was sure they were notification LEDs. Unfortunately I was wrong, they are just for decoration. That's a bummer considering this phone has no notification LEDs at all…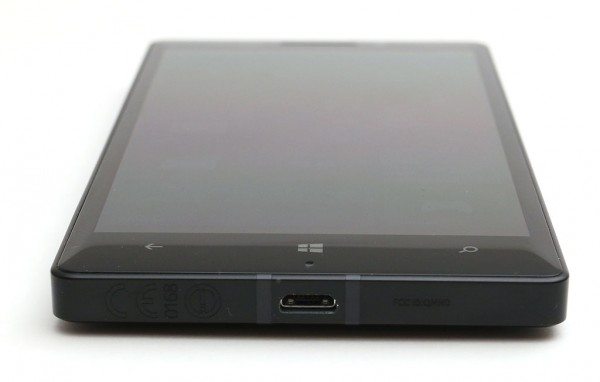 The other set of racing stripes and the micro USB charge/sync connector is located on the bottom edge of the phone. The Icon can be charged with the included USB cable and also via a wireless charging dock like the Nokia 910 which I've been using with my Samsun Galaxy S3.
Take a close look at the image above. Notice the soft beveled edges of the Gorilla Glass 3 display? This the first such display I've noticed with this shape. Since the display is not flat, I'm unsure how well a screen protector would stick to it…

The left side of the Lumia Icon has no buttons, but the right side has a one piece volume button at the top, the power / wake button in the center and a dedicated shutter button at the bottom. Note that holding down the shutter button for a few seconds will wake up the phone and go straight into the camera app.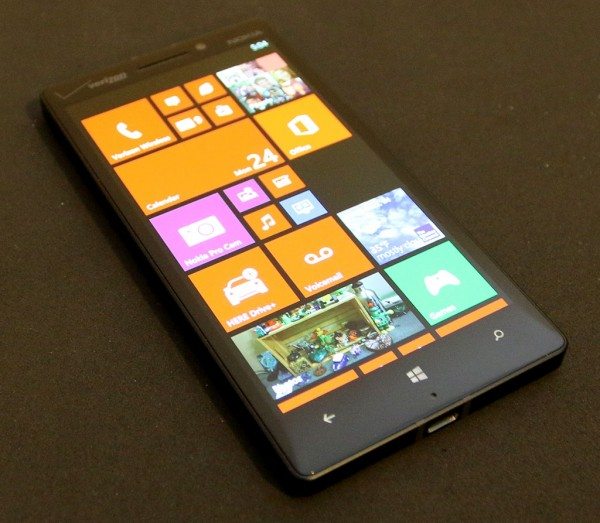 The 5″ OLED display is gorgeous. The image above does not do it justice. Colors are bright and vivid. Blacks are very black and text is sharp and clear. It also does very well outdoors in full sunlight. The 180 degree viewing angle is one of the best I've seen on a phone so far, making it easy to share something with a huddled group of friends. Also note that the display has a high sensitivity setting that will allow you to even use it while wearing gloves.
In hand the Icon feels a bit chunky. But it is a very solid device that doesn't flex, creak or crack when I put it through my ever popular Gadgeteer squeeze test.  I don't hate or love the physical design of this device. I feel a bit "meh" about it. If only those stripes were LEDs… As is, the style seems a little boring.
20 megapixels in your pocket
The best feature of this phone is obviously the camera. 20 megapixels is impressive for a dedicated pocket point an shoot camera, so it's even more impressive when it's been built into a smartphone. But 20 megapixels isn't new for Nokia. Their Lumia 1020 has a 41 megapixel camera. When it comes to smartphone cameras, Nokia obviously knows what they are doing.
When you take pictures with the Icon's Zeiss optics, you'll get two copies of the image. A high-res 16MP jpeg image and a lower-res 5MP jpeg image. The idea is that you can use the lower-res image to upload to Facebook and other social media type sites. There's also the option to save the high-res photo in RAW (DNG) format, but be aware that each file in RAW format can be 20MB in size. That will add up quickly if you're a prolific picture snapper, and with no microSD card, you'll need to keep an eye on your available memory.
Here are some high-res example shots.
I wasn't all that impressed with low light shots, but they aren't too horrible. See the last two images above… The left image was taken without the flash and the right image with flash. Considering the bookcase was in an unlit part of the room at night, so I can't really complain that much about the Icon's low light performance.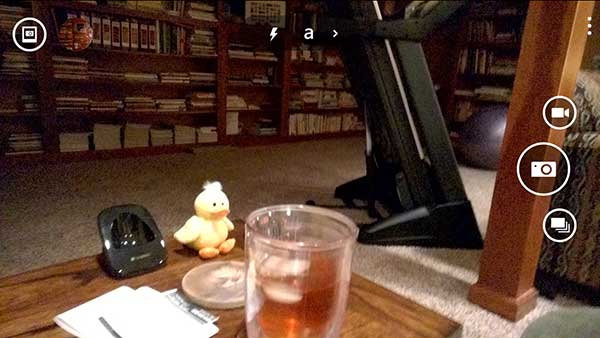 The Nokia Pro Cam app is easy to use and offers quick access to manual settings.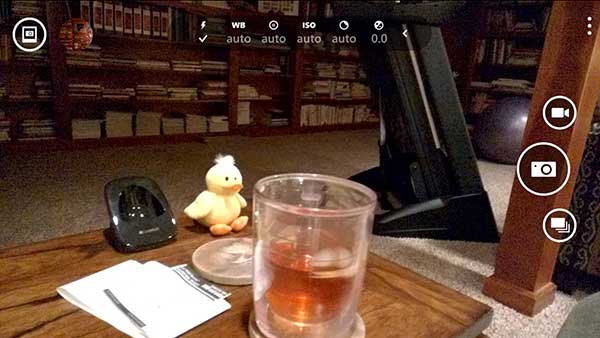 You can also zoom just by sliding your finger up/down or left/right across the screen.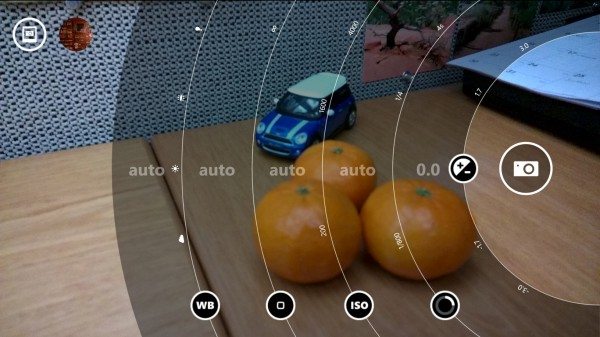 You can change white balance, ISO, shutter speed and aperture and more all at the same time.
Video capture capability impressed me as much as image capture capability. Videos are captured at 1080p in 24, 25 or 30 frames per second. Here's a very quick example of my non-cooperative cat Max.
With the Icon's four digital high-dynamic-range microphones, audio captured with video is above average. I had a few video clips of myself playing the ukulele, but I kept screwing up the songs, so I didn't include one. 🙂
File and video sharing options include Bluetooth file transfer, NFC-enabled tap+send, messaging, email, Facebook and Microsoft's cloud-based SkyDrive.
You can also download special "lenses" that let you do cool things like the Nokia Refocus lens image below…
Click on different areas of the picture to refocus. Very cool right?
Software
I was hoping I would like Windows Phone 8 more than I did last year when I reviewed the Nokia Lumia 822, but I'm still left feeling a bit empty about it. After one year, the interface just doesn't feel up to date when I compare it to my Android phone.
If you're an avid tinkerer who loves to customize your home screen with all sorts of widgets and icons like you can do with Android, you might feel that the WP8's live tile home screen leaves a lot to be desired. I think it's just a matter of taste and what you're used to though. If you are coming from an iPhone, WP8 is a nice improvement in my opinion. But if you're coming from Android, not so much.
Also, the Icon's display resolution does allow for rows of three medium sized tiles, and six small titles which is an improvement over the Lumia 822, which was only wide enough for two medium sized tiles and 4 small ones per row. So you can add and arrange a large number of tiles of different sizes.
The app list is just a long scrolling alphabetical list of apps. Ick.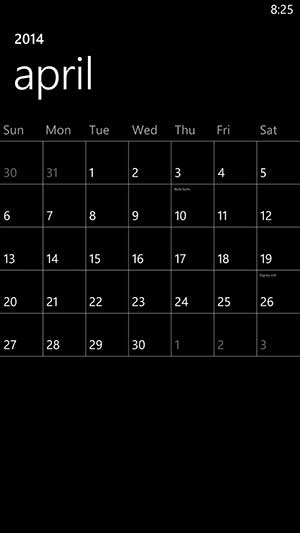 It's the calendar app that annoys me the most. I love the calendar app on my Samsung Galaxy Note 2 because I can see the appointment details even in full month view. With WP3, you can see that I have something going on on 4/10 and 4/26, but you can't read the text at all. It just looks like gobbly gook even when you turn the phone to landscape orientation.
The Nokia Lumia Icon does come with a nice bundle of applications that are more than adequate and will have you covered for almost any task you need.
Verizon Apps: My Verizon, VZ Navigator, NFL Mobile, Visual Voicemail, VZ Tones, and Backup Assistant Plus
Nokia Apps: App Highlights, Cinemagraph, Creative Studio, HERE Drive+, HERE Maps, Nokia Beamer, Nokia CARE, Nokia MixRadio, Nokia Pro Cam, Storyteller
3rd Party App: Weather Channel
Web Browser: HTML5 / Internet Explorer 10
Mobile Email: MS Exchange, Gmail, Yahoo, AOL, Hotmail, POP3/IMAP4/SMTP
I will admit that the app marketplace does have a better selection than last year. Apps that weren't available last year like Twitter, Instagram, Pandora and Spotify are now in the market.  But still missing are some of my personal favorites like Swype keyboard, Feedly, Dropcam and Chrome.
It just feels like there's something missing when I'm using this phone and I can't really put my finger on it. Hopefully the Windows Phone 8.1 update which is slated to arrive soon, will be a big improvement.
Call quality
I made several calls with the Lumia Icon and had no problems whatsoever. I did not experience any dropped calls or signal strength issues. Audio was clear and plenty loud enough on both sides of the conversation.
Performance and battery life
I have zero complaints with the Icon's performance. The phone never crashed, lagged or otherwise stuttered while I was testing it. With its 2.2 GHz quad core Snapdragon 800 processor, it is extremely snappy and smooth with scrolling and launching apps.
Battery life with the Icon's 2420mAh battery has been very impressive. It does a great job of powering you through an entire day with plenty of juice to spare. That is surprising given the fast processor and high resolution display. One feature I love is that the Lumia Icon has Qi wireless charging built in. So it works great with the Nokia 910 docks I have at home and work.
Final thoughts
I either heard or read where someone said that the Nokia Lumia Icon is a nice camera that just happens to have a phone built in. That sounds a little harsh, but isn't too far from my own feelings about this phone. I wanted to love it, but I came away with mixed feelings. On the one side, this is the top of the line Windows Phone smartphone. If you're a big fan of the Windows Phone OS and are also a Verizon customer, this is the top of the line Windows Phone to get. If you're an iPhone user thinking that there might be better and more "fun" phones out there, the Icon can also be a nice change of pace. It's only Android users like myself that I would not recommend switching to the Lumia Icon or another current Windows Phone 8 phone as it probably won't satisfy your tweaking tendencies. Microsoft and Nokia are definitely on the right track with the Nokia Lumia Icon though, so I'll be very curious to try the next evolution of hardware and software.
For more info visit the Nokia Lumia Icon page at Verizon Wireless.