We use affiliate links. If you buy something through the links on this page, we may earn a commission at no cost to you. Learn more.
This post brought to you by Fellowes, Inc. . All opinions are 100% mine.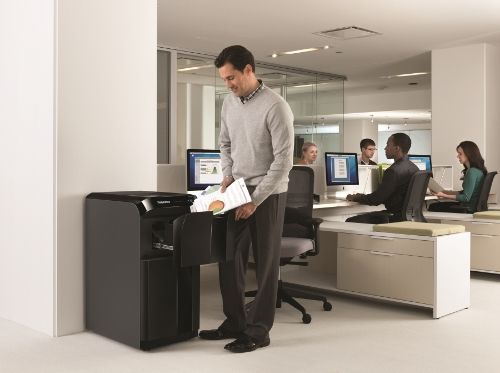 Fellowes invented the personal shredder back in 1990, but they haven't been resting on their laurels.  Since then, they've continued to improve and develop new products that help protect your personal information from prying, criminal eyes.  Fellowes' customers are extremely satisfied with their shredders, awarding Fellowes a 4.4 of 5 stars customer satisfaction rating across their line of home, small office, and commercial shredders.  Customers are so satisfied  because Fellowes listens to them and incorporates what they hear into the development of new products.
Fellowes has incorporated innovative features into all their shredders to make them safer and more efficient.  Their shredders have 100% Jam Proof Systems that can power through staples, paper clips, folded, glossy, or wrinkled papers, and even CDs and credit cards without bogging down.  Jam-proofing protects users, because they won't have to try to remove the blockage and risk injuries.  Because removing staples and paper clips is unnecessary, your employees won't have to waste time preparing documents for shredding.  Should someone's hand come into contact with the machine near the shredding head, Fellowes' patented SafeSense technology automatically and quickly stops the machine.  SilentShred technology keeps operation quiet for use in shared workspaces.  And the Energy Saving System minimizes energy consumption both while the shredder is in standby mode and while it's in use, saving you money 100% of the time.
I've had a Fellowes home shredder for a couple of years now, and it's still going strong.  It requires me to hand-feed my papers in, which isn't a problem for me, but having to stand and hand-feed a huge pile of documents is a waste of employee time in a office or commercial environment.  Also, a home-use shredder isn't designed to hold up to the much larger volume that an office would require.  After years of research and development to ensure the technology was perfected and offered a consistent and reliable performance every time, Fellowes has just introduced the AutoMax line – the first truly "walk away" shredders, designed to accommodate office demands.
There are two AutoMax models, the 300C and the 500C.  Both are cross-cut shredders, and both incorporate all the innovative features discussed above.  They save employee's time because documents don't have to be prepared for shredding, and AutoMax SureFeed technology means you can place a stack of documents into a feeder drawer, close it, and go back to more productive activities.  The patented SureFeed system uses a rotating paddle system along with a specially designed ramp that ensures a consistent feed into a robust high capacity cutting block.  And of course, the JamGuard system still powers through paper clips, staples, all sorts of papers, CDs, and credit cards.  SmartLock technology locks the feed drawer, ensuring that no one can stop the shredder and access confidential documents.  And if the ultra-quiet SilentShred technology isn't quiet enough for your office environment, the delay-start feature lets you schedule operation for a better time.  Shredder operation is easily controlled via the touchscreen control panel located above the feed drawer.
If you would like to quit babysitting your office shredder, go to the Fellowes website to learn more about the Fellowes AutoMax line of shredders.