We use affiliate links. If you buy something through the links on this page, we may earn a commission at no cost to you. Learn more.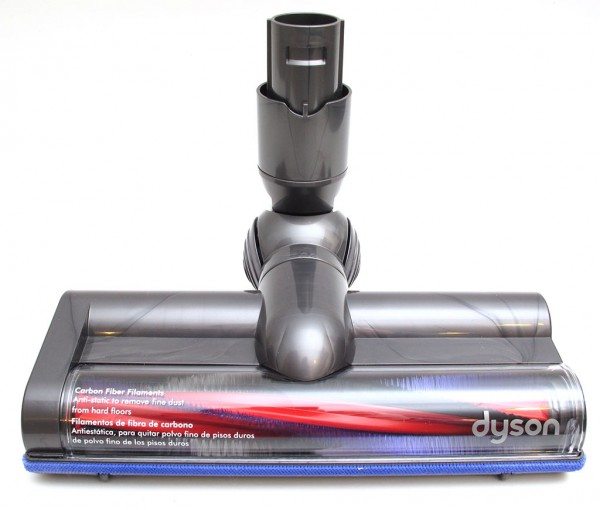 You might be wondering, "Julie, what's up with all of these vacuum reviews that you've been posting lately?" You're not alone, I'm also wondering why I keep saying yes to vacuum review offers. Maybe it's some deep seated need to make sure my carpets are clean. Nah… More likely it's because I hate my 1000 pound 20 year old Kirby vacuum and I'm looking for a light weight alternative with a few tech bells and whistles. The Dyson Digital Slim DC59 Animal rechargeable vacuum ticks both of those boxes. It's light weight and it has a rechargeable battery for cordless operation. But does it suck in a good way or a bad way? Let's find out.
Note: Images can be clicked to view a larger size.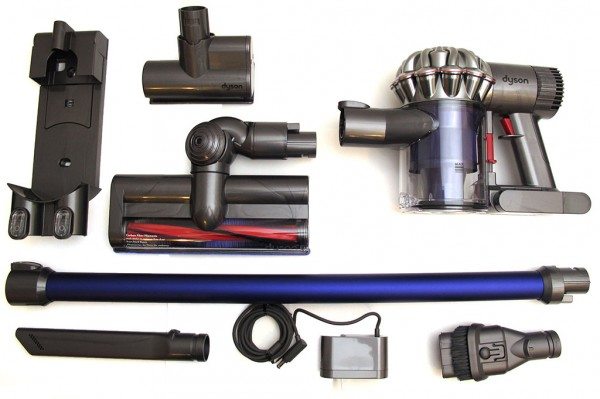 Package contents
Dyson Digital Slim DC59 Animal rechargeable vacuum
Wall docking station
Crevice tool
Mini motorized tool
Combination tool
AC Adapter
Manual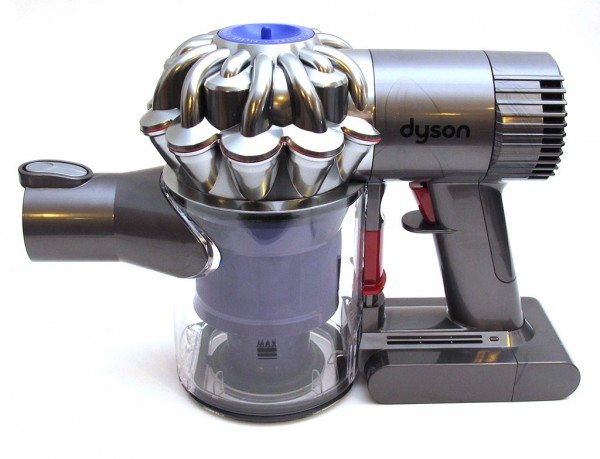 Design and features
Designed to look like a space weapon, the handle/grip section of the DC59 vacuum houses a V6 motor.  Notice the pistol grip and trigger. The DC59 has two buttons that control the vacuum. The main power trigger is located in the grip. This button has to be held down the entire time you're sweeping, which seemed odd and awkward to me. Most vacuums that I've used in my life have a power switch that turns the unit on and then when you're done, it turns the unit off. I can understand that Dyson went with this design in order to help conserve battery life, but I'm not sure how much it really saves. Especially because I found I was always accidentally activating the trigger just by picking up the vacuum.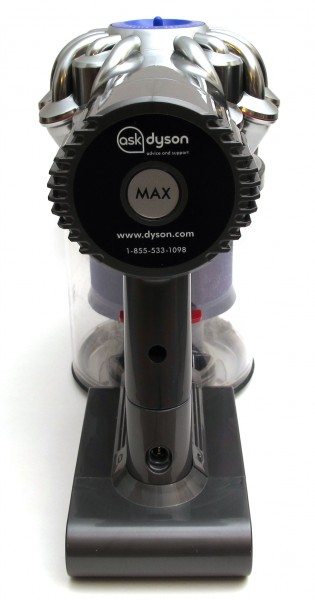 The second button on the vacuum is the boost button which is located on the back of the motor. Pressing this button will provide 6 minutes of increased suction power. In other words, it will drain your battery very quickly.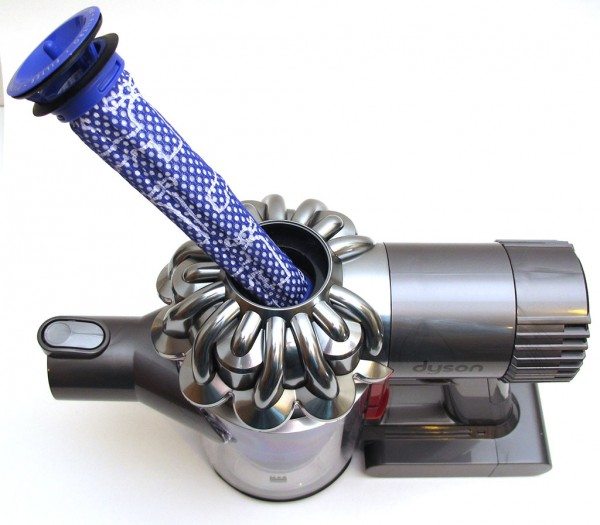 The DC59 has an interesting filter design. The filter is easily removed from the top of the motor unit. It's recommended to clean it once a month by rinsing and allowing 24 hours of drying time.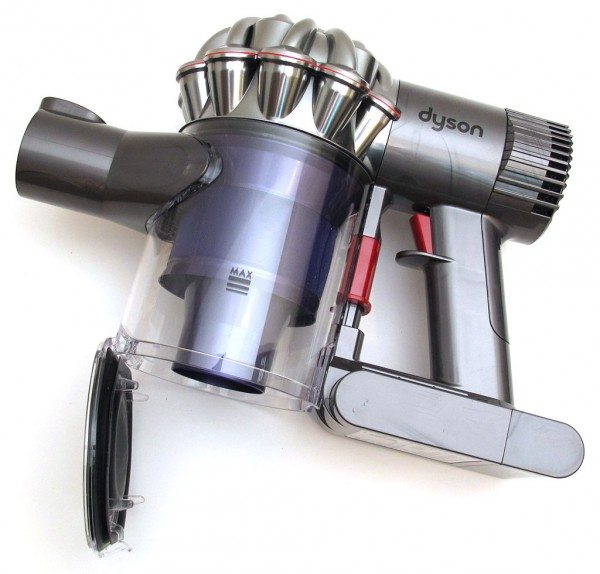 The dust cup is also located in the top grip section of the DC59. That's right, there's no need to replace paper bags with this vacuum. That means you will save money since you will not need to buy consumables. I'm not sure you'll save much time in the long run though as the dust/dirt capacity for the cup is pretty small. If you look at the image above, notice that the only area where the dirt can accumulate is around that center spindle. There's not a lot of room in there.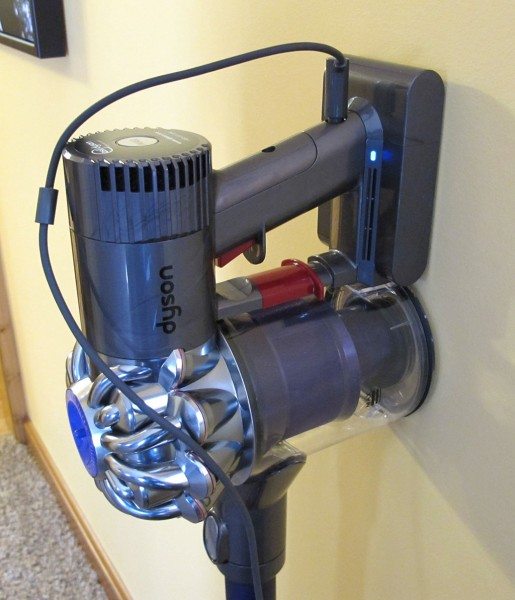 But before you can start using the Dyson DC59, you'll need to make sure the battery is charged. The base of the grip section houses the rechargeable battery which recharges in approximately 3.5 hrs using the included AC adapter. No, you can't use the vacuum while it's charging. Even if you could, the cord is too short.
Speaking of too short, battery life matches the cord length. At 26 minutes runtime, you better have a small to medium sized house and/or not a lot of areas that need to be vacuumed.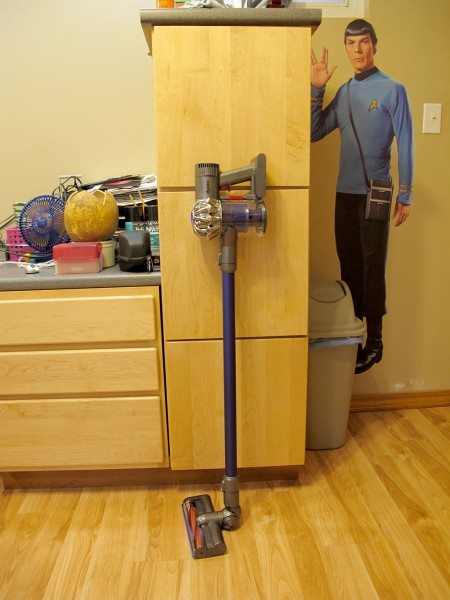 At only 4.6 lbs, the DC59 is very light weight and manageable. It's easy to carry from room to room and up/down stairs. I love that about it. Unfortunately it will not stand up on its own. You'll need to prop it up against a wall or piece of furniture if you need to take a break while sweeping. It does come with a docking station that can be mounted to the wall.
The main hose is 27 inches long so it does provide for a long reach if you need to vacuum something off your ceiling or walls.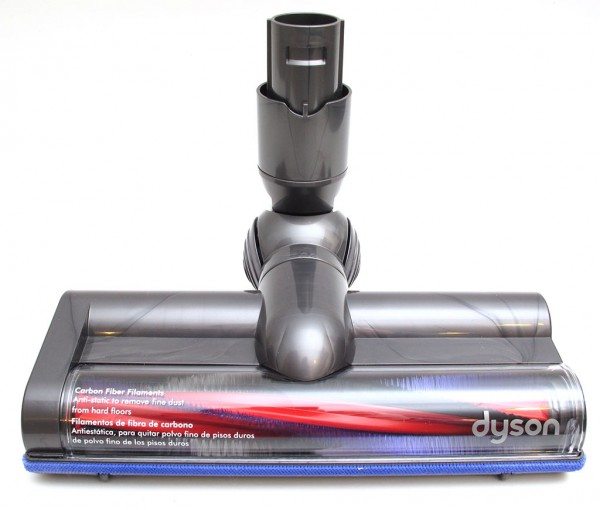 The main floor tool has nylon and carbon fiber bristles. The nylon bristles help pick up ground-in dirt and the softer carbon fiber bristles help remove fine dust from hard surfaces.
A clear window that runs the length of the brush bar allows you to see any blockages.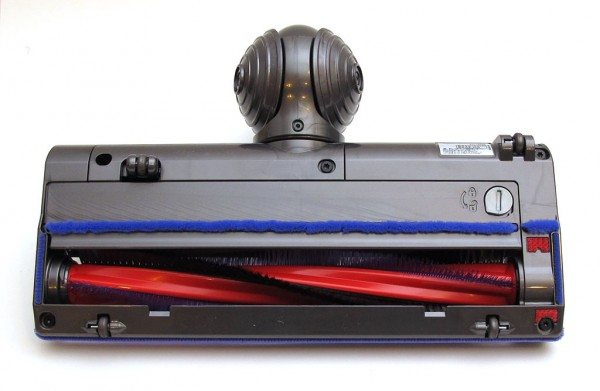 There are easy access panels in case you do need to clear a clog. There is one on the bottom of the floor tool…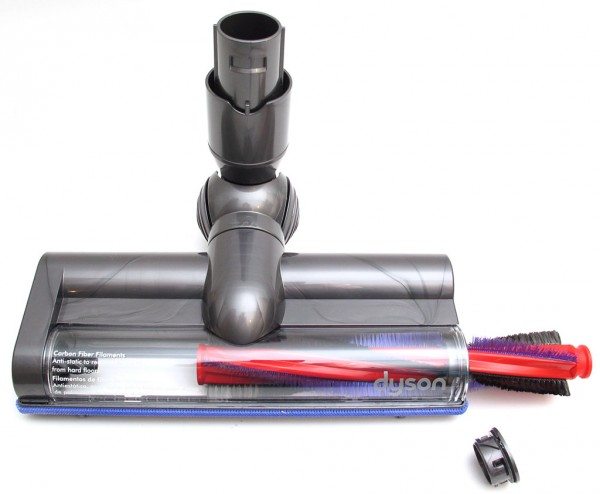 And another on the side that will let you remove the entire brush bar if needed.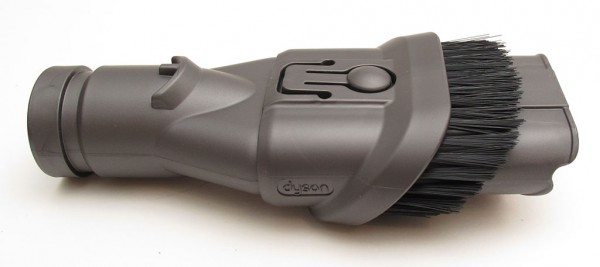 The DC59 comes with three other tools in addition to the main floor tool. There's a narrow crevice tool and a mini motorized tool that is great for stairs and furniture. Also included is the combo tool shown above. This tool can be used like a wide crevice type of tool or a brush tool.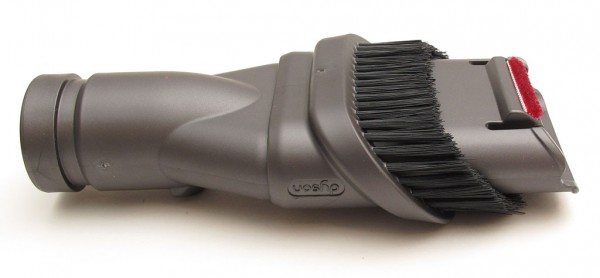 There's also a strip of material that helps remove pet hair and lint.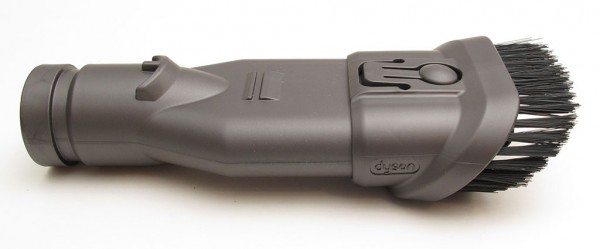 To use the brush you just slide the section forward till it snaps in place.

Vacuuming performance
The DC59 is easy to use. It's so light weight that it takes almost no effort to push it around on carpet or hard surfaces. I tested the vacuum on medium height carpet, low height, hard wood floors and vinyl. I found it easy to glide across all surfaces and under furniture. The only issue I encountered was that sometimes the brush bar would stop if I would try to push it from a hard surface to a carpeted surface. To get it rolling again I would need to let off trigger for a second.
I used the DC59 every day for a week on my floors. I started getting disappointed with it from the very first session. I vacuumed the main room in the basement which is carpeted, then switched to the mini motorized tool and went over the couch. I think took the vacuum upstairs and began vacuuming the couch up there.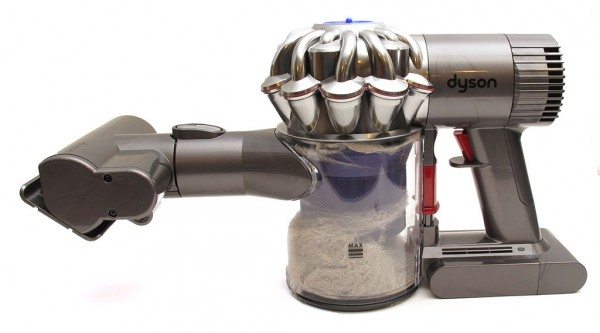 The entire cleaning session up to this point had only lasted about 15 minutes or so. The DC59 died not even halfway through sweeping the upstairs couch. I thought wow, the battery life on this thing is pitiful. But that wasn't why it stopped. The DC59 will automatically power off when the dust cup is too full. It had filled to the max after sweeping only one room and a couch.  With a 0.12 gallon capacity, the dust cup is just too small. Especially if you happen to live with a 16 pound Maine Coon cat like we do.
Of course you can dump the dirt in a trash can and resume cleaning. That's where I ran into disappointment #2.  Dumping the dirt from the cup almost always required me to reach in to pull out the fuzz that wrapped itself around the spindle in the center of the cup. Ick. Again, I will point out that I have a long haired cat. Families that don't have pets will probably not have this issue. On the topic of cats in particular, I found that the DC59 only did a so-so job picking up spilled cat litter (the clumping type – Tidy Cat) on vinyl floors.
Last but not least, there's annoyance #3. The DC59 blows air out the back of the motor housing. See the fins in the image above to the right of the trigger? Most of the time this isn't a problem when you're vacuuming floors. But when you are using the hand tools and bending over the vacuum, the air can blow up into your face which kinda creeps me out for some weird reason. It's not blowing out dirt from the motor, but I just don't like it…
Is the Dyson Digital Slim DC59 Animal the right vacuum for you?
Now that I've used the Dyson Digital Slim DC59 Animal rechargeable vacuum every day for the past week, I think I have enough info about it to form an opinion. I think the DC59 offers a mixed bag of good and bad vacuuming performance.
The bad:
The vacuum has a very short battery life of only 26 minutes give or take. If you have a large house, this will be a major issue
Small capacity dirt cup requires frequent emptying – especially if you have pets
Does not stand upright on its own
Can't use with a cord
Have to hold the trigger down the whole time you're using it
Pet hair tends to stick to the dirt cup requiring manual removal
Very expensive
The good:
The DC59 is

 very portable and easy to manage vacuum that works well on both carpet and hard surfaces

Does a great job picking up pet hair from carpet and furniture
Comes with hand tools including the very nice mini motor tool
Cordless
Doesn't require bags

2 year warranty
The Dyson Digital Slim DC59 Animal is the second full-sized rechargeable vacuum that I've reviewed in the past month. I thought I would really like this type of vacuum because it's cordless. But after trying two such vacuums, I've changed my mind. Until cordless vacuums like the DC59 and Gtech AirRam have batteries that can last an hour or longer, they don't offer a lot of benefit to people with medium to large sized houses. If the DC59 had hot swappable battery packs, I might rethink that conclusion.
The small dust cup capacity is also a big fail for me. I don't want to empty the cup after sweeping every room. That's just a hassle. I realize that I have a pet though, so my experience may not match the same experience in a pet-free home. The frustrating thing is that the DC59 actually does a really good job of picking up pet hair from carpets and furnitur. So it's tough to say it's not good for pet owners. Like I said, it's a mixed bag.
Do to short battery life and small dust cup capacity, I can only recommend this particular vacuum for someone with a small home or apartment and no pets. 
Product Information
Price:
$499.00
Manufacturer:
Dyson
Pros:

Very good suction
Includes hand tools

Cons:

Short battery life
Small dust cup
Have to hold the trigger while sweeping
Blows air in face