We use affiliate links. If you buy something through the links on this page, we may earn a commission at no cost to you. Learn more.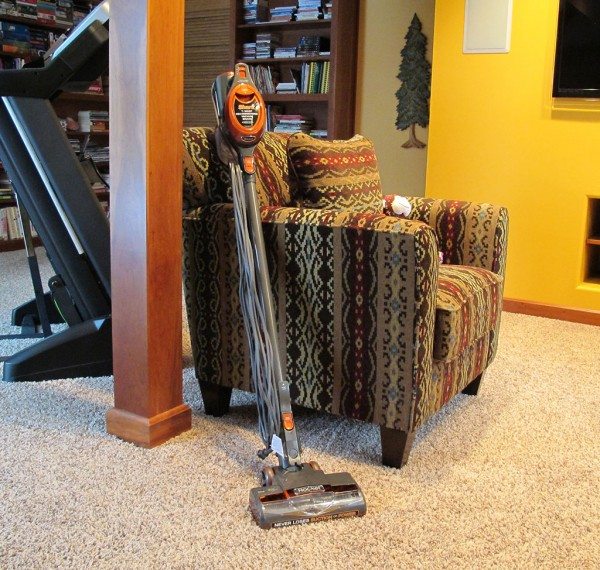 Vacuum cleaners or "sweepers" as we call them here in Southern Indiana, are not a product that I would normally think of as a gadget, but some of the latest brands of vacuums are starting to add features that put these home appliances in that category. In the last month, I have been offered three different vacuums to review. I'm going to start off with the Shark Rocket ultra-lightweight upright vacuum. Although this one doesn't have any gee-whiz gadgety features like the other two vacuums I'll be featuring soon, it does suck – but not in a bad way.
Note: Images can be clicked to view a larger size.
Hardware Specs
Voltage: 120V, 60Hz
Watts: 500W
Amps: 4.2A
Weight: 8 lbs 11 oz with carpet attachment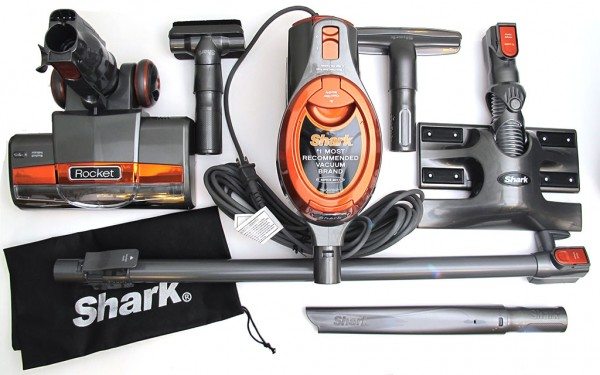 Package contents
Shark Rocket ultra-upright vacuum
Attachments: dusting brush, pet/upholstery tool, crevice tool and dust-away +1 pad
Drawstring bag for attachments
Wall hook
Owner's guide and quick start guide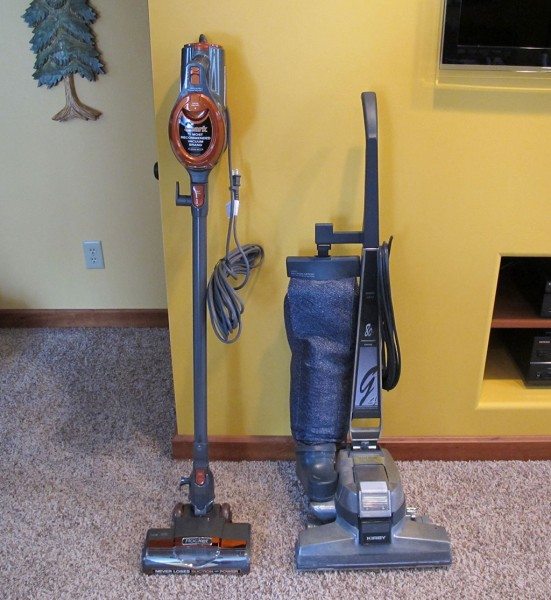 Our main vacuum is a Kirby, which we purchased over 20 years ago when we were first starting out. Back then I think we paid $800 for it, which was crazy expensive, but we figured buy once, cry once. It's served us well, but it is built like a tank and weighs about as much as one too. When we had a one story house it was no big deal, but since we moved to a house with a basement, and an upstairs bonus room, the Kirby is a hassle to carry up and down the stairs. We've tried various light weight stick vacuums, but none of them pick up dirt as well as the Kirby.
When I read that the Shark Rocket can clean carpets better than a full sized Dyson vacuum, I was intrigued enough to try it. Could this light weight stick vacuum that performs like an upright and a handheld work better than my old Kirby. I wanted find out.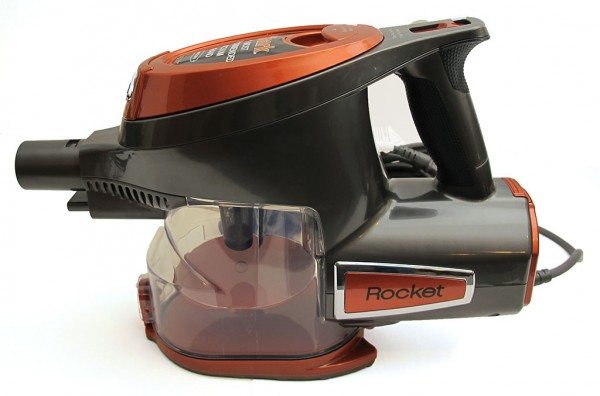 The electronics for the Rocket are housed in the top section of the vacuum, along with the rubber covered pistol grip handle, 32 foot cord and the dust cup.
The Rocket does not use bags, which is a huge advantage. I loath having to buy and change bags on the Kirby. First of all, it's a pain and secondly, it's just another expense.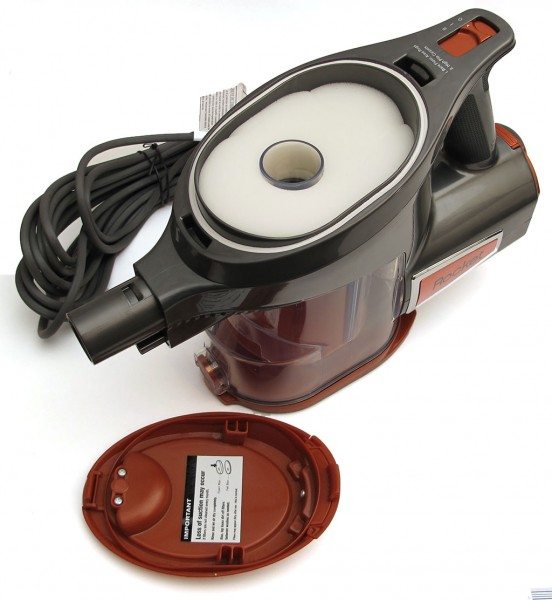 The Rocket has a foam and felt filter under a removable cover on the main unit. The manual says to rinse and air dry the filters once a month so you can avoid loss of suction.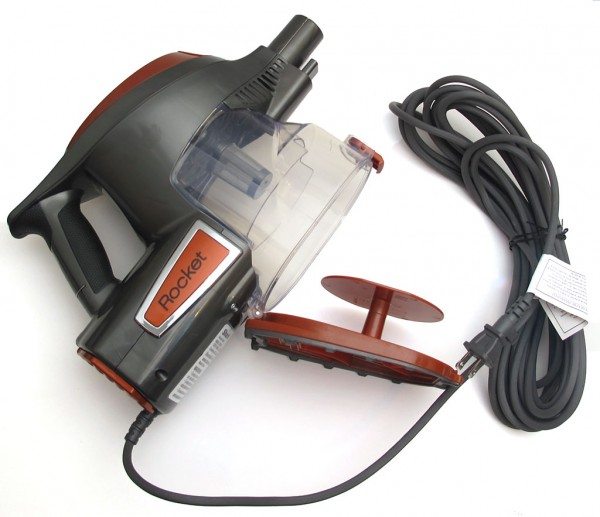 The dust cup has a no mess design. When it gets full, just hold it over a trash can and press the button so the bottom lid falls open and the dirt falls out. This is so much easier than dealing with bags. The only issue I can see with the dust cup is that when you empty it, some dust and dirt will puff into the air. If you live with people that have allergies, it's probably best to empty the cup outside.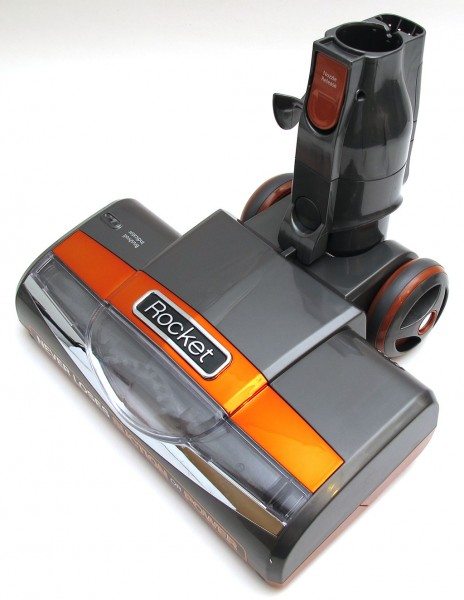 The Shark Rocket comes with the main attachment designed for carpets, rugs and bare surfaces, and a dust-away attachment just for hard floors like wood, vinyl, tile, etc. The carpet attachment is the one I used most since the majority of the floors in my house are carpeted. This attachment has a window in the front so that you can see the brush. This comes in handy for checking to see if you've accidentally ran over something that has wrapped around the brush. There's also an LED indicator on the top that lights up in green when the brush is rolling.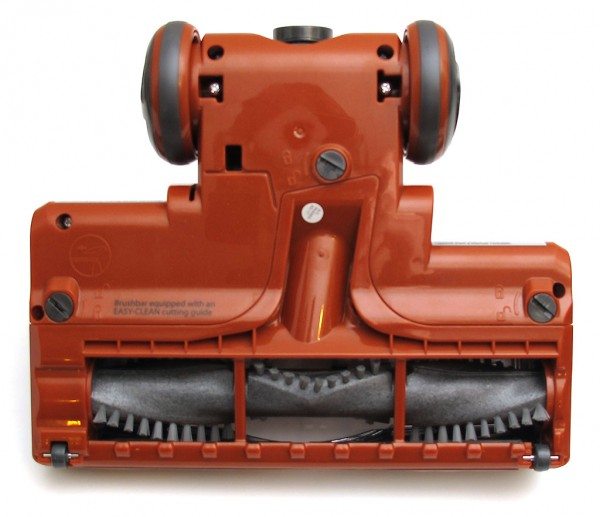 The carpet attachment has two large wheels in the back and two tiny wheels up front. Screws allow access to the bar in case there is a blockage.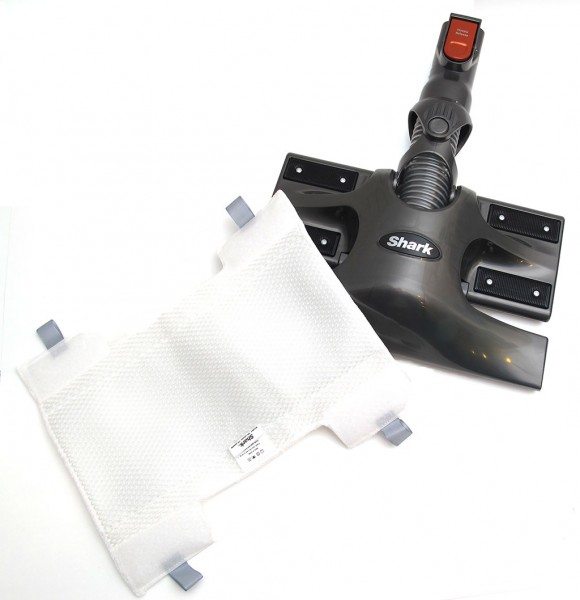 The dust-away attachment is for hard floors and comes with a reusable microfiber pad.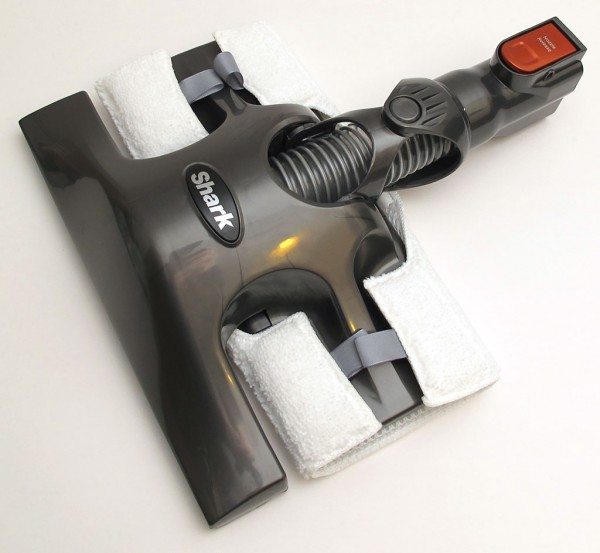 The pad wraps around the back part of the attachment and helps pick up fine dust on the floors, while the front section vacuums up the larger dirt particles.
To test the Rocket, I swept all the floors in my house and the furniture as well. The Rocket is noticeably lighter weight and easier to navigate than my old sweeper. It has a swivel base that let's you maneuver it without feeling like you're wrestling it.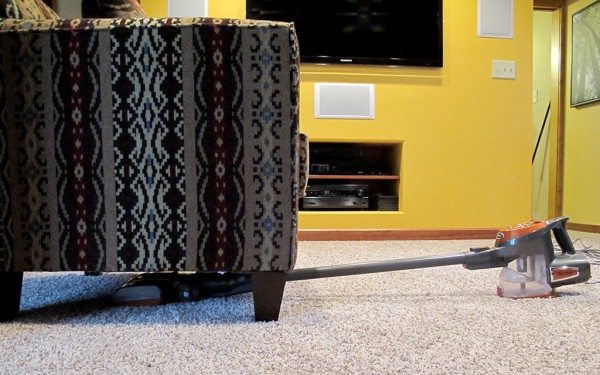 I love that it is able to sweep under most of my furniture like chairs and beds.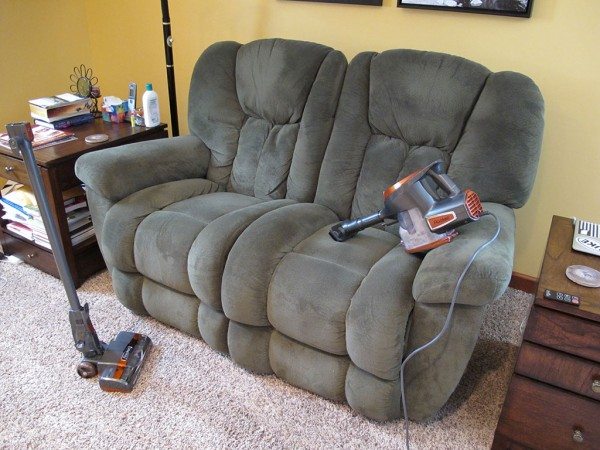 The one thing I did notice is that all the weight is in the upper area of the vacuum, so felt different than a typical upright vacuum. As I swept the floors, it felt like it couldn't be doing that thorough of a job because it didn't feel heavy enough.
The Shark Rocket can also be used as a hand vac, but when I removed the bottom portion and used the hand tools on my couch, it felt awkward and a little bulky. I wish a long flexible hose had been included so I could set the base on the floor and use the hand tools more naturally.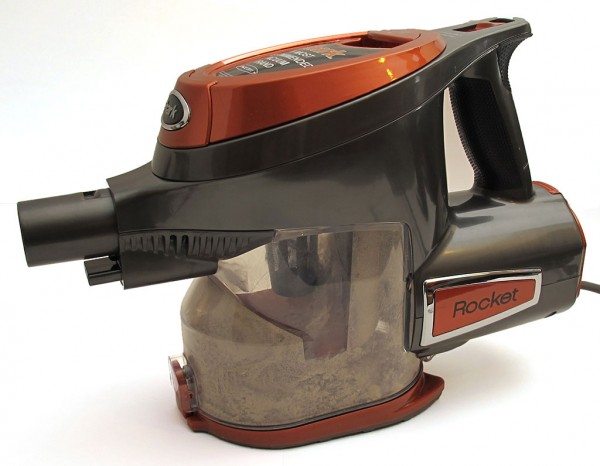 After I finished sweeping just the basement floor and couch, I looked at the cup and could see that it was half full of gunk.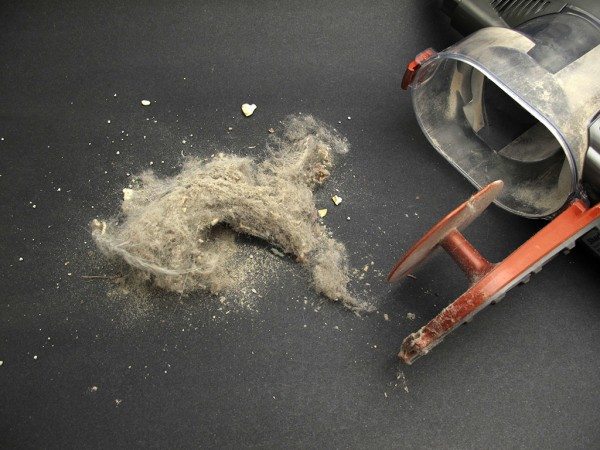 And here what it looks like when you dump the dust cup. Yuck… Most of that is probably cat hair.
Next I had Jeanne sweep all the floors upstairs so I could hear her comments on the vacuum. She swept carpet, and vinyl floors. She commented that she could hear the vacuum picking up dirt as she ran it across the floor and that she didn't notice that with the Kirby. She agreed that the Rocket feels a little awkward when using the hand tools and also that she wished it would stand upright when you need to stop to move something while sweeping. I agree with that observation.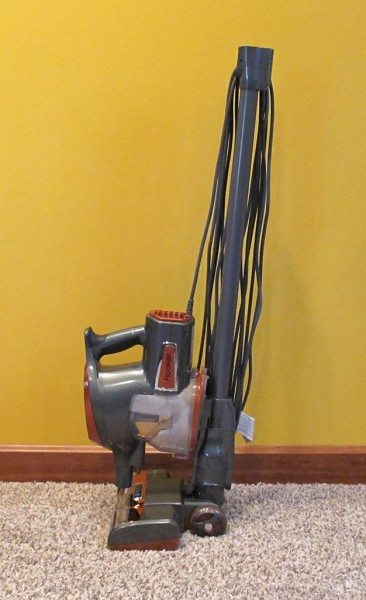 It's also important to note that storing the Rocket requires installation of a wall hook (included) or you can remove the main unit and snap it onto the bottom carpet attachment section as shown in the image above. This arrangement does not work with the dust-away attachment.
After using the Shark Rocket ultra-lightweight upright vacuum for several days, I am impressed by the amount of dirt it is able to pick up. I like that it is easy to carry up and down the stairs compared to my other sweeper, doesn't require bags and can also be used as a hand vac using the included tools. I do wish they would have included a hose for the hand tools.
In my opinion the Shark Rocket is a very good vacuum for an excellent price. Combine that with their 5 year repair or replacement warranty and it's hard to go wrong with this one.
Updates 03/19/15
I have continued to use this vacuum, but I have a feeling that I'll be using it less often now that I have a Dyson Cinetic Big Ball Animal + Allergy vacuum. The Dyson is obviously bigger and heavier, but it's more convenient to use because you don't have to completely disassemble it to use the tool attachments and remember to wash the filter, which I've only done once or twice with the Shark. I still recommend it as a great little vacuum for the price.
Source: The sample for this review was provided by Shark. Please visit their site for more info.
Product Information
Price:
$179.80
Manufacturer:
Shark
Pros:

Great suction
Bagless design
Comes with several attachments
Long cord
5yr warranty

Cons:

Attachment usage is awkward
Attachment storage is awkward
Doesn't stand up on its own