We use affiliate links. If you buy something through the links on this page, we may earn a commission at no cost to you. Learn more.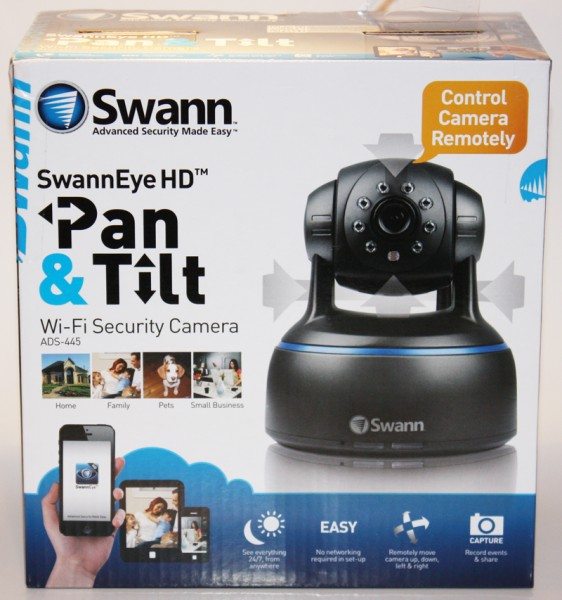 I've been procrastinating for a while now about picking up an IP-Cam to monitor my home and my cats while I am away from home. We've managed to get by on a webcam attached to our media center computer, but it is stationary, with no pan and tilt capabilities. I've seen Swann cameras in my local electronics store, and when they offered to send their SwannEye HD Pan & Tilt IP Camera, I was eager to try it out. Let's see how well it worked.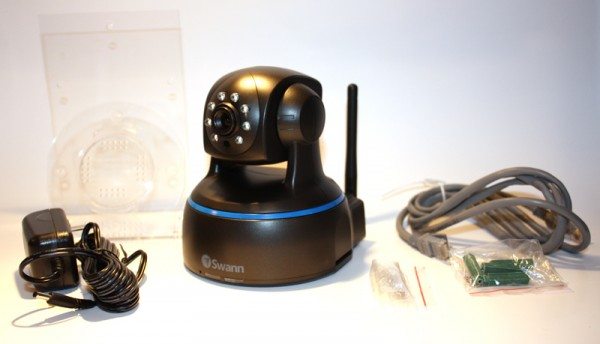 A plethora of items comes in the box; the camera with Wi-Fi antenna, Ethernet cable,  power cable, ceiling/wall mounting bracket, mounting screws and plugs, software CD, instructions, and little stickers to place outside of your home allowing potential intruders to know that it is protected by Swann.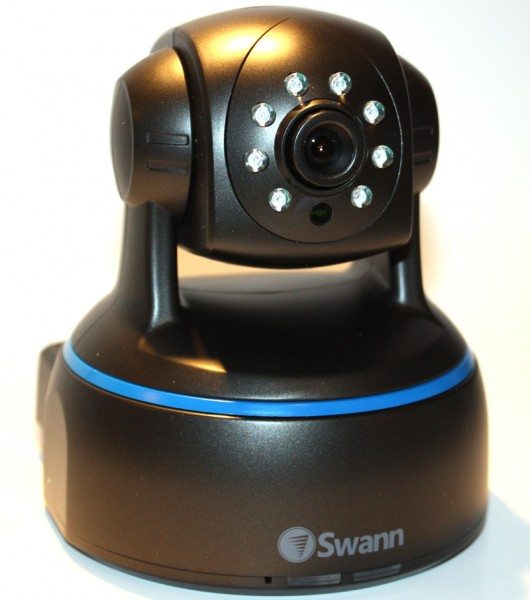 To set up the camera, you will first need to install the SwannEye HD Pro software that is on the software CD. You then make an account, and to add a camera, you will need the numbers on the bottom of the camera to specify which camera you are using. This is so the software can distinguish between multiple cameras. Once you have an account created and a camera added, plug in the Ethernet cable to your router. If you planned on keeping it wired, you should be set here. If you are using Wi-Fi, you then go into the settings on the software, go to the Wi-Fi tab, search for your ESSID, and put in your Wi-Fi password. Once I knew what I was doing, the process of setting up the Wi-Fi went quite smoothly. There are two lights on the front of the camera. A red light will indicate that the power is on, and the blue light is the network indicator. The blue light is solid unless you are remotely viewing the camera via the software or app, which causes it to blink, indicating data being sent from the camera.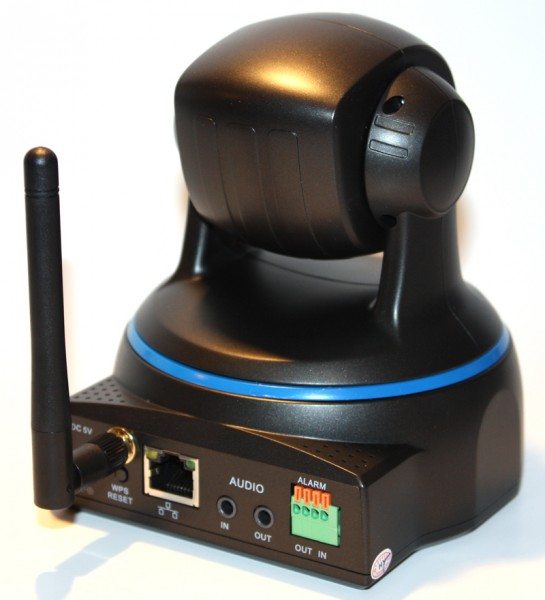 The back of the camera is where you plug in the power, Ethernet, audio, and alarm. I was unable to test the alarm or audio in/out portion, but the rest worked as expected. The sound quality on the iPhone app for the real-time view was on par with other apps I have used. I was impressed on how far the camera would pan from left to right. Swann claims it will pan 350 degrees and tilt up and down to about 100 degrees. From what I've seen, these numbers are pretty accurate.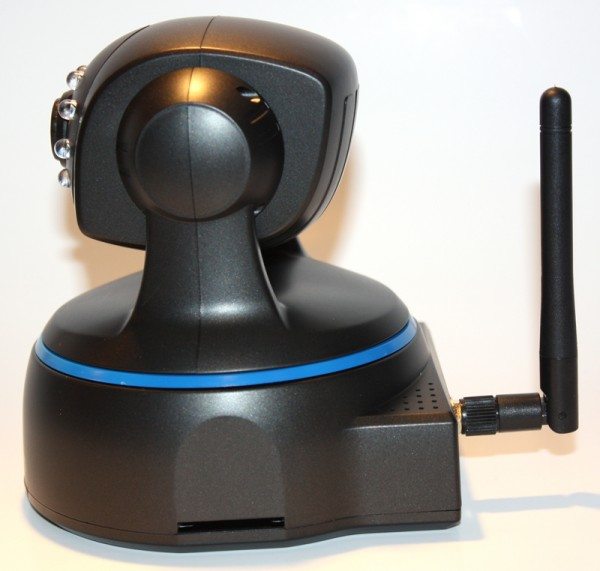 On the right side of the camera base, you'll find a slot for an SD card. When you insert an SD card, I found it 50/50 on whether or not you had to reset the camera to get it to recognize the card, so to be on the safe side, I'd recommend resetting the camera after inserting the card. This is done in the settings of the PC software, or by simply unplugging and plugging back in the power cable.
This side view shows one thing that I didn't really like, which is how big and bulky the base of this camera really is. It is very stable, since it's so big, but I would not want to have this hanging in my living room, as it would be quite an eyesore.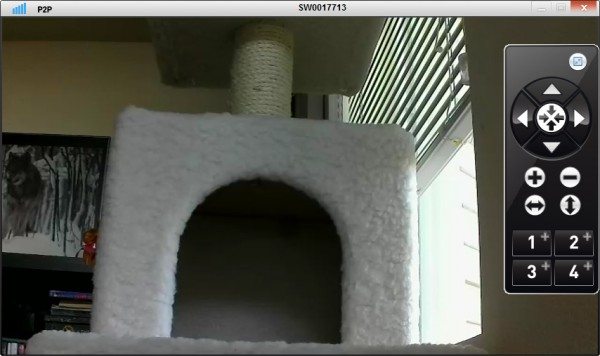 In the picture above, I am using the PC software to control the camera's movement. You can zoom in, and pan left/right or up/down. You can also program 4 presets for the camera to move directly to, so you do not have to manually do it yourself every time. Controlling the camera from the PC software worked pretty well, but that's about as far as the PC software went. The settings tab would constantly be bugged, and when I contacted Swann, the senior technician ended up installing their previous software on my computer, because it was not as buggy. Sadly, you can't just download this software off of their website, so you'd be stuck with their buggy PC software.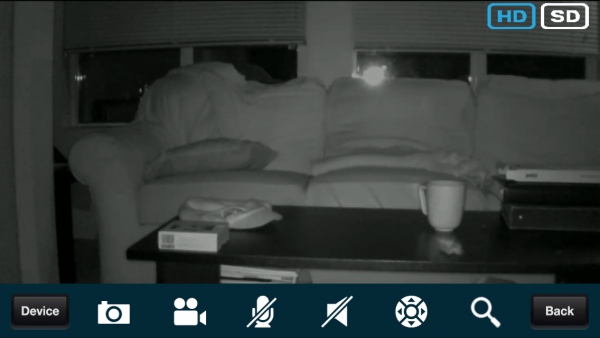 I think the night vision on this camera worked fairly well. I tested out the night vision in several different locations in my house, and they all were clear and easy to see.
The above picture is a screen grab from the SwannEye HD iPhone app. To pan and tilt you swipe the screen left/right or up/down, or you can use the circle with the arrows to use presets. Swiping with my finger would work on my home network just fine, but I noticed when I would go out and was on LTE, that it would freeze quite often, forcing me to restart the SwannEye HD app to get control again. Using the presets worked just fine, however. The back button basically is just a 'log-out' button, since if you press it, you go back to the log-in screen, regardless of where you were in the app. To view any recorded videos on the SD card, you press the magnifying glass and choose the date you want to see, and press 'done' on the top right, then choose the video you want, and press done again. The video will then show. When you are done, press the magnifying glass to go back to the main screen. It took me a bit to realize that 'done' was the equivalent of 'OK.'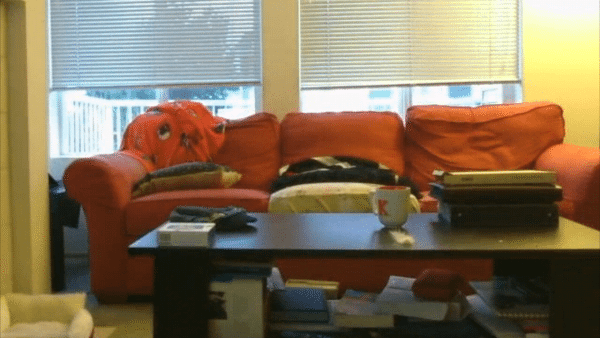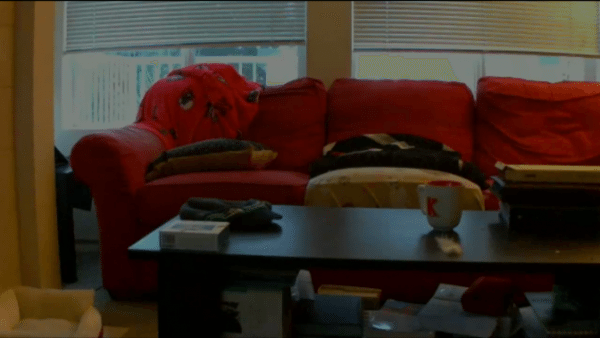 The daytime video quality left a lot to be desired. I currently use a $30 HP webcam connected to a computer to look in on my cats, and the quality, while not the best, was much better than the Swann camera. The top picture is of the HP webcam, while the bottom one is of the Swann camera. It almost looks like there is a dark screen placed over the lens of the Swann camera.
The video above shows what a single recording would look like in night vision.
You can choose what sensitivity you have the camera at, ranging from 1-10, 10 being the most sensitive. I tried getting a video of just my cats playing on the couch, but even at it's most sensitive, it would not trigger. If I walked in front of it, it would go off. So if someone is far in the back view of the camera, it may not register, but if they walk directly in front of it, it should start recording.
One thing that irked me, was I could not get the video to record for longer than 12-13 seconds. I contacted support and they told me my camera was defective, and sent me a new one. It had the same problem. I contacted them again, and they could not figure out the problem, so they sent me to a senior technician, who told me that the camera is not meant to capture video of the entire motion event, but it is starting approximately 3 seconds before the motion, and ending 10 seconds after the motion is detected, so it was working as it should. Even working as it should, the camera was picky about when it would start recording, since one time I tested I wrote on a piece of paper and it caught the beginning as it should, while the next I had it watching my cat for a good 20 seconds and I ended up getting 3 seconds of cat and 10 seconds of the wall. This makes the camera pretty useless for recording video events, since you will only get 12 seconds of video, and you'd better hope your intruder decided to look at the camera in that time frame, else you wouldn't catch much at all. It would then record another 12 seconds about a minute after the first if motion was still going on, so there was no way to get a continuous stored video feed.
Overall, I could never recommend this camera to anyone. There are plenty of other similar cameras on the market, which do not require their app and buggy software to use. If you are in the market for this type of camera, I would look elsewhere.
Updates 03/22/16
Despite dealing with inferior technology when it came to the software to run this camera, I still find myself using it off and on during longer trips after two years. The only reason it is still used is due to the pan and tilt technology. Our two Foscam cameras are static and work fine in smaller rooms, but we can't find our cats in our living room without being able to pan from side to side. I still wouldn't recommend this to anyone, despite sometimes using it.

Product Information
Price:
$179.99
Manufacturer:
Swann
Pros:

Good night vision quality
Good pan & tilt range

Cons:

Very buggy software
Daytime quality is dark
Big and bulky
Clicks repeatedly from night vision to day vision at certain times of the day