We use affiliate links. If you buy something through the links on this page, we may earn a commission at no cost to you. Learn more.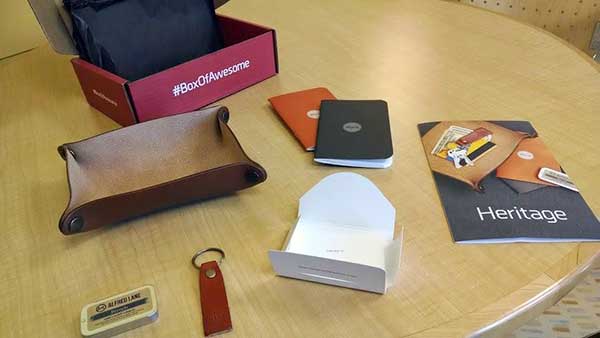 On a daily basis I utilize a number of "Everyday Carry" items and each day I continue my quest for additions to my EDC collection. Enter Bespoke Post. They have hit the ground running in the newish phenomenon of subscription boxes. We used to be able to just get meats and cheeses on a monthly basis. Then the wines of the month-type clubs joined the fray. Now we have customized subscription services providing a wide assortment of unique goods from nerdy toys to fine accessories or specialized shaving equipment.
Each month Bespoke Post offers what they refer to as a "Box of Awesome" and the first edition to reach my grubby little hands certainly lives up to that title.
Opening the box reveals a handy brochure describing the high quality, American made contents included in each box. This one includes:
• A Leather Valet Tray by Bespoke Post
• A Leather Key Fob by Makr
• A Solid Cologne by Alfred Lane
• Two Notebooks by Word.
• "Business Cards" by Two Words Period
The Box of Awesome is available for $45.00 per month at bespokepost.com.