We use affiliate links. If you buy something through the links on this page, we may earn a commission at no cost to you. Learn more.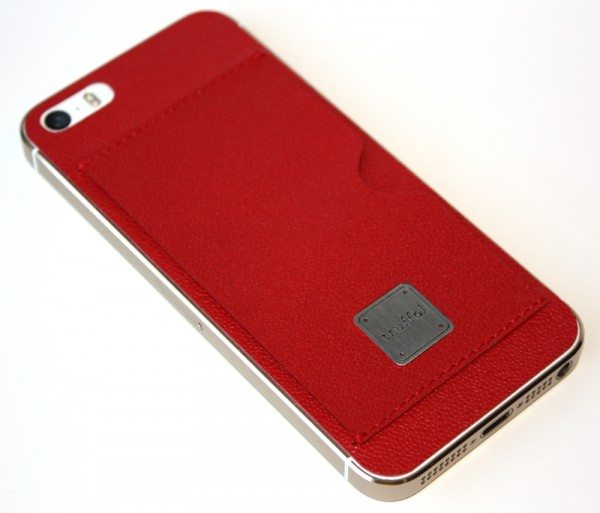 Several months ago, I reviewed a few cases from Truffol. I loved them, but they caused signal degradation. Truffol took some of the comments they heard and went a step further when developing their latest product, the Truffol Autograph leather skin. Instead of a case, they have taken their high quality leather and made a thin skin for protecting the back of your phone, and even gave the option to slide a card into the skin, if desired. Let's see how well it worked!



I was given two versions of the Autograph leather skin to try out; the card variation and the standard skin with the optional (and free) three letter embossing. My first impressions were quite good. The skins were nice and thin, seemed as high quality as the previous leather case I had reviewed, and the colors were beautiful. They were very easy to put on. The card skin was the easiest, since I could use the card sleeve as a handle to apply and remove it, but the standard skin looked the most stylish. As you can see in the above pictures, the standard skin is only 0.023″ thick (0.6mm), while the card skin is about double the thickness without a card in it. Both varieties stayed firmly on and did not peel up at all at any time. I barely could tell the standard skin was there, because it fit and felt so nicely in my hands.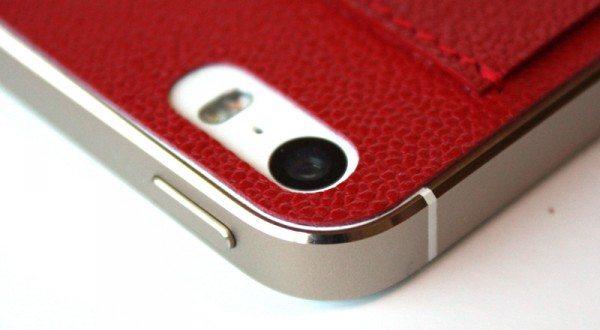 The cutout for the camera is perfect on both the standard and card skins and did not cause any glare when using the flash. The stitching on the card skin was also even and seemed solid when I tugged on it.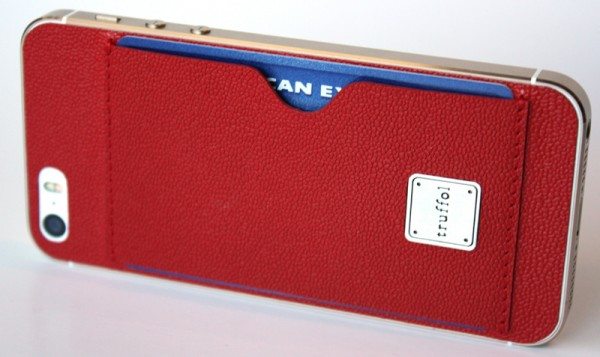 Sliding a card into the card skin was a little more challenging than anticipated, due to the tight fit of the leather. However, once the card was in place, I felt very confident that it was not going to fall out due to that tight fit. I would use it for my drivers license, since if I needed a credit card, I'd have to tote my purse around anyway in case they also asked for my license. The only downside to the card skin was when no card was inside, it sort of hung open and could catch on things. If you look at the second picture in this review, you can see an example of what I mean.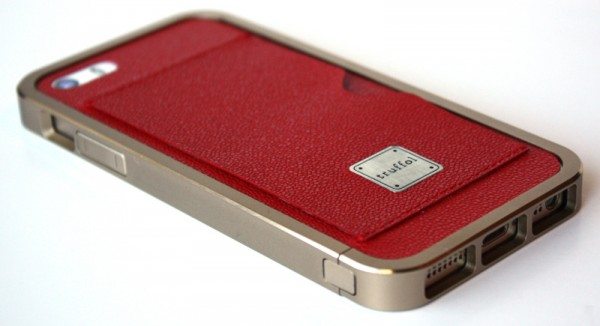 Some people need a case to protect their phones from drops, so thankfully, Truffol has designed the skin to allow for bumper style cases to be used alongside of them. If you plan to use a bumper case with it, be sure to center the skin as best as possible, since there is not much leeway from the edge of the case to the edge of the skin. Both the standard and card style skins looked great with a bumper case.

My favorite of the two was the standard skin. The logo is made up of 18 carat rose gold plating on the standard skins, while the card skins have a stainless steel logo. Both are stylish, but with the gold iPhone, the rose gold looks amazing. I also had the embossing done on the standard skin, and even though it's free, I probably wouldn't get it again if I purchased one of these for myself. It's a nice touch, but it takes a tiny bit away from the style with its generic lettering. It just looked better without it.
One thing that was a bit annoying was that I needed to remove the skin in order to use a regular style case. Thankfully, Truffol has designed the skin in a way that allows you to remove and reapply the skin, which I did several times, and it's still sticking pretty good. It does leave a residue on the phone that can be wiped off with a damp microfiber cloth and a little elbow grease. The one problem with having to remove the skin is there is nothing to attach it to while it is off your phone. I would suggest to Truffol to include something to stick it to while it's not in use. Each skin also includes a screen protector, which is excellent quality and very easy to put on.
Overall, I loved these skins. Not only are they super stylish, but I can show off the gold of my iPhone without worry of the back getting scratched up, and I have the option of using a bumper if I need some extra protection. I can't see myself really using the card skin in the future, but the standard skin will be on my phone for quite a while. It just feels nice in my hands. I may have to get an orange one once my black one has worn out, since they are at my price point for a leather skin. I would recommend either one of these to anyone who likes to have their phone "naked" while still allowing for decent protection on the front and back of your phone.
Product Information
Price:
$18 - $22
Manufacturer:
Truffol
Pros:

Adds virtually no weight to phone
Reusable
Stylish
Works with bumper style cases

Cons:

Must take it off to use regular cases
Credit card version sticks up slightly