We use affiliate links. If you buy something through the links on this page, we may earn a commission at no cost to you. Learn more.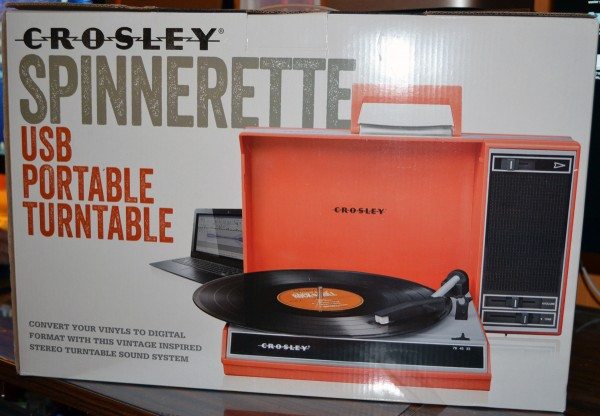 It's been ages since I've owned a turntable of any sort and even longer since I actually listened to music using one.  I was quick to join the CD bandwagon, because I wanted music without pops and noise and wanted to be able to start playing a recording without fear of dropping the tonearm and scratching my vinyl albums.  Over the years, I bought CDs, or files from iTunes, to replace most of my vinyl collection.  (At least those recordings that stood the test of time and my taste – I'm looking at you, Captain and Tennille.)    Of course, replacing my vinyl with CDs was expensive, but I was able to spread it out over many years.  I had hundreds of albums, so I sold most of them as I obtained the digital version over the years, and many others were lost when our basement flooded about 10 years ago.  I still have a few vinyl albums, and some of them aren't available in digital formats now.  Some people may still have vinyl that they never bothered to replace because of the expense or because they just prefer the sound of vinyl, but now they may wish they could listen to some of their old favorites while in the car or out for a walk.  There are devices on the market that let you hook up a turntable to a computer and convert the contents of the vinyl albums to digital files.  I've always been intrigued by these devices, but I never took the plunge and bought one because I had so few vinyl albums left.  I was chosen to put the Spinnerette USB Portable Turntable to the test when Crosley offered one to The Gadgeteer for review, so now I can see for myself how well the digital conversion works.

The Spinnerette is made of plastic with a silver metal accent under the carry handle.  It measures 15.2″ long X 9.2″ tall X about 3.5″ thick when the slider buttons are included.  No weight is given for the record player, and it's a bit heavy for my kitchen scale, but I'd guess it's about 2 – 2.5 pounds.  It's available in blue or red, and I was sent the red model.  I don't see it as red, though.  It looks like orange to me.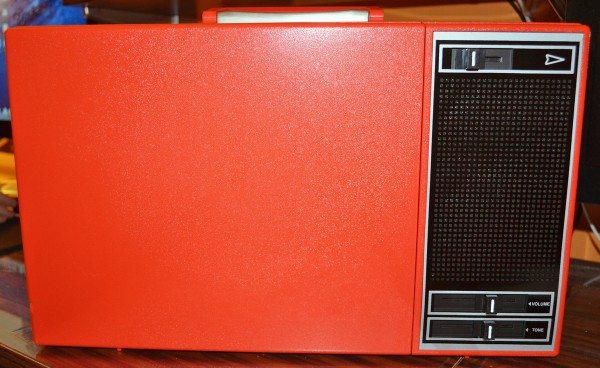 The bottom of the Spinnerette has a couple of plastic feet for balance, which you can just see at the bottom of this picture.  This is the front, where the volume and tone sliders are located.  The top slider unlocks the turntable and allows it to drop down for use.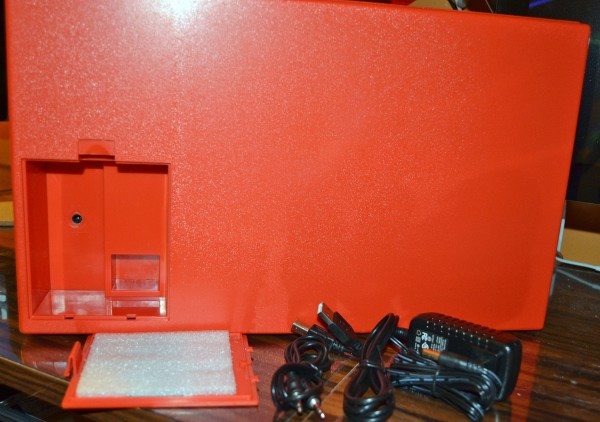 The back of the Spinnerette has a door that looks like it has a battery compartment inside, but it doesn't.  The jack for the power adapter is inside here.  The rest of the space is storage for the other cables that come with the Spinnerette.  Since it's not battery operated, the Spinnerette is only portable in the sense that it's light enough for you to take with you and use in other locations with an AC power source.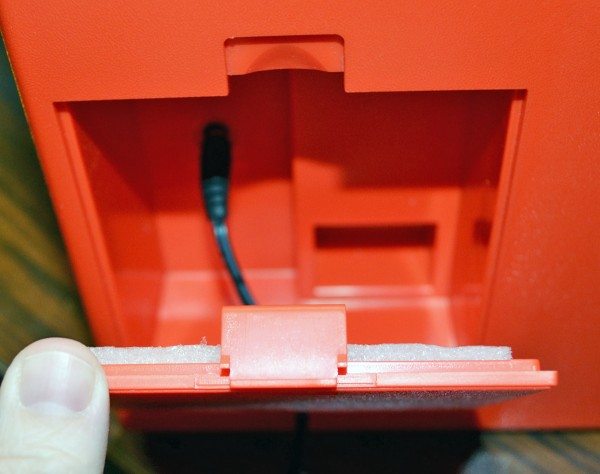 The bottom of the door has a notch that fits the power cable , so you can keep the back compartment closed while you're using the Spinnerette.
The Spinnerette comes with a power supply, a USB cable, and an audio cable.  It also has a multi-language user's guide and an installation CD with recording software for Windows and Mac OS X computers.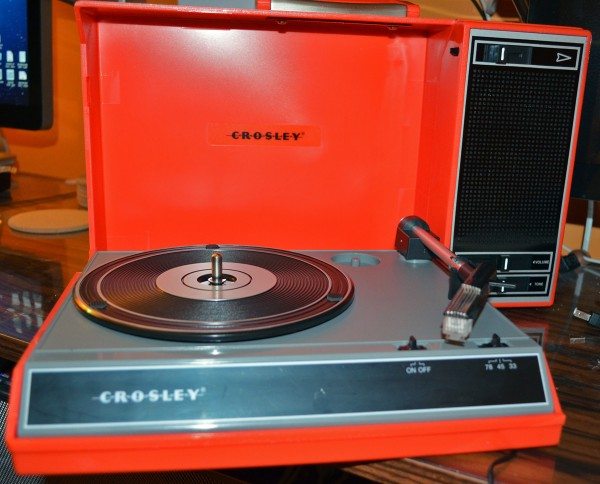 Here's the Spinnerette open and ready for business.  There's a power switch on the front.  If you turn it on, the turntable starts spinning and doesn't stop.  Leaving the power switch in the off position leaves it in a stand-by mode; when you lift the tonearm, the turntable starts to turn.  The other slider selects the speed: 33-1/3, 45, or 78 rpm.  The tonearm still has the protective cover for the needle taped in place in this image.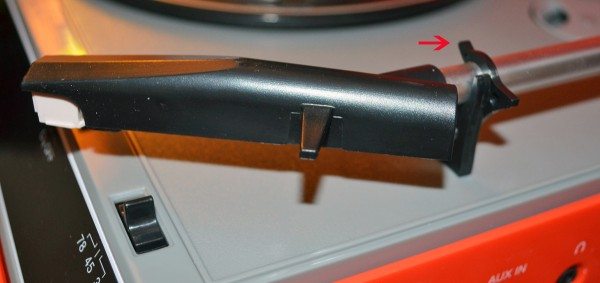 This is a simple player, so it doesn't have some of the fancy bells and whistles I remember from my youth.  There's no automatic tonearm that places itself on the record.  You'll need to lift it by the little arm and move it over yourself.
There's a little hook-shaped latch, pointed out by the red arrow, that locks the tonearm into place when you close the Spinnerette.  Be sure you lock this before closing the turntable into the Spinnerette to be sure the tonearm doesn't bounce around and damage the needle.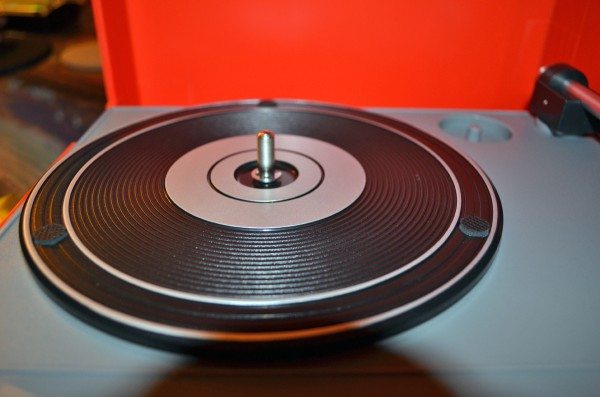 The Spinnerette also doesn't have the automatic album feed that some of my fancier record players had.  This spindle is designed for 33-1/3 albums.  I've never owned a 78 rpm record, but I believe they also use this small spindle.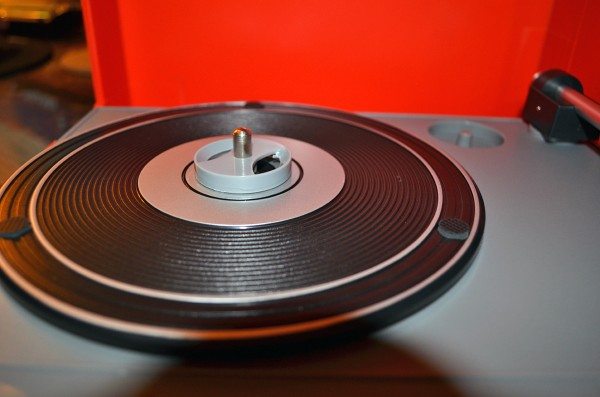 The Crosley also comes with an adapter for playing 45 rpm singles.  You store it in the well you can see at the back of the photo when not in use.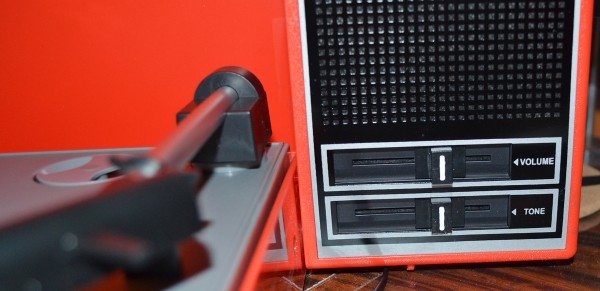 The volume and tone sliders work well.  They feel like the movement is "dampened", not hindered, but almost weighted so that the movement is smooth.  You don't have to worry that you'll push too hard and suddenly deafen yourself because you accidentally pegged the volume.
Using the Spinnerette as a record player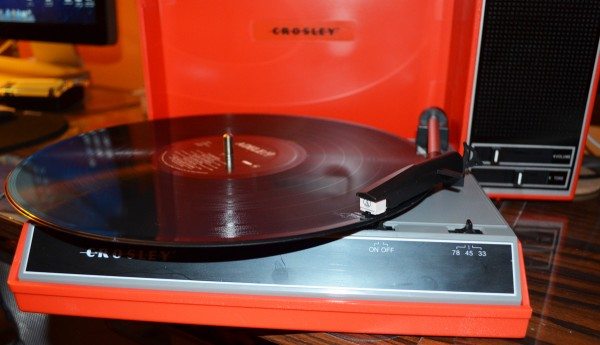 When you're ready to listen to music, you simply select the turntable speed, put the record on the spindle, and put the tonearm on the vinyl.
I tried using the Spinnerette as just a simple record player at first.  It's been a long time since I heard vinyl, and I was surprised at how good it sounds.  I could hear a few pops, but it wasn't too distracting.  I was surprised at how great this small speaker sounded, too.  I used to have the huge floor speakers with my fancy turntable and receiver that I'm sure produced better sound and certainly much more volume, but this little record player produced enough sound to fill the room.
The tone adjuster doesn't work like the separate bass and treble controls you're probably used to today.  It does make some difference in the sound, but it's not going to give you a bottom end that rivals what you'll hear in some of the speakers and headphones today, like Beats, that heavily emphasize the bass.
Something that I found confusing was the description of the speaker(s).  On Crosley's website and on the product's box, specifications say the Spinnerette has stereo speakers.  The specifications in the included user's guide says the speaker is a "3.5 dynamic type X 1".  In any event, you wouldn't be hearing any stereo separation with two speakers stuck inside that black, gridded area above the volume control anyway.
I think the Spinnerette works very well as a compact record player.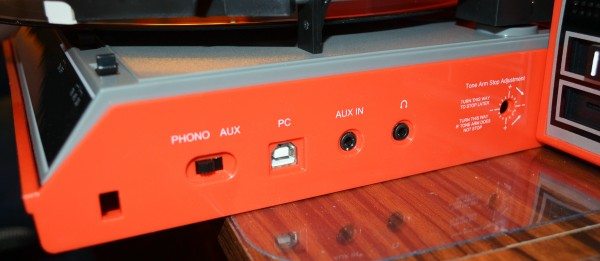 These controls and ports are on the side of the drop-down turntable section.  The Phono/AUX switch lets you use the Spinnerette as a speaker for another audio device.  Slide the switch to AUX, plug your audio device into the AUX IN jack using the included 3.5mm-to-3.5mm audio cable, and the Spinnerette functions as a speaker.  I tried it with my iPad mini with Retina display, and it worked fine as an external speaker.  It certainly sounded better and louder than the tiny speakers inside the iPad.
The last control with the complicated diagram around it allows you to adjust the point at which the turntable stops when it recognizes the end of the album.  I didn't need to make adjustments, because my Spinnerette stopped just fine, not too early or too late.
You'll notice there's also a headphone jack, so you can listen to your records through headphones or earphones.
Digitizing music from the Spinnerette to a computer
You probably noticed on the picture of the box in the top image that it's described as a USB turntable, and you'll see a USB-B jack in the above photo.  You can connect the Spinnerette with the included USB-A-to-USB-B cable to a Windows or Mac OS X computer running recording software, and you'll be able to create digital files of the music you're playing.  Of course, the Crosley is simply the audio source, so the feature set for recording is determined by your recording software.
Audacity on the Mac mini
The included CD contains Audacity, which is free, open source, cross-platform recording software for Windows and Mac OS X computers.  I don't have a lot of experience with recording software of any sort – my husband is the resident pro – but I loaded up the correct version of Audacity on my Mac mini and got started.
I had a bit of trouble with Audacity's audio source selection and recording level controls.  I had to use system preferences to select the audio source instead of having a selection option within the program itself, and I had to use  Apple's Audio-MIDI Setup app to adjust recording levels.  Once this was accomplished, I was able to produce recordings.  I didn't have a library that was needed to save my files as MP3s, and since I'm not really reviewing this software, I decided I'd just save them as .WAV files.
Since I wasn't sure exactly what vinyl albums I still owned, I ordered a new vinyl copy of Adele's 19 album from Amazon for this review.  With the purchase, I was able to download the digital version of the album for free, so I was able to compare the files recorded from the Spinnerette to the "official" digital files from Amazon.  I'm not an audiophile like Bill Henderson, so I probably didn't hear some of the subtle nuances that would make it more obvious which file was recorded at home and which were created in a professional studio.  However, I didn't hear a lot of differences, other than some pops from the vinyl itself, between the recordings.  By that, I mean I didn't notice that my home-brew file sounded like it was recorded through a bucket of mud while the studio file sounded sharp, clean, and clear as glass.  I think most users, at least those who want to have access to digital files without spending thousands of dollars to buy digital versions of their existing music collection and those who want digital files of old vinyl recordings that are out of print, will be very happy with what they get using the Spinnerette.
I noticed with the new Adele vinyl recording that records feel different now.  The Adele album is much thicker and less flexible than my old albums.  I dug around and found an old 12″ Tears for Fears 45 rpm single and confirmed that the older vinyl was thinner and more flexible.  I thought it was only fair that I should compare a recording from a nearly 30 year-old album that hadn't been stored under the best conditions with the relatively pristine Adele album.
The only way I know to let you hear for yourself how these recordings sound is to give you a snippet of each.  I do not intend to violate anyone's copyright.  If you like what you hear, go out and buy a copy, because you'll only hear enough to whet your appetite in my little snippets.  (So, record companies, please don't sue me!)
Please note that the following audio files have different amounts of silence at the beginning of the tracks.  I couldn't place the tonearm down at exactly the same place each time because I'm years out of practice.  😉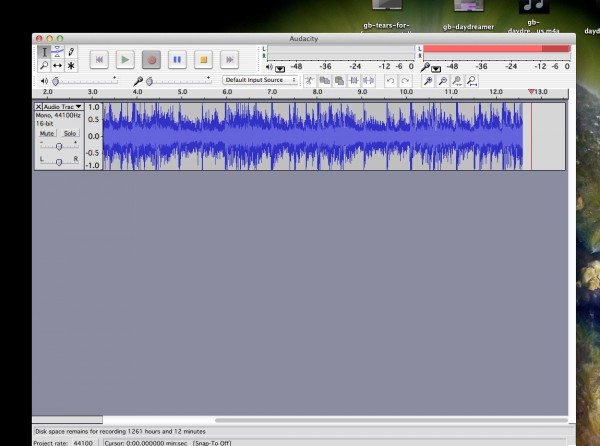 These first recordings were made with the free Audacity software.  You can see in the screen capture (above) that I was having some trouble with overly loud recording levels before I figured out how to adjust them.  (I hate reading manuals…)  When the recording levels were that high, the music was clipped and very noisy during playback.  Things sounded great after I got the levels adjusted.
This is Adele's Daydreamer from her 19 album, recorded from the vinyl by Audacity on my Mac mini and saved as a .WAV file.
This is Tears for Fears' Mother's Talk from a 27-year-old 12″ single, recorded from the vinyl by Audacity and saved as a .WAV file.
I think the files both sound great.  I don't think the old Tears for Fears sounds any worse than the new Adele recording, sound and noise-wise.
GarageBand on the Mac mini
I have GarageBand on my Mac mini, so I thought I'd see if it would work as recording software for the Spinnerette.  After all, why learn a new application if you already have one you're familiar with, right?  I closed Audacity, opened up GarageBand, and was immediately faced with a decision.  GarageBand wants you to select the type of music it will be recording – keyboard, guitar, vocals, etc.  I decided I'd try vocals, and I then selected the "No Effects" option in the far right column so that the music should be recorded just as it sounds coming out of the Crosley.
GarageBand worked like a champ with the Spinnerette.  I recorded snippets of the same songs I'd used with Audacity, and I found that I had many options for exporting the data as a file.  I could save it with iTunes Plus resolution (AAC, 256kbps, stereo, and optimized for music and complex audio), among other levels.  I opted to save at "high quality", which was defined as "AAC, 192kbps, stereo, and optimized for music and complex audio" for these tests.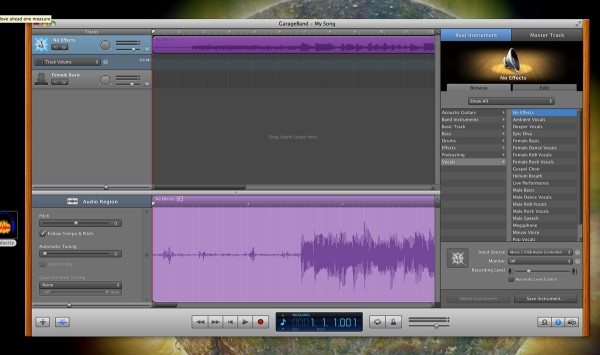 This is Adele's Daydreamer, recorded from the vinyl by GarageBand on my Mac mini and saved as a .M4A file.
This is Tears for Fears' Mother's Talk, recorded from the vinyl by GarageBand on my Mac mini and saved as a .M4A file.
GarageBand on the iPad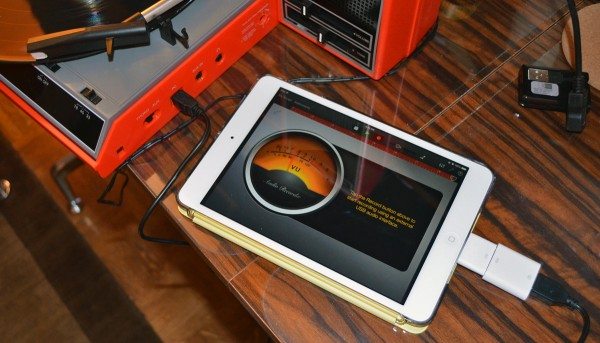 And of course, I have GarageBand on my iPad, too.  I decided I'd try recording from the Spinnerette directly to my iPad.  I did need some adapters to do this.  I used the old 30-pin iPad Camera Connection Kit I already owned to connect the USB cable to the iPad.  Because the iPad has a Lightning connector, I also had to use the Lightning to 30-pin Adapter to actually plug it in to the iPad.  I plugged everything up, started up GarageBand on the iPad, and was able to start recording.  I'm including a snippet of the Adele song so you can hear that it did work with the iPad mini with Retina display.
This is Adele's Daydreamer, recorded from the vinyl by GarageBand on my iPad mini with Retina display and shared as a .M4A file.
Conclusion
I think Crosley's Spinnerette USB Portable Turntable is a great product.  It works extremely well as just a little "record player" for listening to your old or new vinyl albums and 45s.  It works extremely well for converting the music on your old albums to digital files for use on your computer or portable audio devices so you can enjoy your music anywhere without having to replace or duplicate all your vinyl with digital versions.  At $150, there's no way you'll go wrong with this great little Spinnerette record player.
Note: Adele's 19 is copyright 2008 by XL Recordings Limited.  Tears for Fears' Mother's Talk 12″ single is copyright 1984 & 1986 by Phonogram Ltd.
Product Information
Price:
$149.95
Manufacturer:
Crosley
Retailer:
Crosley
Requirements:

None, unless you want to record music to a computer
Windows or Mac computer if you do want to record music to digital files

Pros:

Works well as a record player - decent sound from a small speaker
Allows you to record your old vinyl albums to digital files on your computer using the included USB cable and recording software
Comes with free recording software for Windows or Mac OS X computers
Worked well with both the included Audacity software and with GarageBand on my Mac mini
Also worked well with GarageBand on my iPad mini with Retina display

Cons:

None, except that you may find their red model is too orange to fit your color scheme, if that matters to you